We have lived in our home six and a half years We designed the living room to be timeless, so fairly traditionally decorated with neutral colours, old leather sofas, tall book cases packed with books, a wood burner plus a traditional rug.
We decided to update the feel of the room. I was keen to bring in a touch of originality, recycling, something that represented our personality's.
After much discussion the furniture was rearranged, books sorted and parted with (most went to the Greenhouse Trust a local environmental charity). Our conversations revolved around a cube effect storage solution running below the long window. This gives us the ability to continue to close the curtains.
Thoughts ranged from Ikea to apple crates. Thankfully apple crates won – we played with a layout.
Then I remembered some wooden shweppes crates given to me by my Grandad (he packed me a tool box when I left home).
These add a variety of shape and design as well as the sentimental value. Once agreed on layout we then cleaned and sorted the boxes. Some were cleaned and waxed.
Others were lightly brushed with thinned down chalk paint to highlight the texture in the wood.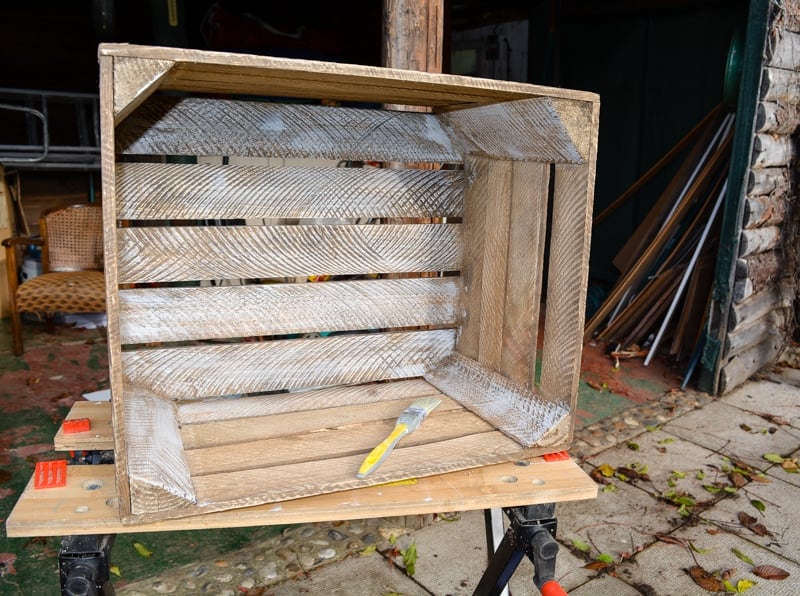 The crates are sturdier than envisaged, so there is no need to bolt them together. This gives us flexibility for rearranging as and when the desire take us.
We love the finished result.
The room feels spacious (it is a large room), modern and reflects our personality.
It's great to change the look of the room for £50 worth of apple crates (thanks to ebay),