Guest Blogger – Upcycled Tablet Case
March 17, 2014
Today I am delighted to be a guest blogger over at Green Issues by Agy as part of her Greeny crafters series.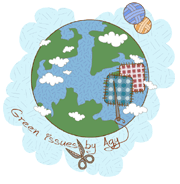 Have you met Agy? She is passionate about the environment, recycling and refashioning.
Check out her blog for lots of fun tutorials and upcycling – my post today features a tutorial for making your own denim tablet case:)
A passion for sewing, upcycling and caring for the environment - the perfect excuse to haunt charity shops for bargains!