This week I have joined Sweet Bee Buzzings Sew a Long for a Boxy Bag, resized to create an overnight bag.
The aim to make a bag similar to this one.
I decided to size it up to create an overnight bag for my daughter. As she doesn't have such a bag I guessed the finished size, hoping it would be suitable for her PJ's, toilet bag and change of clothes.
First day of the sew-a-long, cut out, add interfacing and fusible fleece. Make the handles and sew onto the bag.
The finished bag I created is 12″ by 16″ with a 4″ width. Helpfully Bethany provides instructions on sizing up the pattern. Next step was to work out the zip length, and handle length. The zip was surprisingly easy as the sew along pattern top measurement (where the zip is placed) was 18″ and mine 20″ so i bought a zip two inches longer than the recommended zip (26″).
The handle length I debated about, in the end I decided on 14 1/2″ handles, and 25″ length for each side of the bag – totalling 79″ (just in case someone wishes to follow my measurements)
Day Two -adding the internal pockets
Next to create the internal pockets. Firstly zip pocket, I've done these before, so found this relatively easy. The pleat pockets took some more calculations, I made the pleats 1/2″ wide, my fabric was 19″ by 24″
Day three – sewing it all together. Today's instructions were far easier to follow than I initially thought, and of course had the added bonus of finishing the bag!! Sorry no pictures as I followed the steps in the evening, the light was just not good enough for pics.
The result – ta da…. would I make the bag again?? Well I suspect I will have to for my son!! I will make the handles longer but I am pleased with the size, and the shape held well with the fusible fleece. However in hindsight I would have found the process far easier if I had made it up for the sizes given first. The parts I found tricky was the maths for sizing up of the pattern.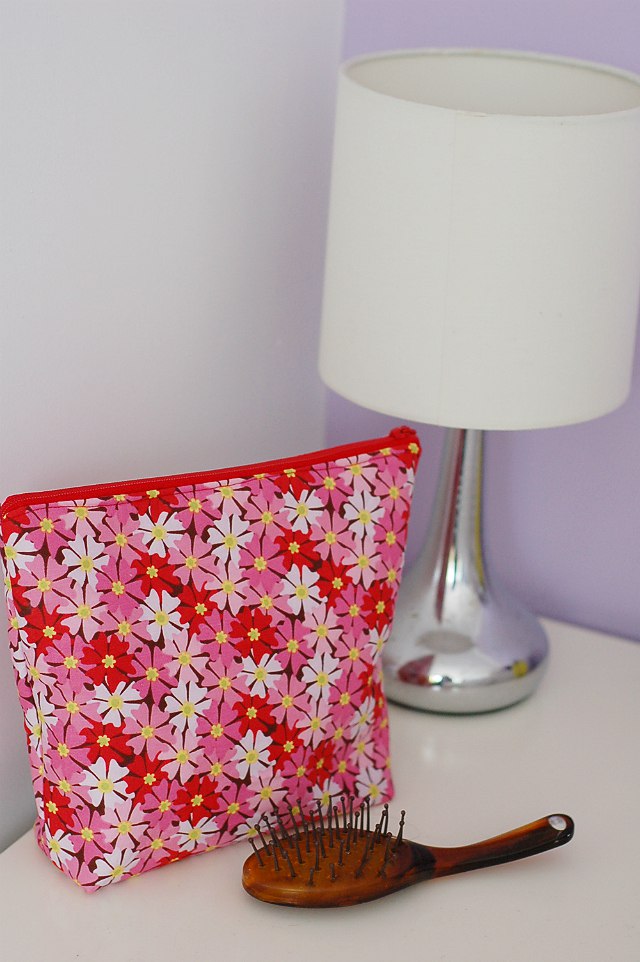 To finish it off I made a co-ordinating toilet bag, lined with a shower curtain.
I hope you have had a productive week:) As usual I am off to check out fellow Handmade Harbour creative:)

This post is linked up
here