What can you make with glass bottles? Today I am sharing two creative things to do with glass bottles. Why? Amazingly each household uses five hundred glass bottles per year with an average only one in six being recycled… This fact astounds me. Recycling one glass bottle powers a computer for 25 minutes. Recycling is fabulous but how about reusing this is even better for the environment.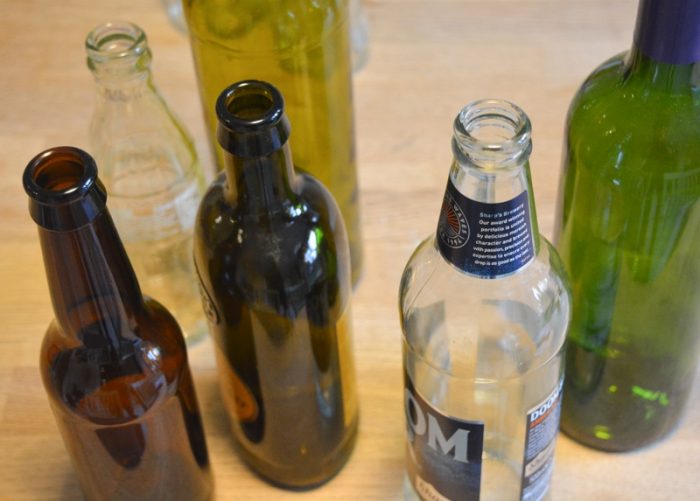 We have been collecting our glass bottles, ready to repurposed and saved from the recycling bin. The all-important question what to do with them? My husband recently invested in a glass bottle cutter, ready to have a play and see what can be made.
Cutting the bottles in half has provided vases or drinking glasses – personally, despite the rigorous sanding, I am going for the safer option as vases!
The vases would make stunning centrepiece down a trestle table, or as decor for wedding tables.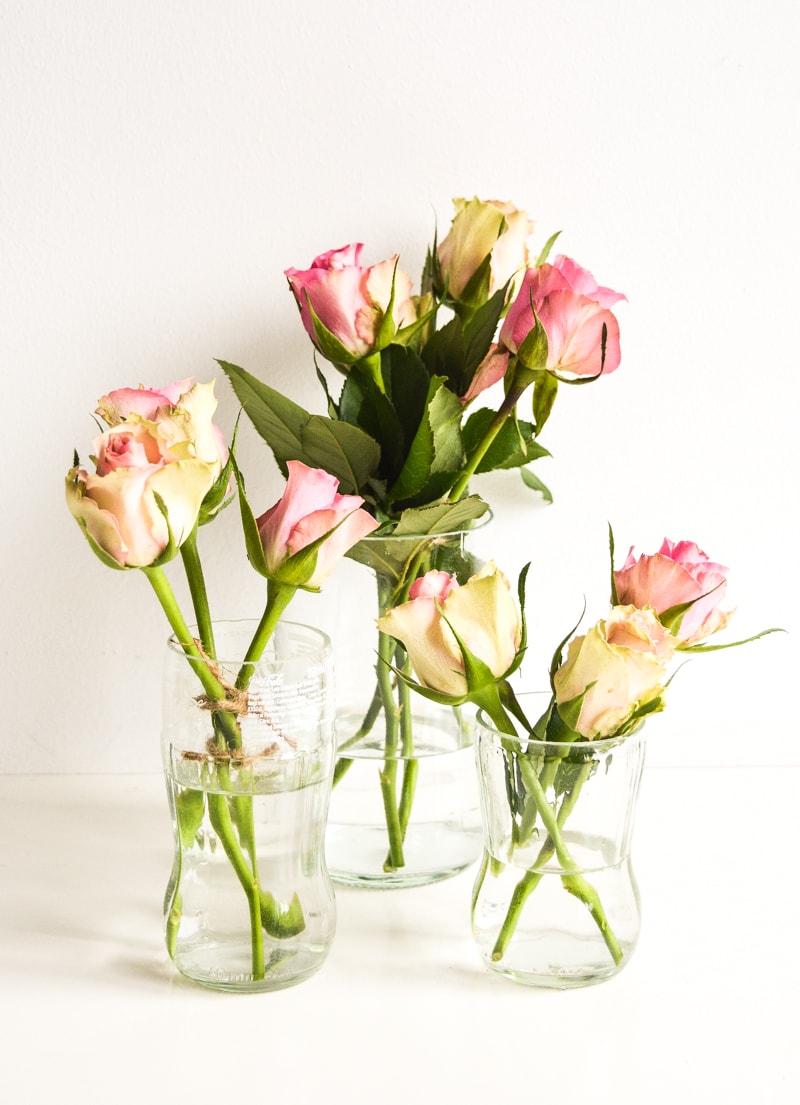 But what about the neck end of the bottle?? What purpose can these be put to? My husband made this stunning cacti planter for me with our children as a DIY Mother's Day gift – I could not be more delighted with my Mothers day gift – a sustainable DIY gift is perfect.


Sign up for the newsletter for top hints and tip sheets, plus PDF of the most popular bag patterns.
[mailerlite_form form_id=3]
DIY Cacti Planters
This post contains Amazon affiliate links for your convenience. Click here to see my disclosure policy.
RECOMMENDED SUPPLIES:
Empty glass bottles
Wet and dry sandpaper
Piece of driftwood
Drill Piece size 28
Cacti and soil
Cutting a glass bottle in half takes practice, do not be discouraged and have lots of bottles to hand! Initially when he started one bottle in three would cut evenly and straight but with practice he is now at about two out of three cut good and straight.
It is very important to get the level of the cutting wheel just right, so it just touches the bottle.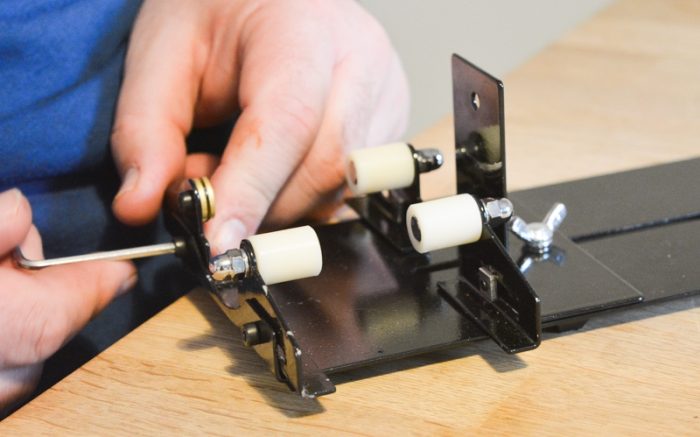 Prep the bottle by removing labels. Your blade needs to score the glass evenly, the thickness of a label impacts this. Soaking the bottle in water usually removes the label from a wine bottle easily.
As you rotate the bottle do not go over the same area twice.
Place the bottle inside a sink filled with cold water and ice.
Next pour boiling water over the scored mark.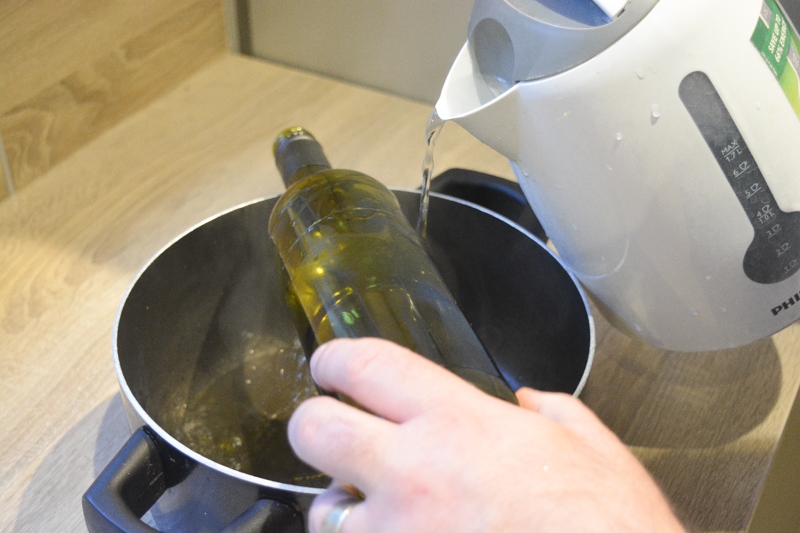 Repeat until the bottle breaks into two halves.
Sand the cut edges of your glass. Start with wet-dry sandpaper, wet it then in circular motions rub the bottle over the wet dry.
To even out any little nitches use a dremel. This works best when wet too – fill an old plastic bottle with water, pierce a small hole on one side and add the lid to the container. You should get a steady stream of water.
Drill holes in your driftwood the width of the neck bottle. Use a drill piece 28 wide. This is fractionally wider than the neck of the glass bottles but as the glue is expandable this is not a problem.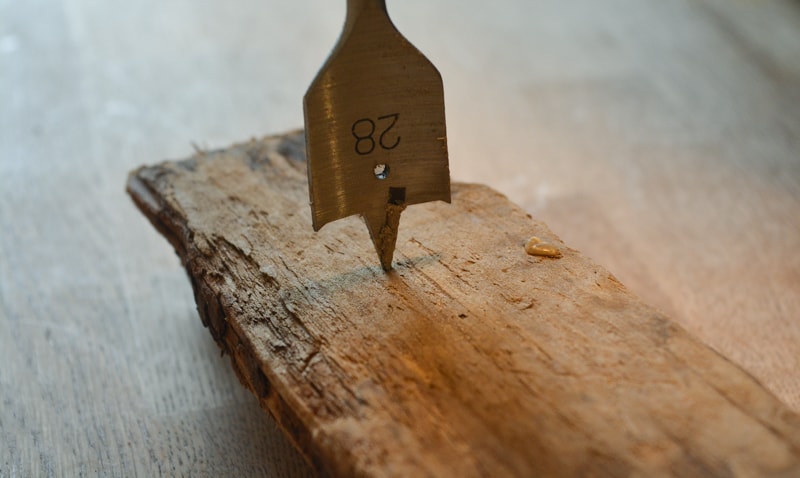 Using gorilla bond glue, glue the glass neck to the driftwood. Follow the instructions, wet the glass and place the glue in the hole in the driftwood.
Once dry fill with cacti soil and plant your cacti.
If you are looking for other repurposed and upcycled planter ideas check out my tiered tea set succulent planter, or for outdoors garden planters from old sheds. I would love to know what creative things you make with old glass bottles.
If you love driftwood projects check out my driftwood wreath tutorial.