Learn how to make your own large denim tote bag with this free tote bag pattern. The large tote bag is made with a variety of upcycled materials, with hand stitching for embellishment, your own padded fabric handles plus a magnetic closure.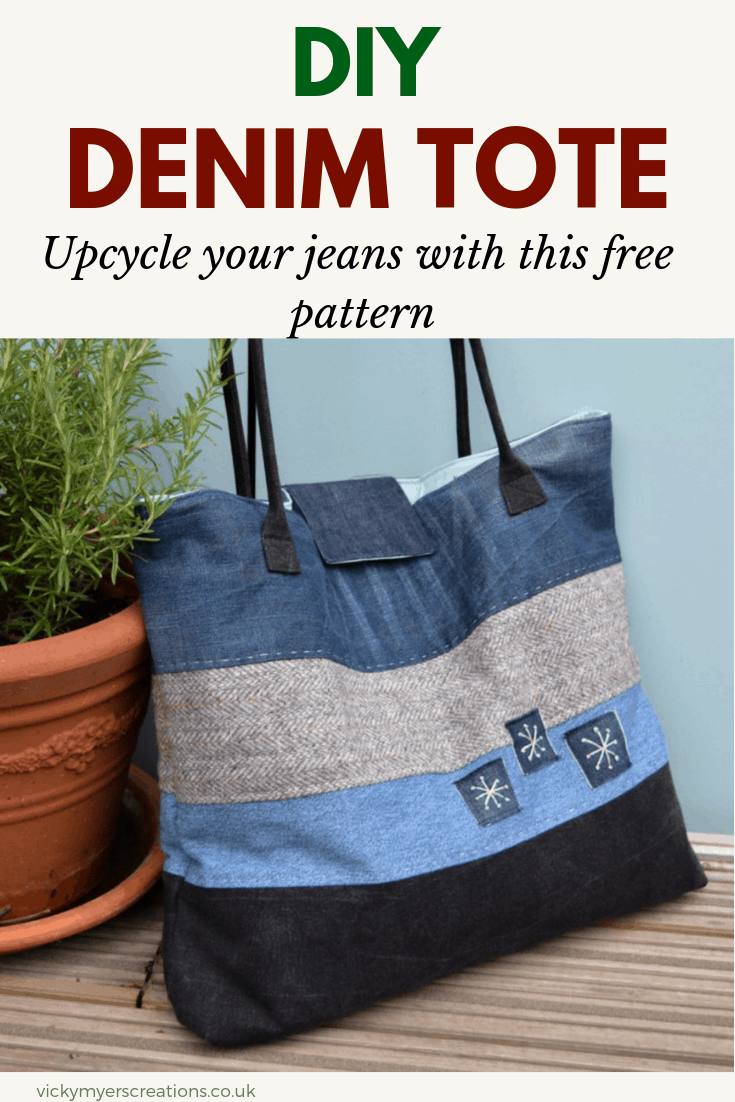 This large denim tote measures 20 by 18 by 3″ once complete, with handles 28″ long. I designed this bag for myself, at the stage in life with toddlers and all that entails in terms of spare nappy, packet of wipes, various toddler cups, and snacks, an extra cardigan… you get the picture!!
This bag is inspired by one similar spotted on Pinterest – unfortunately, I have no record of this bag. If you think it was your bag that inspired this one please contact me so that I can give proper credit for the inspiration.
If you love bag pattern check out all my free bag patterns and tutorials. Are looking for further ideas for what to do with your old jeans? Check out my 25+ craft ideas for old jeans
Personally I am rather passionate about bag making – if you are new to bag making I have the perfect Beginners Bag Making Course for you which covers so many essential skills for bag making, and includes many free bag tutorials.
Love the bag but don't have denim to hand?
You can sew this bag with any heavyweight fabric, such as home decor fabrics, or canvas. Due to the size of the bag thinner fabrics such as quilting cotton will not be as strong.
Looking to source denim? I regularly ask friends and family, especially if they are having a wardrobe clear out. Car boots, charity shops which I am guessing are the same as thrift shops and yard sales are also good sources of affordable old jeans.
Like the bag but not sure about the size? Check out my large denim bag pattern hack. This post talks you through adapting the pattern in various ways, here is a super quick video of the pattern hack.
Are you starting your journey in bag making? Check out my ebook Bag Making for Beginners – it includes printable pattern pieces for this bag.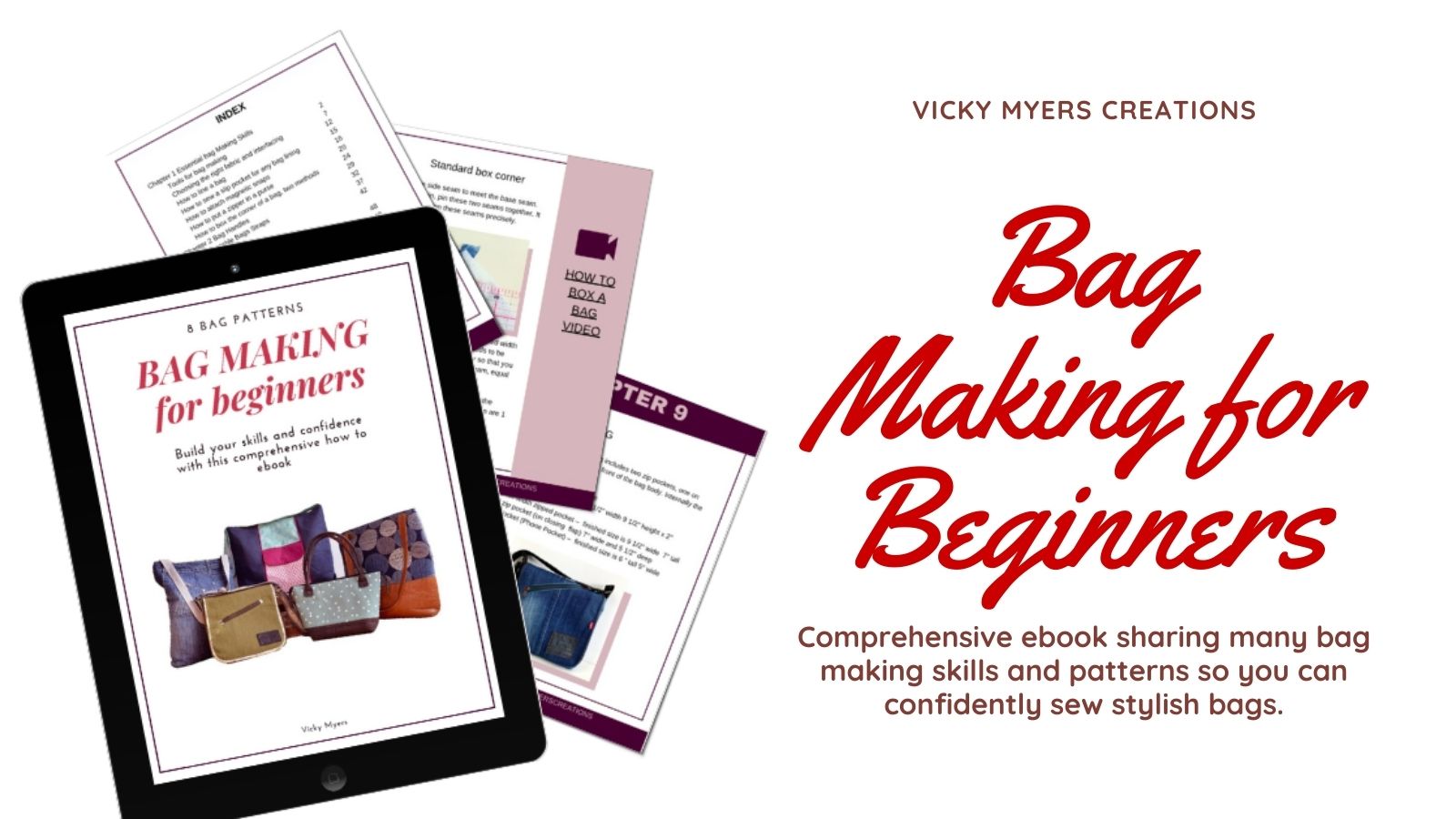 How to make a large denim tote bag
This post contains Amazon affiliate links for your convenience. Click here to see my disclosure policy.
RECOMMENDED SUPPLIES:
Bag
12 by 21 " (32 by 54 cm) fabric (this is for the bottom of the bag)
4 5/8 by 21″ ( 12 by 54cm) 2 pieces of fabric
4 1/2 by 21″ (11 by 54cm) 2 pieces of fabric
6 1/4 by 21 " (16 by 54cm) 2 pieces of fabric
Handles
2″ by 28″ twice for fusible fleece
2 1/2″ by 30″ four times for the fabric
Tab Closing
6 by 4 1/2″ (15 by 11cm) lining fabric with heavyweight interfacing
6 by 4 1/2″ (15 by 11cm) denim with heavyweight interfacing
Lining
21 by 37 1/2″ (54 by 94 cm) lining fabric with heavyweight interfacing
9 by 12 1/4″ (23 by 31cm) lining fabric for pocket, one per pocket
7″ (20cm) zip, one per pocket
How to sew up the large denim tote bag:
Exterior
Layer your fabrics as per your finished bag, creating one long rectangle, this will be approximately 21 by 37″ (92cm by 54cm) once completed. Stitch together allowing 3/8″ (1 cm) seam allowance.
Hand stitch with running stitch 3mm from the seam.
Embellish the front of your bag by placing your three squares of fabric as is pleasing to you. Stitch the squares on. Hand stitch your own design onto your squares. I have used simple stitches and french knots for the design shown.
Iron on your fusible fleece on the back of your pieced bag fabric. If you have chosen lighter-weight fabrics please do read my post all about choosing the right interfacing for bags.
Fold the bag fabric in half, lining up your fabric seams along the sides.
Stitch the side seams. If your sewing machine struggles with the layers of fabric ensure you are using a denim needle and a long stitch length, and if you have a quilters foot for your machine this will help too.
Next, it is time to box the corners of the bag base. Iron the fold at the bottom of the bag, this gives you a neat crease. Fold the side seam of the bag to the crease.
Mark a 3″ seam with taylors chalk. Stitch and trim the corner off. Do check out my post How to box the corners of bags, two methods for a detailed tutorial.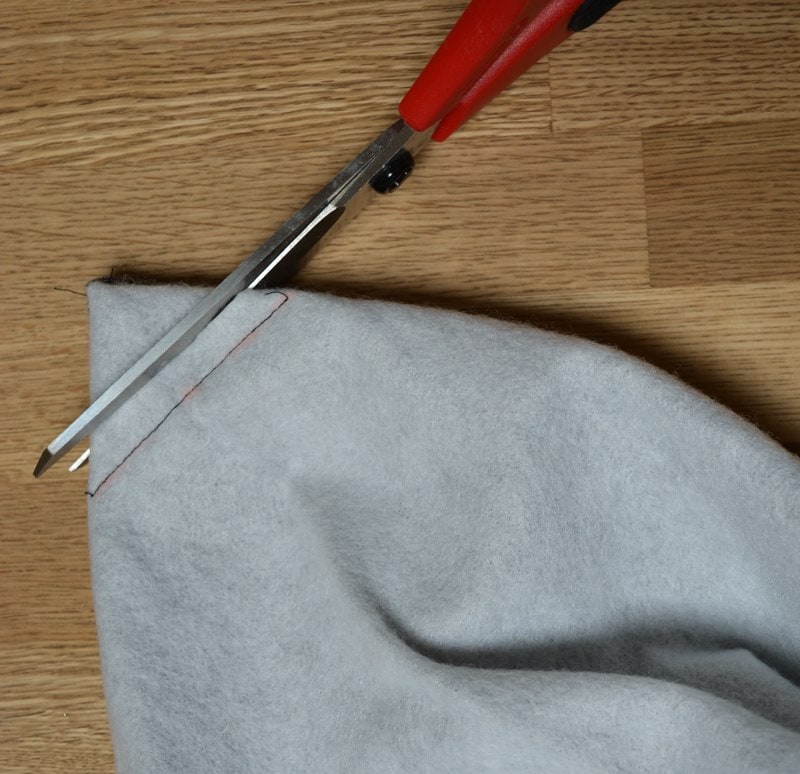 Repeat for the other corner. Turn the bag right side out.
Bag Closure
Create the flap closure. Mark the point for the magnetic snap 3.5 cm from short edge and centrally between the side edges on the lining (with heavyweight interfacing attached). Insert magnetic snap. Since I wrote this post four years ago I have refined my technique for magnetic snaps – do check out How to attach magnetic snaps.
Finish making the flap by placing fabrics right sides together.
Stitch three sides. Trim seam allowance, especially the corners, taking care not to cut the stitches by accident.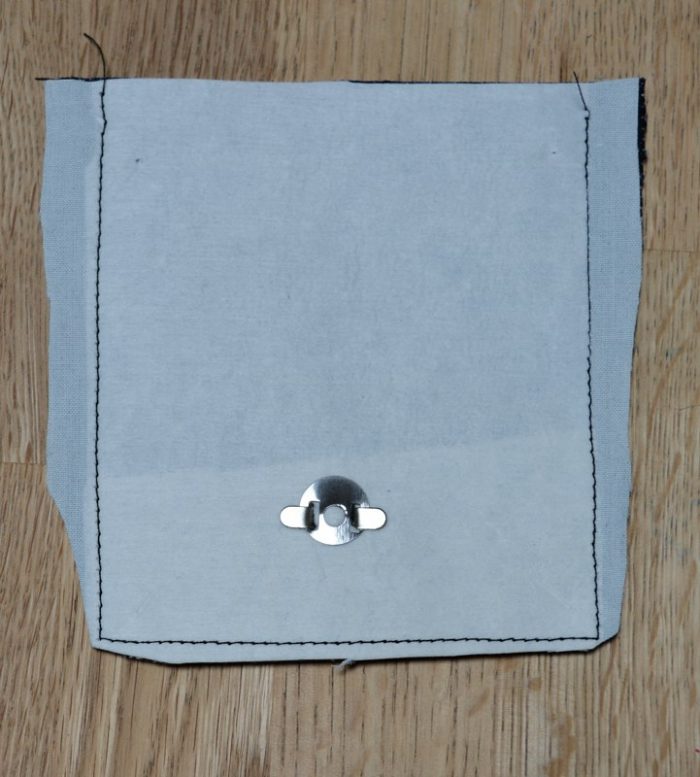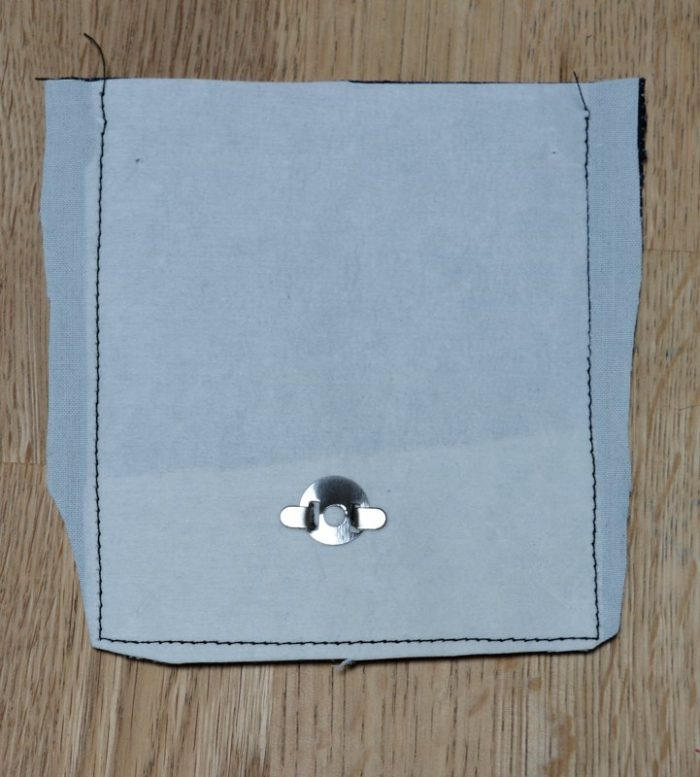 Turn right side out and topstitch around the edges.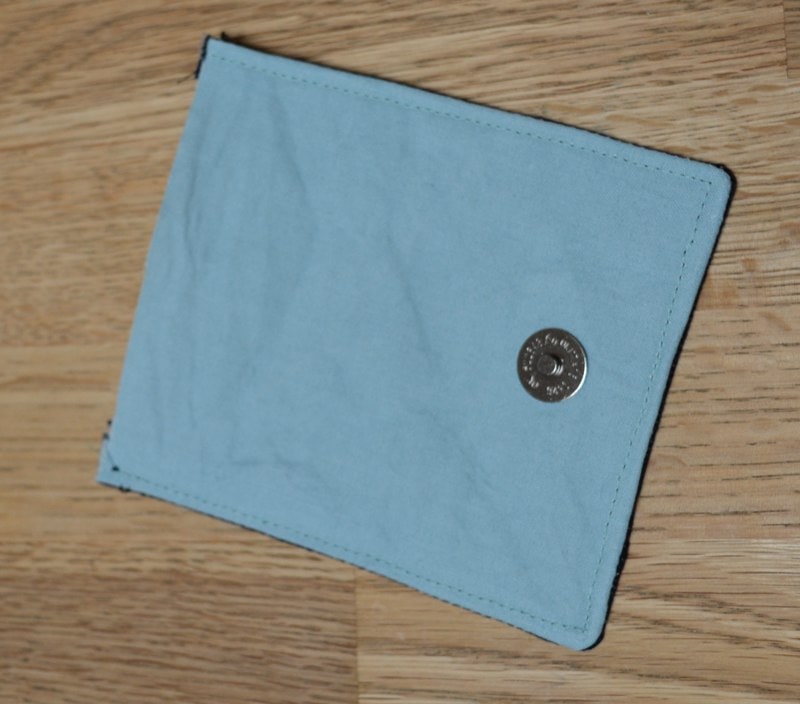 Place centrally and baste into place along the top of the rear of the bag.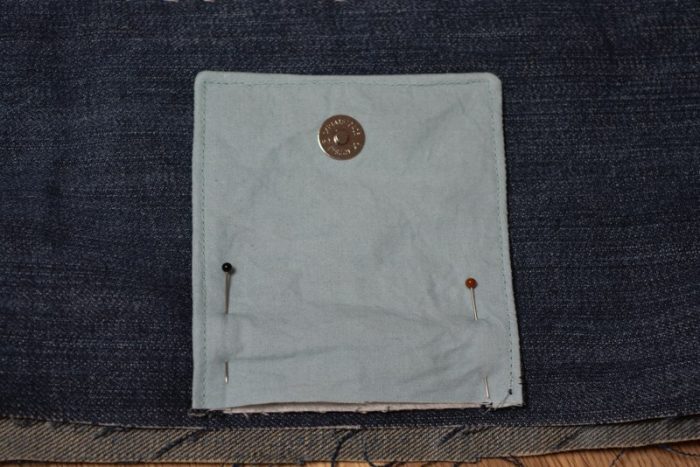 Mark the point for the magnetic snap on the front of the bag, and insert.
Bag Handles
Now let's create your padded bag handles – if you prefer corded bag handles check out my detailed tutorial for How to make padded and cord bag handles. Iron the fusible fleece onto the back of your bag handle pieces, placed centrally.
Place the bag handles right sides together. Machine stitch around, with a 1/4″ seam allowance. This is the edge of the fusible fleece. Allow a three inch turning gap along one side of the long edge.
Turn right sides out, turning the raw edges in press. Ladder stitch to close the gap on the straps.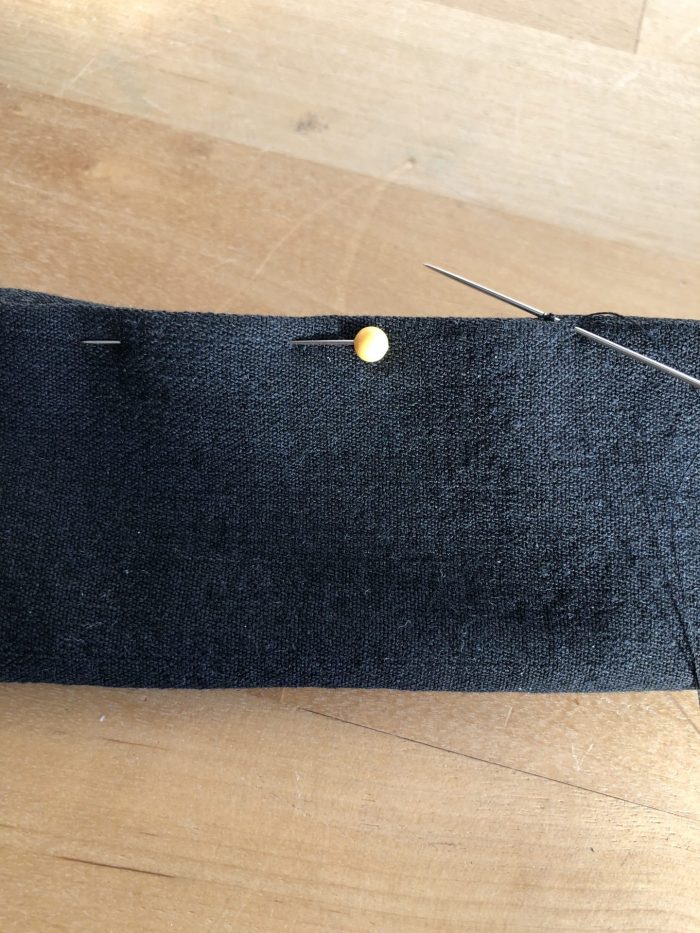 Fold the handles in half and hold with clover clips. Starting 2″ from the end machine stitch along the edge, stopping two inches from the end. take the time to backstitch each end of this stitching so you handle does not come apart over time.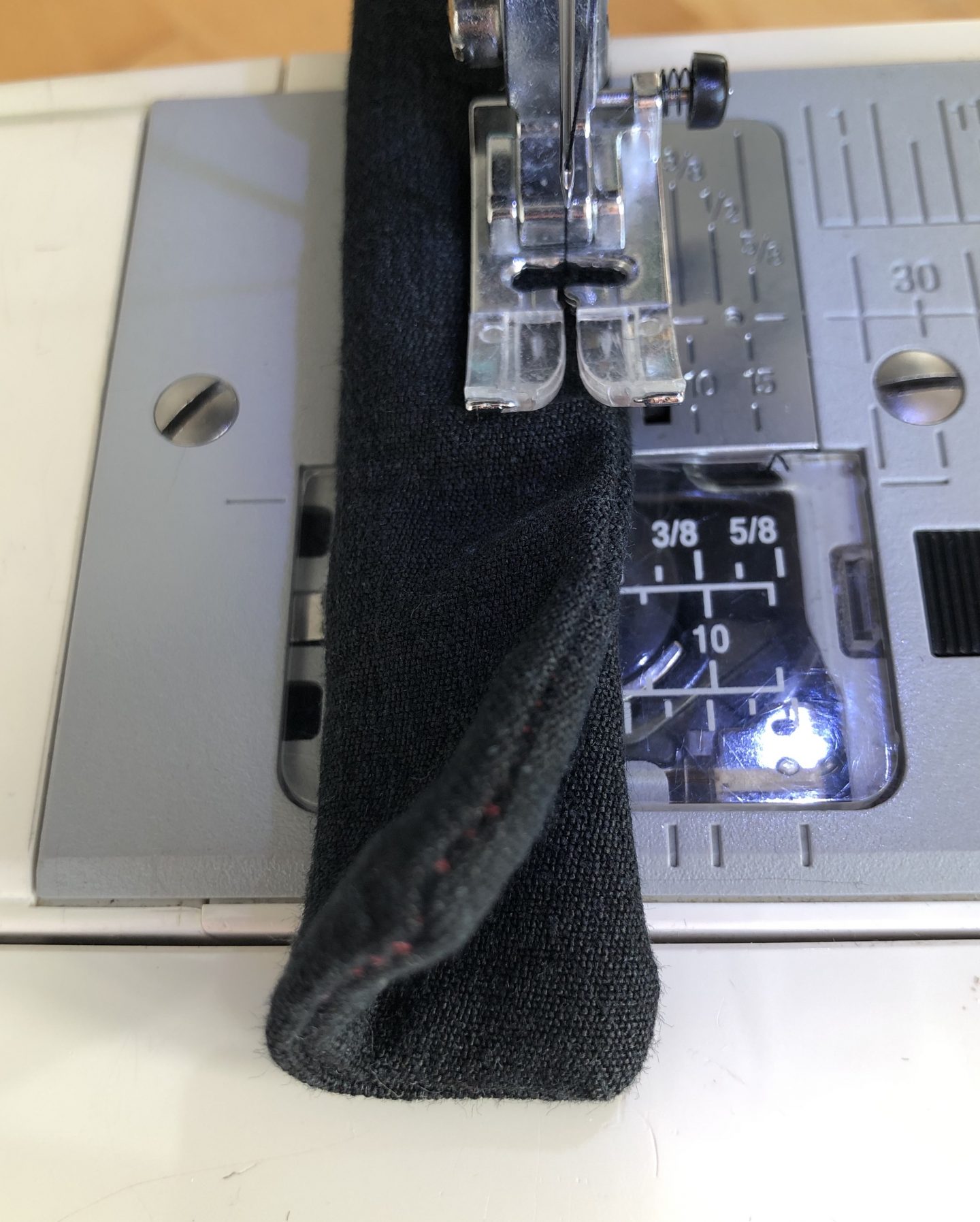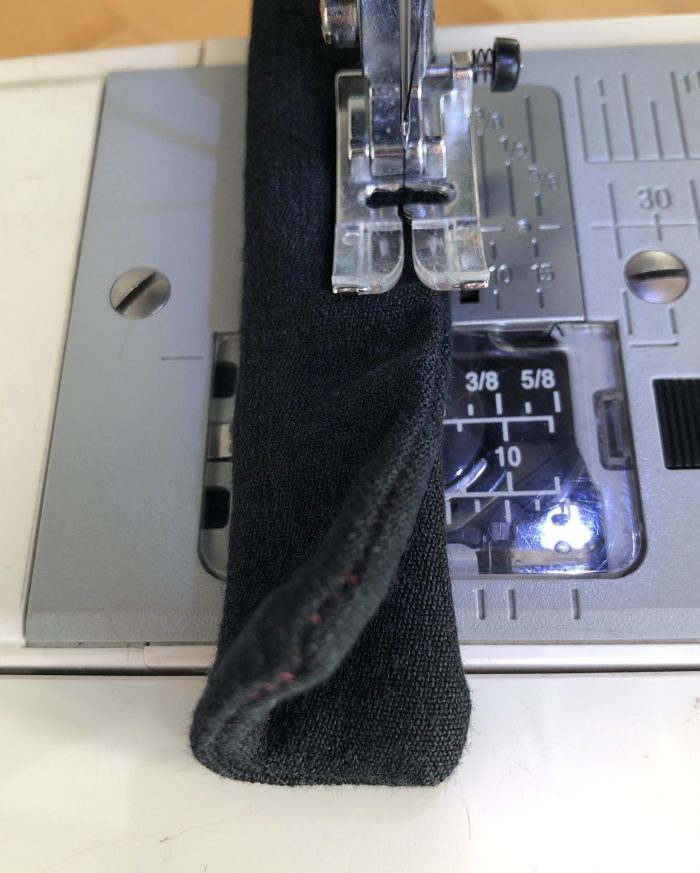 Place on the bag 3″ (8cm) down from the top and 4″ (10.5 cm) in from the sides of the bag. Sew on, I suggest sewing a rectangle and sewing across it diagonally to add strength.
Interior of the bag, lining
The first step is to adhere heavyweight interfacing to the lining fabric. The pattern pieces allow for two zipped pockets, personally I love zip pockets inside my bag, especially such a large bag as this one – perfect for car keys and phone. If you choose to add them please follow my detailed tutorial How to put a zipper pocket in a purse lining. I have placed my zip pockets for this bag centrally 3″ (8cm) down from each short edge.
Place the pocket lining right side facing the right side of the bag lining. Using a quilters ruler and tailor's chalk draw a rectangle 7 by 1/2″. Stitch along the drawn lines.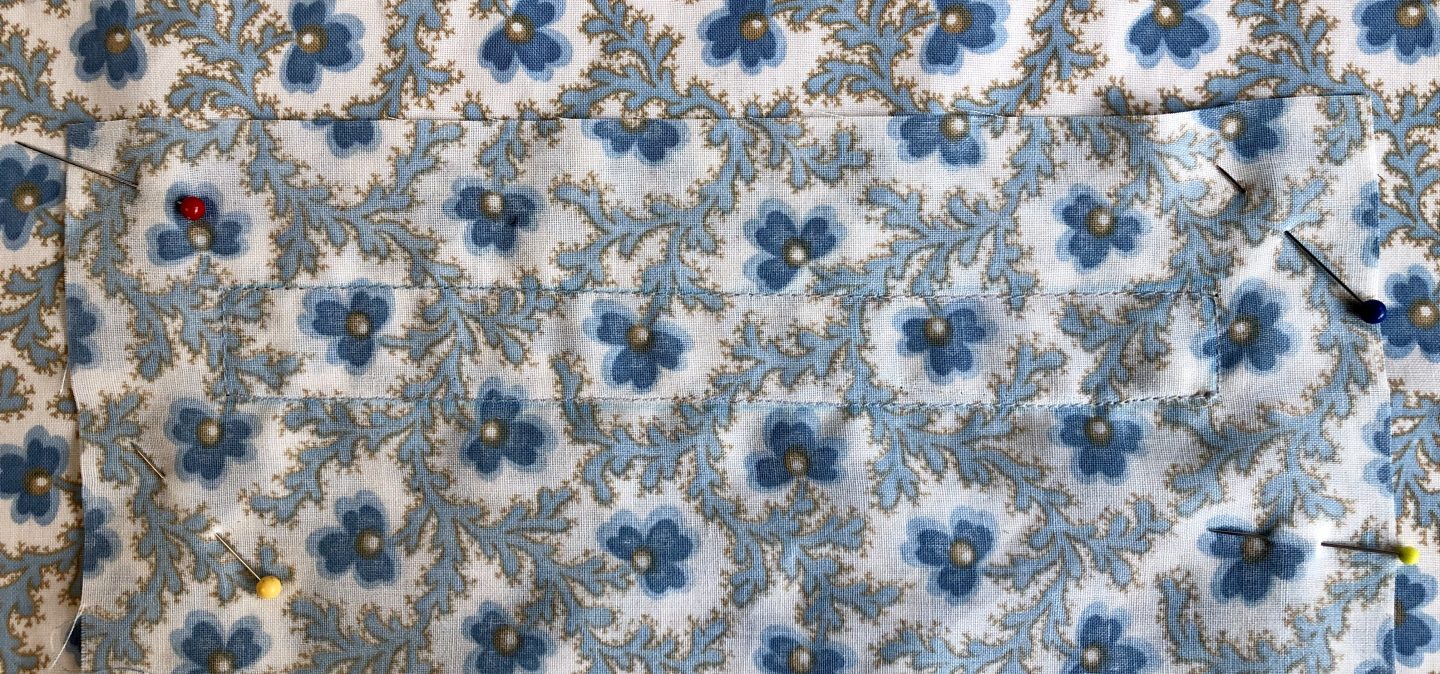 Cut along the center of the rectangle and into each corner, being careful not to cut the stitches.
Pull the zip pocket lining through to the back and press the rectangle. Place the zip behind, and hand stitch to secure before machine stitching in place.
Turn the lining over. Fold the pocket fabric up so the long edge t long edge, thus creating a pocket. Pin and then stitch around the edge to complete the pocket. Repeat for the second pocket.
Join the sides of the lining together, and then create the corners for the bag base, following the instructions as for the main bag.
Assemble the bag
Place the lining inside the bag – right sides together. Stitch the top of the bag all around, except for a 4″ (10cm) gap for turning right side out.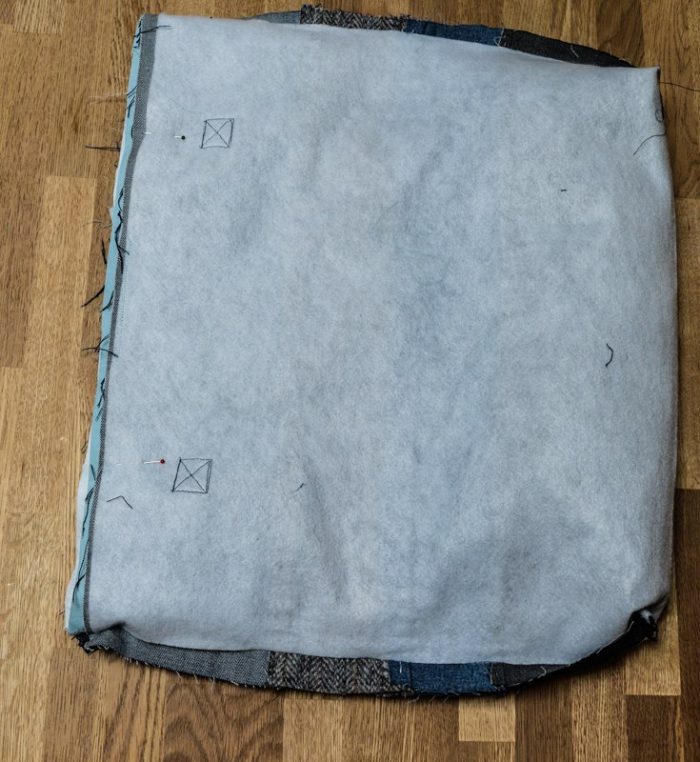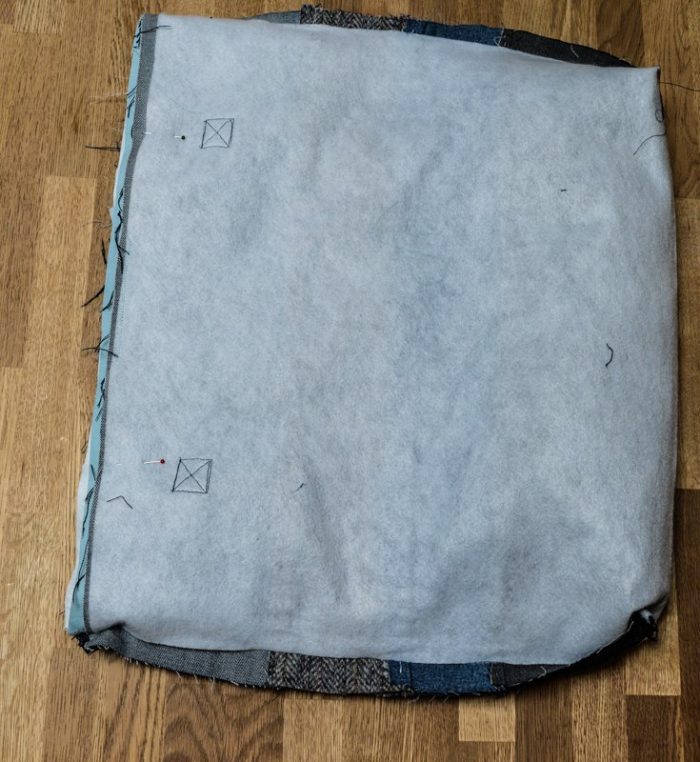 Turn right side out, press and then topstitch along this seam, taking the time to add the top stitch helps the top of the bag really does make a difference to the overall finish. One finished large denim tote bag:)
If you love repurposing denim as much as I then check out my popular sashiko denim tote bag pattern, or how about a small cross body bag embellished with hand embroidery? Check out my pinterest board for many free bag patterns.
This pattern is available as a free PDF in the newsletter resource library or alternatively, you have the opportunity to say THANKYOU by paying £2 UK pounds for PDF download plus printable pattern pieces in my Etsy shop.
THANKYOU for your support! I love making these tutorials to inspire others to take up the craft of sewing by making it as easy and step-by-step as possible. It may seem silly putting this out there, but one day it may enable me to make this my day job!