Do you collect old jeans? Do you wonder what to make with them? Then this denim rag quilt is the perfect solution!! Old jeans are a great source of hard wearing versatile fabric. I always have a stash, gratefully receiving any donations!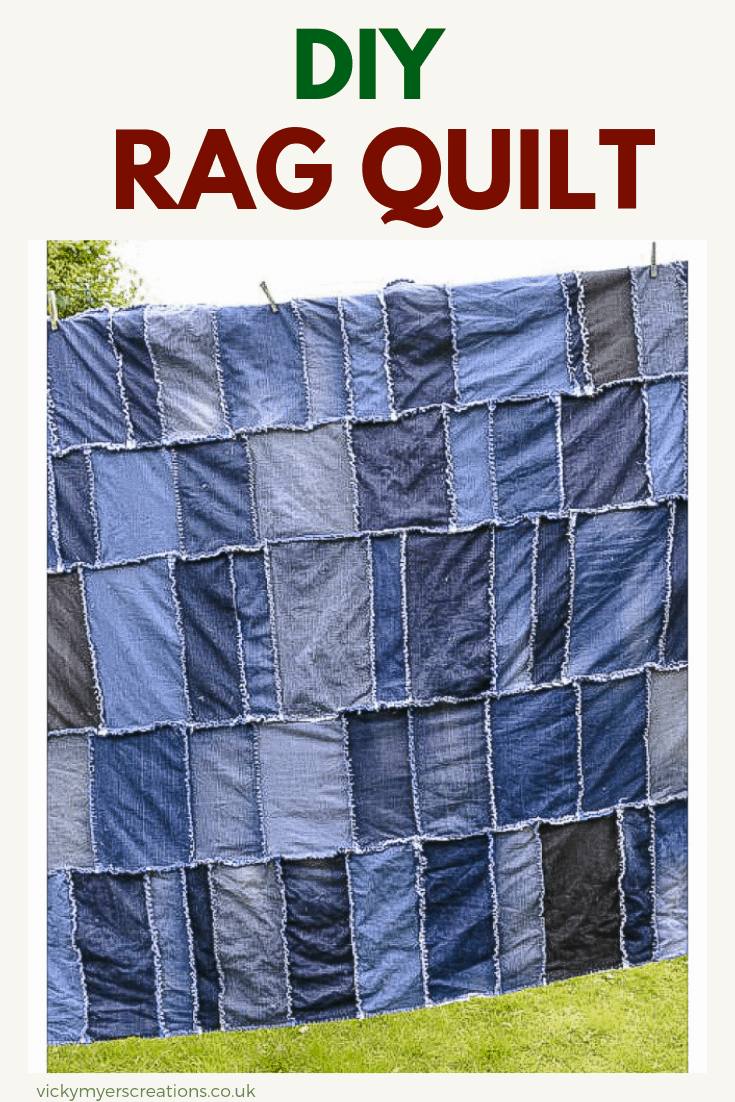 A jean quilt is perfect for anyone wishing to tackle a large denim stash. It is a great project for those considering making a quilt for the first time. You don't need to be a precise sewer or spends hours cutting out (as you can tell these are the aspects which put me off making a standard quilt!!). Wonky seams add to the casual quality of this denim rag quilt.
We are fortunate to have a spare bedroom, with none of our family local the room is used by regular visiting parents doting on their grandkids. The room is rather bland, ready to serve its function. It needs a touch of personality, preferably some upcycling.
I took inspiration from some beautiful denim quilts online. A blue denim rag quilt deals with my bulky old jeans stash, and is relatively quick and easy:)
When sourcing jeans for your rag quilt ask friends and neighbors. If you need to buy some consider car boot sales, thrift shops or similar and buy the larger size jeans – you get more fabric for your money! Think about the colors and tones of your denim, the more variety the greater the contrast in the finished quilt. Finally consider the stretch of the old jeans, preferably source jeans with little or no stretch, it will make sewing them easier.
Are looking for further ideas for what to do with your old jeans? Check out my 25+ craft ideas for old jeans
Denim Rag Quilt Instructions
RECOMMENDED SUPPLIES:
lots of denim jeans
lining (I used old pillowcases)
scissors
sewing machine
denim sewing machine needle
Trim your denim, removing all zips, waistbands. Make a decision re pockets, you may like to keep them as a feature or remove them. I removed them for ease of sewing.
You will be making panels of quilted denim, and then sewing the panels together. Decide on the size of your finished denim rag quilt.
Cut denim into rough sizes for your panels. My finished panels measure between 10-17″ and 104″ long. These were trimmed to size once sewn.
Layout your pieces in order to choose which denim you like next to each other. Pile up in the order you would like to sew them in, varying the tones of denim.
Next, think about your lining, you will be adding your lining as you sew. I used different pillowcases, using the width of the pillowcase as my size guide for the width of the panels.
To sew your first two pieces of denim trim your denim to provide a straight line down the grain (this is often easier to see on the back of the fabric).
Lay down the first piece of denim wrong side facing, next lay your lining right side up, then your second piece of lining the wrong side up, and lastly your second piece of denim right side facing you. Stitch a seam 5/8″ wide. If your machine struggles to cope with the layers of denim ensure you are using a denim needle and try a walking foot. Check out my video for how to sew denim.
Trim the pillowcase lining to the width of the denim panel.
Lay your next piece of lining and denim on the second side of the denim (as previously) and stitch. Continue until your panel is as long as you require.
Trim the panel into a long rectangle, I used the edge of the rug for the first side and a large book as a guide for trimming the width of the panel. Pin each seam to stop it coming apart. Stitch along the long sides to hold these seams together, 5/8″ in. Remove pins.
Create as many panels as you need.
To make the ragged frayed edges cut into the seam allowance every 5/8″. Be very careful not to cut into the stitched line. If you accidentally do restitch. It is easier to do this now as there is less bulk.
Once you have cut into each seam allowance layout your denim panels and choose the order you like them in.
Pin lining sides together then stitch together at 5/8″, so the seam is on the right side of the quilt. Cut into the seam allowance to create fraying.
You are nearly there, sew around the edge of the quilt 5/8″ in, then cut into this seam allowance to create the fraying.
Lastly, place your quilt in the washing machine and wash, then wash and wash again. Each time you wash the quilt the seams will fray a little more.
Hang your denim rag quilt out to dry.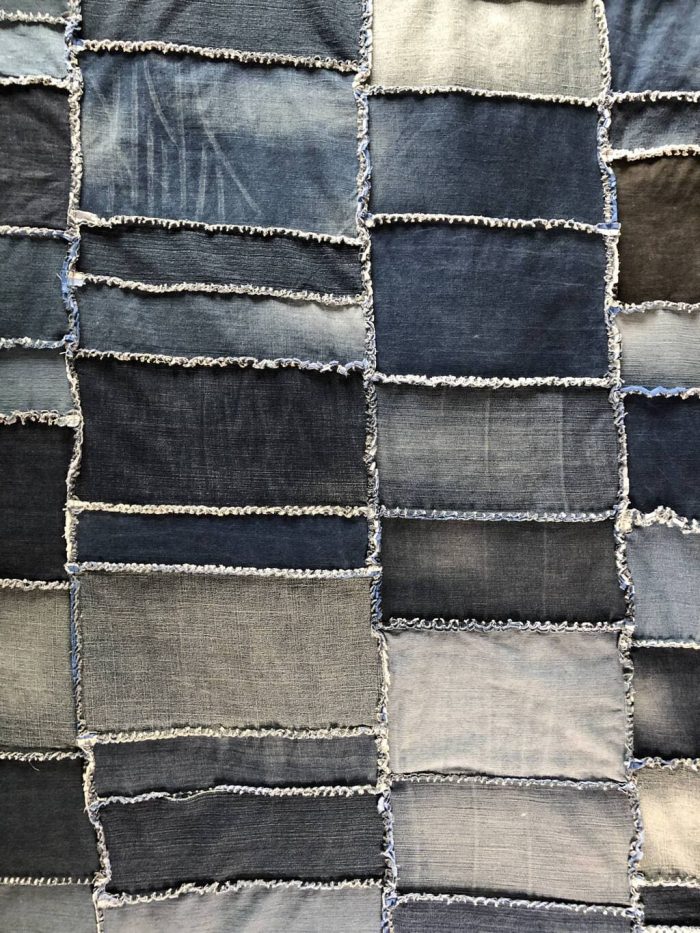 I love the texture of denim. A surprise is the weight of the blue jeans quilt, I love lying under it (the weight is heavier than anticipated).
I totally winged it, as I say, for measurements but I appreciate most people prefer to know the size of the quilt they are going to make!! Below are standard bed sizes, you may wish to add 10″ either side for length.
US Beds:
Twin 36″ by 75″
Double 54″ by 75″
Queen 60″ by 80″
Eastern King 76″ by 80″
California King 72″ by 84″
Dual King 78″ by 80″
And the UK:-
Single: 36″ by 75″
Double 54″ by 75″
King 60″ by 78″
Super King 72″ by 78″
Queen size 90″ by 90″
What is your favorite upcycled denim project?
If you love working with old jeans sign up to my newsletter for access to my free resource library, which includes PDF patterns for various denim bags.
[mailerlite_form form_id=3]
How to make a denim rag quilt
Prep Time 3 hours

Active Time 1 day

Total Time 1 day 3 hours

Difficulty easy
Materials
LOTS of pairs of denim trousers
Old sheets to use as lining fabric
Sewing thread
Tools
Spring loaded scissors
Walking foot
Denim sewing machine needle
Recommended Products
As an Amazon Associate and member of other affiliate programs, I earn from qualifying purchases.

If you prefer a slightly more uniform look to your rag quilt then this denim rag quilt tutorial advises how many exact squares of denim you will need for different sizes of quilts, a handy resource. Making a rag quilt has added personality to my spare room. Or check out my baby rag quilt tutorial.
Since I made the quilt I have made matching denim curtains, recovered a Victorian chair in denim and made blue denim rag cushions. Plus if you are looking for yet further denim inspiration check out all my old jean upcycles.