Craft your own stunning DIY Fall Banner with Gelli Plate prints and leaf cutouts. Add autumn charm to your home decor this season!
As the leaves change their colors and the air becomes crisper, fall provides the perfect backdrop for fall DIY projects. One delightful way to celebrate this season is by creating a charming fall banner to adorn your home. In this step-by-step guide, we will walk you through the process of crafting a fall banner that captures the essence of autumn. We'll cover everything from creating stunning Gelli Plate prints to cutting out leaf shapes and assembling your banner.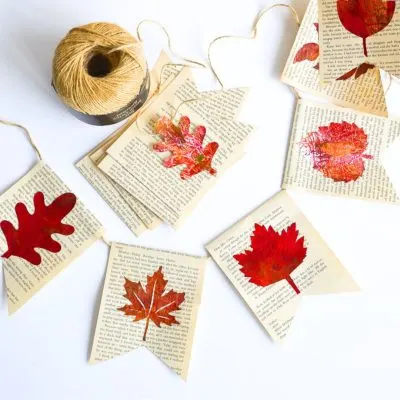 My daughter has a chronic illness and therefore spends most of her time in her bedroom, this last weekend she announced she would like to decorate her room for her favorite season of the year. Last year I made pumpkins, so she bagged them as a start.
This simple fall banner is an easy project that is a fun way to pass a couple of evening's, and an easy way for her to decorate her favorite place for the fall season.
This simple fall banner is an easy project that is a fun way to pass an evening
Table of Contents
Youtube video
DIY Fall Banner
Materials You'll Need for your Cute Banner
Gelli Plate and Brayer
Acrylic Paints in Fall Colors (such as red, orange, yellow, and brown)
Brayer
Tissue Paper, kitchen towel, tissue paper
Copy Paper
Leaf Templates (optional)
Craft Knife and cutting matt or Cutting Machine (if using)
Paper Scissors
Old Book Pages
Jute Twine or Ribbon
Glue Stick
Now, let's get started on crafting your beautiful fall banner.
Step 1 Prepare Background Gelli Printed Papers
Not gelli printed before? No worries, I have you covered. The basics are you use a brayer to roll out acyrlic paint onto a gelli plate, place a piece of paper over the top, smooth it down then peel off the paper. The acrylic paint lifts off the plate onto your paper.
The beauty of this technique is that you can texture and layers of color.
To start roll out some autumn colours onto your plate. Next, let's add some pattern/texture. I have three techniques for you to try: crumpled foil adhered to a cardboard base, crumpled kitchen roll dabbed across the surface and my personal favorite crumpled tissue paper placed across the gelli plate and then pulled off leaving vein like patterns.
Here's a close up of the tissue paper in action.
Once this first layer of acrylic has dried roll out a second color to create some fabulous gelli plate prints.
Read more about gelli plate printing with my How to Gelli Plate Print Guide.
You will need approx one A4 sheet of paper per four leaves. The paper will need to be fully dry before moving onto the next step.
Step 2: Cutting Out Leaf Shapes
Cricut Machine
In the cricut design space open a new canvas. Select images, type in leaf shape to the search, then on the left-hand side select free. This gives you a variety of leaf shapes you can then select and add to your canvas. Size your leaves as you require, for my flags I chose a width of approx 7cm.
Place your chosen Gelli Plate print onto a medium-strength cutting mat, with a fine cutting blade, with the light card stock selected. Ensure your paper is fully adhered to the mat, then cut to your heart's content!
By Hand
If you're confident in your drawing skills, you can sketch leaf shapes freehand. Alternatively, you can find leaf templates online or trace real leaves you've collected.
I found these leaves courtesy on Freepik. With a sharp craft knife, carefully cut out the leaf shapes you've traced. Take your time to ensure clean and precise cuts.
Step 3: Cut Out Banner Paper Shapes from an Old Book
Select an Old Book: Choose an old book with yellowed pages or vintage text. This will add a rustic touch to your banner. Rip out pages from the book.
Cut Out Banner Shapes: Use scissors to cut out the banner shapes. We chose to make a cardboard template for a uniform shape. You can download the template here, if you are using a paper guillotine it is 4 1/4″ wide and 7 1/2″ long.
Create the hanging fold: Fold over the top of the flag by 2″ and press. Using a glue stick adhere this folded edge leaving an unglued gap along the folded edge ready to pass jute twine through.
Step 4: Assemble Your Banner Flags (folded pennants)
Use a glue stick or mod podge to attach the cut-out leaves to the book page banners. We have placed one leaf per flag, positioned centrally. Place them under a heavy book as this is a great way to prevent the flags from curling as they dry.
Step 5: Create your banner
Arrange the banner: Lay out your banner flags to plan the arrangement of your fall banner. Experiment with different compositions until you're satisfied with the look.
Attach the Leaves and Banners: Use glue or double-sided tape to attach the cut-out leaves onto the book page banners. I have chosen to place one leaf per flag, centrally.
Create a Banner String: Cut a length of jute twine or ribbon that suits the size of your banner. Make sure it's long enough to hang comfortably.
Attach the Banners: Thread the twine or ribbon through the top of each flag, I used a long upholstery needle to help thread the piece of twine through.
Hang Your Banner: Find the perfect spot in your home to display your handmade fall banner. You can use removable adhesive hooks or simply drape it over a mantel, along a staircase, or on a wall. In my daughter's bedroom it's hanging from her bookcase.
Crafting a fall banner is a fun project to bring the beauty of autumn into your home. With Gelli Plate printing, precise leaf cutting, and a touch of vintage charm from old book pages, you'll have unique fall decorations that captures the essence of the season.
Enjoy the process of creating your fall banner, and let it fill your space with the warmth and colors of fall. Happy fall!