I have been contemplating making my own insulated DIY Lunch Bag for some time. For my day job, I carry an A4 notebook plus tablet, due to the weight I use a leather rucksack (spreading the weight across both shoulders), but it is rather hard to squeeze my lunch in too. Time to make myself my own Christmas gift!



If you love bag pattern check out all my free bag patterns and tutorials. Are looking for further ideas for what to do with your old jeans? Check out my 25+ craft ideas for old jeans
Personally I am rather passionate about bag making – if you are new to bag making I have the perfect free Beginners Bag Making Course for you which covers so many essential skills for bag making, and includes many free bag tutorials. If you prefer an ebook which you can download with printable pattern pieces check out my Bag Making for Beginners ebook.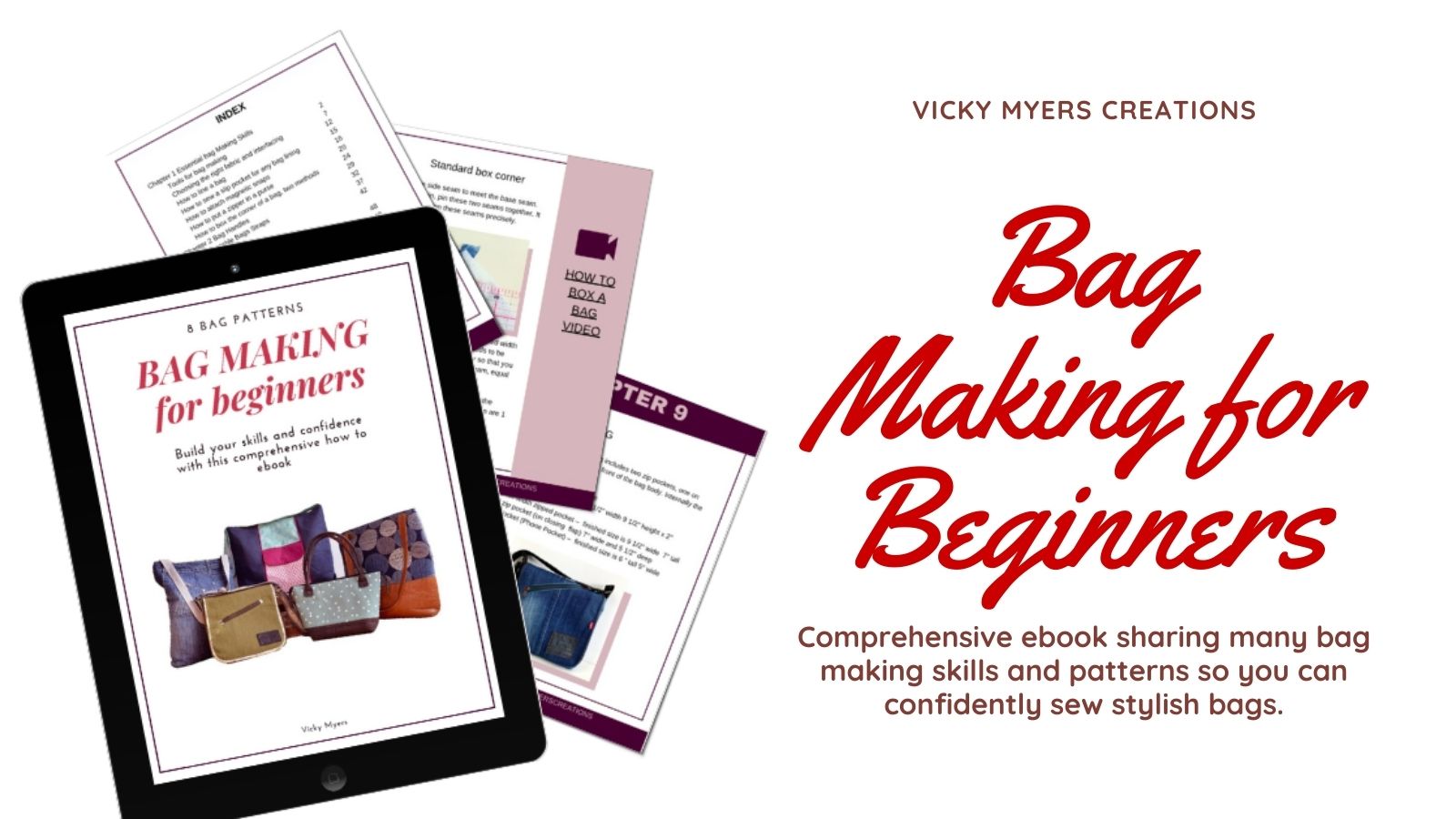 DIY Lunch Bag
RECOMMENDED SUPPLIES:
Two pieces of denim measuring 12 by 12 1/4″
Two pieces of lining fabric measuring 12 by 15
Leather piece measuring
4 8mm double cap rivets
Two pieces of crazy patchwork fabric scraps measuring 12 by 3 1/2″
Button
Elastic Thread
Insulating Wadding
Hole punch
Sew our fabric scraps together in random fashion.
Press, then cut two strips measuring 12 by 3 1/2″.
Sew one strip to the top of one denim piece. Repeat.
Baste the insulated wadding to the back of bag pieces.
Quilt the fabric scrap at the top – I have stitched by eye horizontal and vertical lines.
Place the denim pieces right sides together, ensuring your fabric scraps/denim seams align.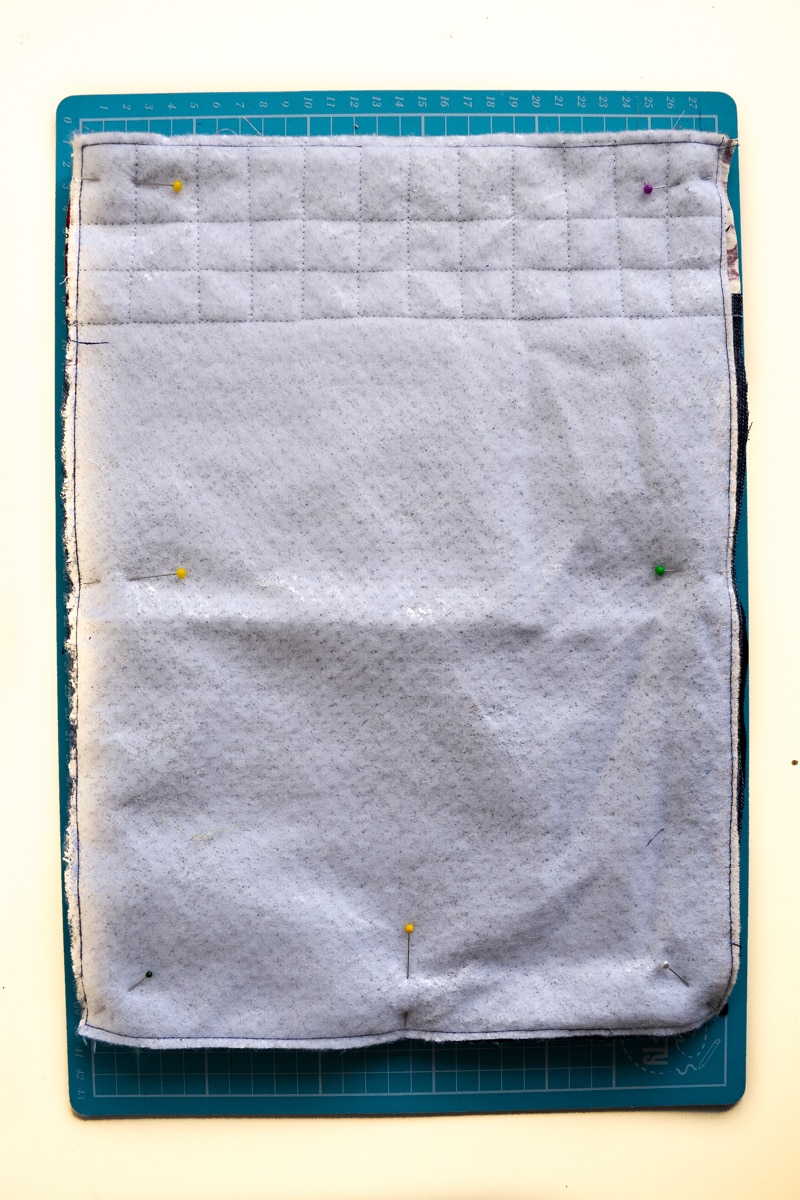 Stitch with a 3/8 seam allowance down the side, along the bottom and back up to the top.
Pin the side seam to the bottom seam. Measure in along the seam 2 1/2″ from the edge and mark at right angles.
Stitch this seam, this creates one corner of the base of the lunch bag. Repeat for the other corner, then trim the seam.
Repeat for the lining, sewing the sides then boxing the corners.
Cut a strip of leather measuring 1″ by 10 1/2″.
As my leather is bendy and on the thinner side I have cut two identical pieces and sewn them back to back. If you do this your sewing machine will thank you for using a leather needle and long stitches.
Place your leather handle next to and parallel to the top of the crazy patchwork and 1 1/4 in from the outer edge.
Using a hole punch create a hole, through one layer only!.
Insert the cap rivet and hammer to close (as per the cap rivet instructions). Repeat with a second rivet 3/4″ along.
Insert two cap rivets as above to secure the second side of the handle.
Create an elasticated loop suitable for the size of your button.
Place the lining over the denim bag so the top edges align.
Place the loop centrally on the back of the lunch bag, so the knot is within the seam allowance.
Stitch around the top of the bag, leaving a 4″ turning gap.
Turn the bag right side out. Press this top seam, pin and top stitch around, this creates a professional finish and closes your turning gap.
Lastly sew your button on.
This insulated DIY Lunch Bag is included in the resource library for newsletter subscribers, why not subscribe?
If you are wishing to dd to your eco linch bag do check out my resuable sandwich wrap tutorial and accompanying homemade reusable snack bags.
Stay tuned for more great easy gift ideas – this post is one of a series of twelve DIY Christmas gifts. In case you missed them:-
Gift 1 – Sashiko Cute Coin Purse
Gift 2 – DIY Felt Christmas Ornament Kits for Kids
Gift 3 – Bicycle Tyre Wallet
Gift 4 – Funky Felt Necklace
Gift 5 – DIY Leather plant pot holder
Gift 6 – Denim Embroidery Hoop Art Tutorial
Gift 7 – DIY Cafetiere Cosy
Gift 8 – Envelope Cushion with Pom-pom trim
Day 9 – DIY Lunch Bag
Day 10 – Luggage Tags
Day 11 – Rainbow Drawstring Bag