I am super excited to share with you our new pallet closet. I don't know about you but we have quite a bit of "stuff" despite trying to keep on top of belongings and regularly clearing out. Our bedroom had turned into a bit of a cluttered space. We discussed storage solutions, built-in wardrobes, IKEA wardrobes, and my husband sketched out pallet wardrobe designs.
The beauty of designing and building a pallet wardrobe means you can meet your needs in your space. Plus of course its great to use recycled materials as opposed to new resources (re the planet), and it saves you money! The cost of our purpose-built storage £450 as opposed to costed IKEA at £900. Plus it's a fun challenge to make cost-effective pallet furniture pieces.
We designed the storage space to suit our needs. The pallet wardrobe/closet runs along the wall opposite our bed. My side of the wardrobe plans are for double hanging space for skirts and tops, a single hanging space for dresses, shelves for sweaters, and baskets for underwear. Centrally a cupboard with a shelf, with a television and a further shelf above. For my husband, he has a double shirt hanging space and shelves. The additional shelves by building high wardrobes give great additional storage capacity and meet all our storage requirements.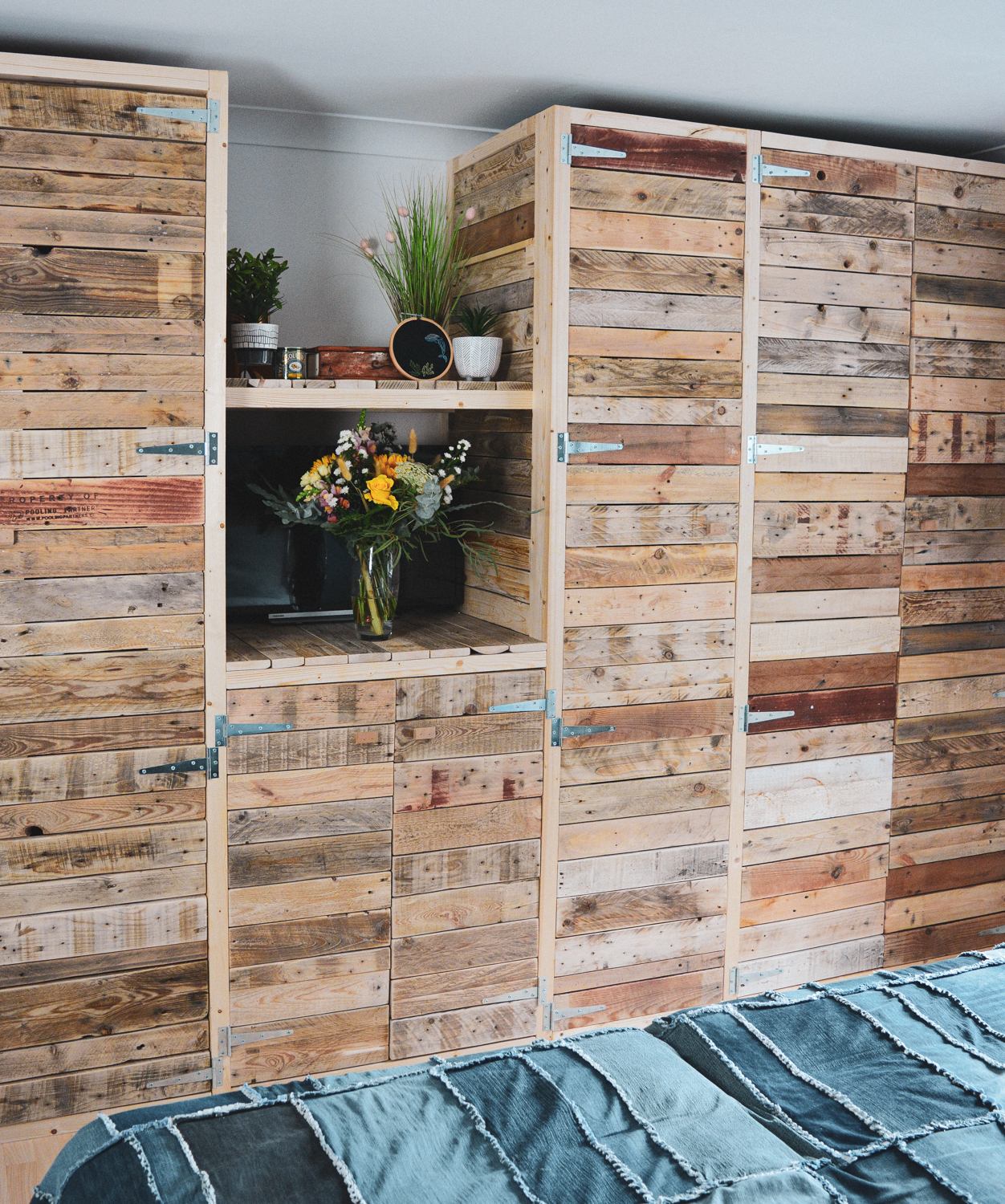 Recycled pallets are a great source of free wood – we sourced our pallets by asking on local facebook pages. The pallets are used to create the pallet wardrobe/closet doors, with bought timber for the wooden structure.
But before we start how do we know if the recycled pallets we have sourced are safe to use?Some pallets have been exposed to a chemical treatment that makes them inappropriate for use in home projects or have toxic chemicals on them. Most pallets have a stamp marking on them which advises you how it has been treated. Check out this informative article How to know if your pallet is safe to use. I highly recommend buying a pallet breaker – the video is a very brief snapshot of the build – which I am sharing because it shows just how useful a pallet breaker is!
Pallet Closet DIY
Materials and Tools List:
15 Recycled Pallets
Pallet breaker – not essential but so worth the investment
Wood for the frame, we used wood measuring 7 by 1cm and 4 cm square (Cm's as we are in the UK)
Hanging rails (we repurposed rails from our old wardrobes plus an old brrom handle)
Metal ruler and set square
Spirit level
Nail gun
Sander
Drill
Screws
Pallet Wardrobe/Closet Assembly
1. Start by building the frame. You need two identical structures for the back and front of the pallet wardrobe. Jared built these in situ, on the floor. There are three vertical pieces from which the doors will hang, plus two horizontal pieces for the top and bottom. It is important to take your time and sure all joins are true right angles (otherwise you will not have proper rectangles for your door space).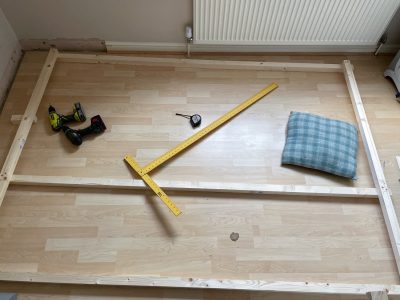 2. Attach the first frame to the wall, using raw plugs and long screws.
3. Lift the second frame up, attach to the first with wooden cross pieces positioned at the height of shelves, these are screwed in place. This forms the basic wooden structure of the wardrobe.
You can see in this photograph further horizontal pieces have been added to form the base of the top shelf.
4. Using cut lengths of pallet pre-sanded to form any shelves and the base of the wardrobe. These are attached to horizontal cross pieces placed at the height of your desired shelves. The slats of pallet wood are attached to the wooden frame using a nail gun. The shelves add rigidity and solidity to the structure.
5. Drill holes the size of the hanging rails (we repurposed rails from our old wardrobes plus an old broom handle) in wooden cross pieces. Attach the cross pieces (holding the hanging rails) to the basic frame.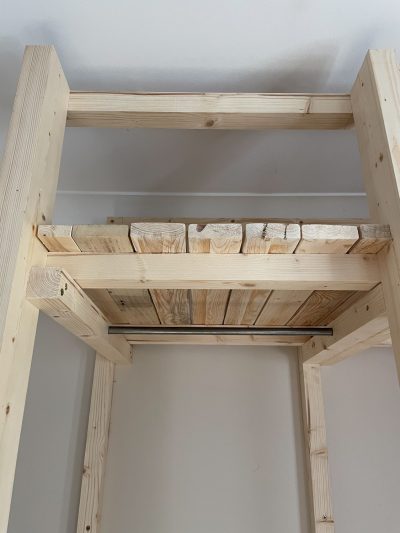 6. Now to create wardrobe/closet doors. Cut two lengths of wood to the length of your door (we used wood measuring 7 by 1cm, with the doors being 8 cm shorter than the frame). Cut your pallet pieces and sand them to the finished width of the door. Consider the depth of the pallet wood – do you want them all the same depth? If like us you are happy with slightly different heights you need to ensure the pieces where your door hinges will be attached are the same depth. Decide on the position of your hinges and attach these slats of pallet first and then fill in around. You may need to trim some pallet pieces to fit.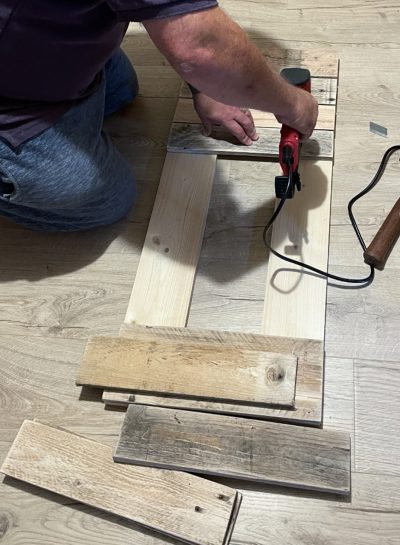 This photograph is taken of the construction of the cupboard doors.
7. Hang your doors, attaching solid hinges.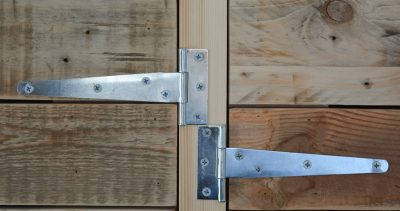 8. Add magnetic door closures internally.
9. Add door handles, we have used small pieces of wood which are wood glued and nail gunned to secure in place.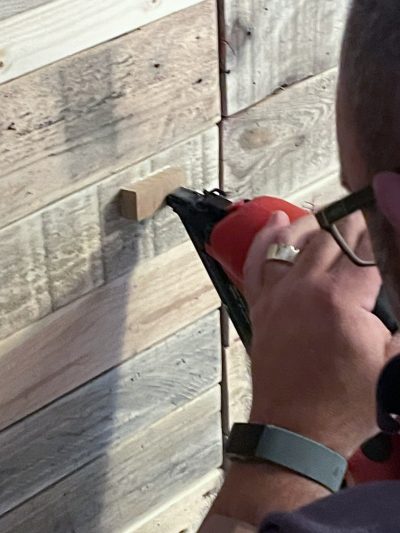 10. Finish the sides of the wardrobe. Add beading within the frame so that you can fit slats of pallets snuggly to the frame.
11. Infill the top of the wardrobe frame with wood 4 by 4cm – this finished the frame all round.
Note we chose not to add a roof to the pallet wardobe/closet as they virtually reach the ceiling. for our purposes, we knew the top shelf is only going to hold items in vac bags so dust is not a concern.
I thought it would be helpful to share an additional photograph of the construction, as it is helpful to see the base wooden structure. Once the triple wardrobe was built, the frame for the second wardrobe was constructed and installed with the tv unit being fitted inbetween.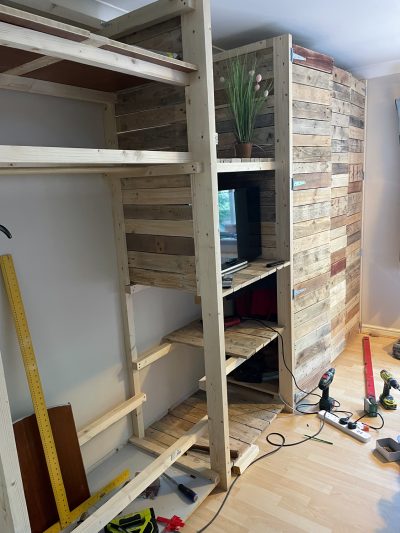 As you can see due to limited storage capacity items were housed in the wardrobe as it was built!


This multifunctional pallet project solves all our storage needs, acts as a stand for the tv, adds lovely wooden texture and detail to our bedroom. The cupboard under the telly houses all our winter blankets, a box for Christmas gifts, hot water bottles, my son's wet suit, there's so much bedroom storage space!
The most pleasing aspect of the beautiful pallet wardrobe, how relaxing I find our bedroom, it feels like a grown-up designed space. Who knew recycle wood pallets could be so transforming in a space?! I highly recommend taking the leap to make awesome wood pallet furniture.
Looking for more DIY Pallet Ideas?