These Christmas tree decorations are super easy to make from wine corks, add a touch of fun and sparkle to your season's decor. Plus they are a great activity to make with children.
I've been playing with ideas for how to use saved leftover wine corks as Christmas decorations. I love the idea of reusing what I already have rather than buying new.

Working with wine corks is a delight, there are so many potential ideas for making Christmas decor with them. Use the corks whole or slice them up, the possibilities are endless: from cork reindeer to cork snowmen to whole cork nativity scenes.

How to source corks
Not an avid wine lover? No worries I have you covered – if you are friendly with a local restaurant or bar you can ask them to save them for you. Alternatively, some people sell used corks online or you can buy new ones.

Variations on cork Christmas tree ornaments
I have a variety of suggestions this holiday season to change up your wine cork tree.
Paint the whole cork for a different look, have fun with different colors.
Try swapping the gilding flakes for buttons.
Increase the size of the tree by adding further rows of corks on the base.
Tie a red ribbon around the tree before you add your cork representing the tree trunk.

How to make a wine cork Christmas tree

Materials:-
11 corks per ornament
White acrylic paint
Silver guilding flakes or the from inside of sweets
String
Hot glue gun with extra glue sticks
The first step in our wine cork ornament is to paint one end of each cork with white acrylic paint. Allow this to partially dry, so it is tacky to the touch.
For an uneven random pattern break your gilding into little pieces, then dip the tacky end of your natural corks into this gilding.
Once the corks are fully dry it's time to create your first row of corks with your hot glue gun.
Apply glue from the glue gun to one edge and align the front edges, pressing together – creating a row of four corks.
Next create a row of three corks, and add to the layer of four. Follow this with a row of two corks and add to the row of three.
For the trunk of the tree place a cork at the base, I have sed the wine end to hint at the brown bark of a tree.
The top single cork layer has a hanging loop. Take a piece of string, tie a knot to create the hanging loop.
Wrap the tale ends around your cork and secure with the glue gun.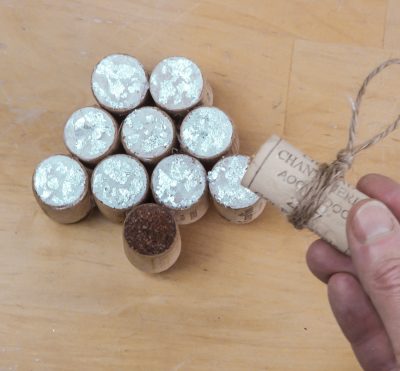 Lastly add to the top of your tree, finishing your wine cork pyramid.
Do check out my many other Christmas related crafts and projects for further inspiration.