Tidiness is not my forte, for some time I have been meaning to tackle the cable drawers in our sideboard. Surely I'm not the only person to have a pile of messy cables and leads??
So when I received this bundle of fabric from Little House on the Prairie® Andover Fabrics Collection I knew exactly what I wanted to make!
Do you neeed help to tidy your cables? Fancy making your own cable roll?
It's a great fat quarter make.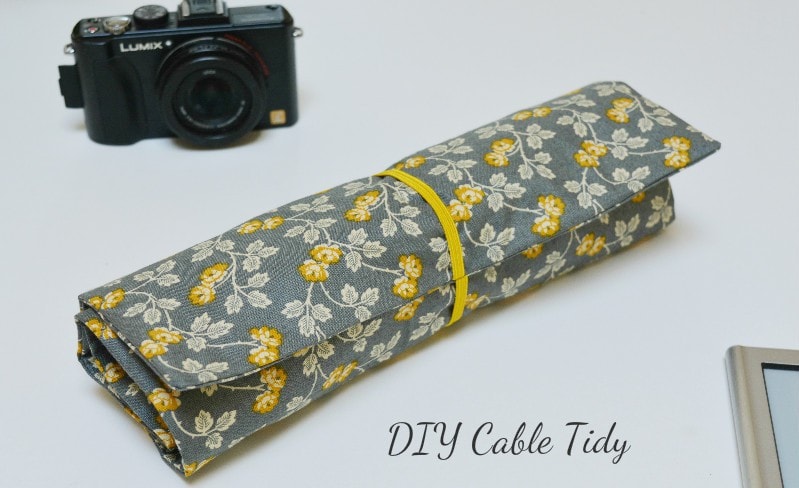 You will need:
Fat quarter of fabric, plus interfacing
Fabric for securing each cable, each tie to be 11 by 4 and a quarter inches
Velcro
Plain fabric for labels, plus printing set
Elastic, 9 and 3/4 inches
Bondaweb or other fabric adhesive.
To make:
Iron interfacing to the back of the fat quarter.
Fold in half and iron
Next create the cable holders – Cut out fabric for each cable, 11 by 4 and a quarter inches.
Print the names of each cable on plain fabric.
Cut our your labels, add bondaweb to the reverse.
Fold your fabric ties in half and iron. Iron on the label 2-3 mm down from the crease.

Stitch round your label to secure it in place.
Add velcro to the ties.
Fold right sides together and stitch side seams. Press. Then press in the final seam allowance.
Use bondaweb adhesive to close the final seam.
Measure your base fabric (folded in half) – next a little bit of maths to workout the placement of the cable ties. Place centrally, my fabric ties are spaced 2 and a half inches apart. They are secured with stitching in a rectangular shape.
Lastly fold the right sides of your roll together. Pin into place elastic, centrally along one of the shorter edges (dependent upon the volume of cables you have in your roll you may wish to alter the length of elastic you use).
Stitch round the sides, allow a turning gap.
Turn right side out and slip stitch seam together.
Your finished!!
I am delighted with one transformed drawer:)
If you like this post you may like this tutorial for a bunk bed bag, or this knitting needle case.
Find a supplier of the fabric here . This post is linked up with All Free Sewing, a great resource for free sewing patterns.

this post contains afiliate links