The Great British Sewing is due to start on BBC 2 on Tuesday the 18th February. I'm really looking forward to it, last year it both inspired me and highlighted how little I know about dress making.
It appears to be an ideal opportunity to introduce a new product range "Sewing Sets", with the anticipation of renewed interest in dress making. I have been researching pin cushions – there are some wacky designs out there:)
I have designed a slightly more mainstream Sewing Set.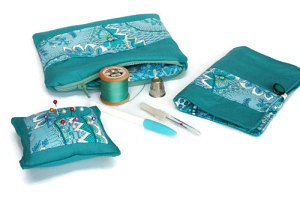 Designed to hold all your sewing supplies, the set includes a needle case, pin cushion pin cushion and handy pouch.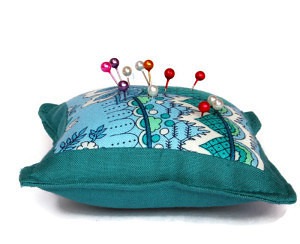 The pin cushion is ideal for keeping your pins safe, and easily accessible whilst working on a project. The pin cushions are made from 100% cotton and filled with polyester fibre filling.
The little bag is perfect for all the little bits that often get lost – keep together your thimble, seam ripper, tape measure, threads:)
A lovely and useful little needle case with a pocket to hold bits and bobs. Such a handy thing to have around this little Needle Case has two felt leaves to hold your needles and pins and a pocket for other bits and pieces.
I am currently offering a discount if a sewing set is bought at the same time as a knitting needle case:)
If you fancy applying for season three of Great British Sewing Bee applications are open. To find out more contact [email protected]
As usual I am popping by Handmade Harbour 🙂
Vicky
This post is linked up here