Today I am super excited to share with you how I have updated my scrappy towels, giving them a new lease of life with scrap fabric bias binding. But first today is the beginning of waste week 2017, I am proud to be a blogging ambassador for zero waste week.
Why? I make no secret of how I like to reuse and use what I have for my creativity, I am passionate about trying to use what I have rather than using more of the worlds finite resources. Spirituality and faith are not something I talk about (it's personal) but it is at the core of who I am and therefore impacts how I perceive the world. I believe we each have our own responsibility as to how our lives impact the world. We need to look after our world for future generations. Zero waste week focusses my mind on waste, on what we throw away as a family. If you are inspired to find out more visit the home of zero waste week, you will be sure to find inspiration.
This week I will be blogging with a focus on zero waste week. Today is all about make do and mend. As you can see this towel is very frayed. I am going to share with you how you can update it with scrap fabric bias binding.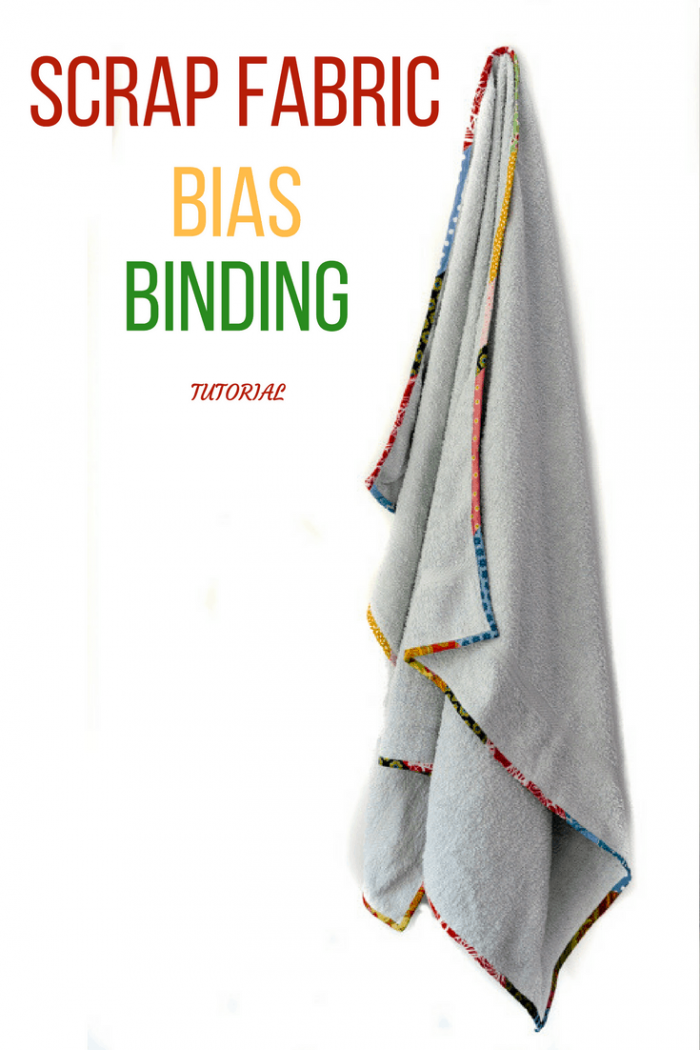 How to make
scrap fabric bias binding
This tutorial is broken down into sections, I suggest reading to the end before you start.
Fabric scraps

Iron

Cutting mat and rotary cutter or tailor's chalk and scissors.

Optional spray starch
Let's start by ironing your fabric scraps. Sort them into pieces with the grain running straight.
Pin right sides together along the grain, then stitch.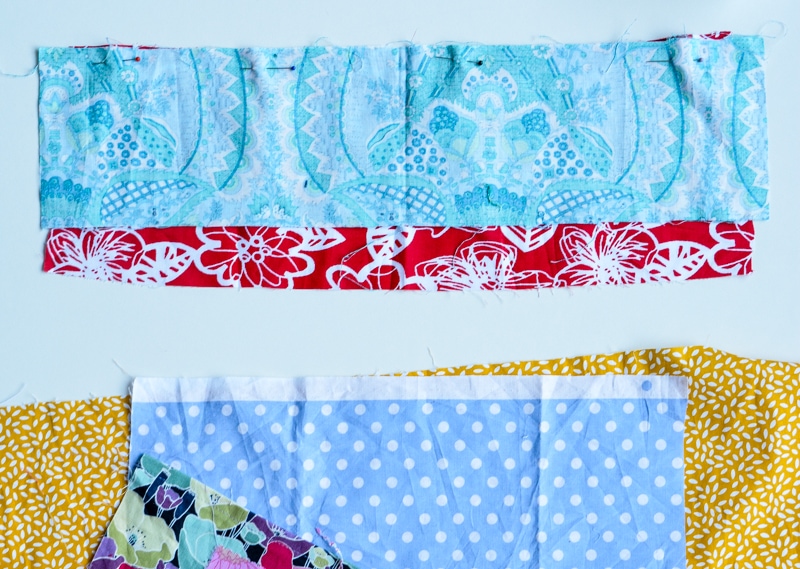 Press open the seams on the wrong side.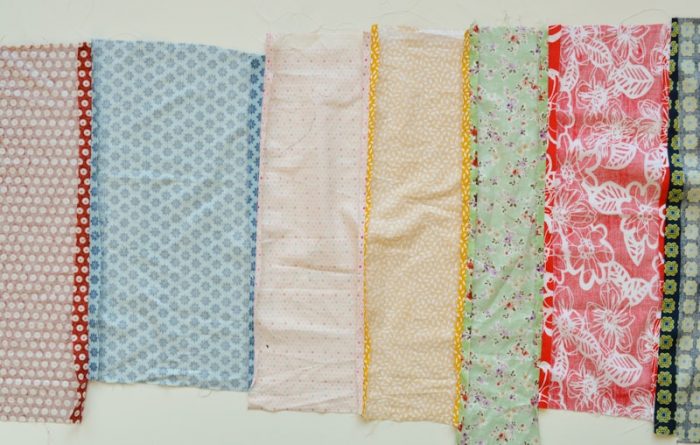 Cut your fabric on the bias. As my cutting mat does not have bias marking as a guide I have created a paper guide by simply folding a right angled piece of paper in half. The original edge is placed along the grain, the folded edge is your bias guide.
Cut strips along the bias 1 3/4″ or 4.5cm. I started with a cutting mat and rotary cutter but changed the method to tailor's chalk and scissors due to the limited size of my cutting mat.
Join your strips, place your strips right sides together at right angles. Sew diagonally across from top left to bottom right (as per the pin).
Fold the outer edges in. I have used a bias binding tool, pull the fabric through and press. There is a knack to this, the more you do the easier it will get. Spray starch can help the folds press good and strong!
How to edge a towel with scrap fabric bias binding
Calculate the volume of bias binding required for your towel. Measure the edges of your towel, my towel measures 182 by 41cm. Therefore I need 182 + 182 + 41 + 41 + 5cm – the extra 5 centimetres is to be on the safe side and to allow surplus for the join.
Open your bias binding folds out, pin the raw edge along the edge of your towel.
When you reach the corner fold your fabric at a 90 degree angle away from your towel. This will give you a diagonal 45 degree angle at the corner. Press with your finger so that you form a crease, then open out.
Sew along your fold until you reach the 45 degree crease line, back stitch and finish your threads.
Fold your tape to create a 90 angle, with your tape running down along your towel's edge, pin and then stitch.
Continue around until you reach the starting point. Fold your bias binding so you have a neat folded edge underneath your first piece of bias, stitch over.
Fold your bias binding over to the other side. Pin from the front in along the seam of the towel and bias binding, ensuring you are holding the bias binding on the back. At the corners fold so you form a neat diagonal as on the front and hold with a pin.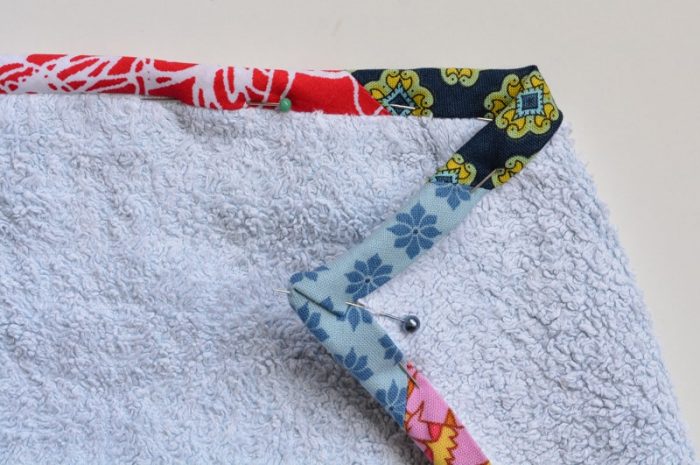 Stitch all round along your pinned line. One transformed towel…. I love the result.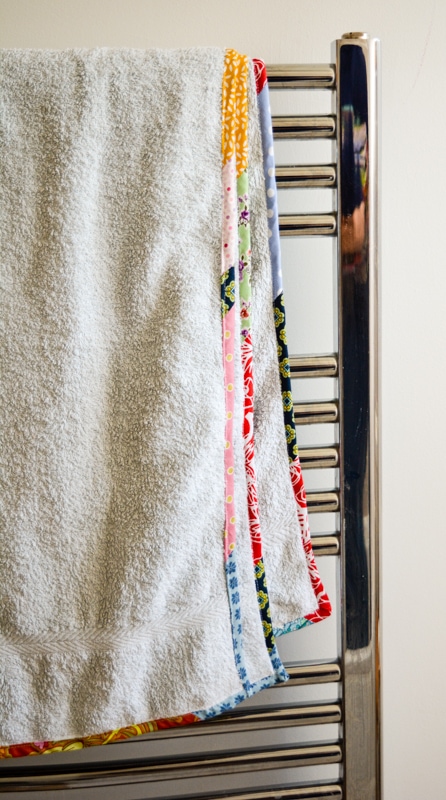 Personally, I have had a towel shall we kindly say borrowed from the side of a swimming pool, never to be seen again…. I am trusting no one will dare borrow my unique towel. I'm tempted to edge all my towels whether they are fraying or not! If you love using fabric scraps check out my fabric scrap clutch tutorial. Or if you are on a repairing spree these posts may appeal:-
What can you make do and mend at the beginning of zero waste week?