Love to sew bags? Learn how to sew bag straps, it is super easy and makes your bag your own. Making your own bag straps means you have lots of fun with color and pattern. Adjustable bag straps can be shortened to make a shoulder bag or a crossbody bag, plus you can customize the strap to your body size, personally being rather taller this is super helpful!
There are a variety of bags straps to choose from when designing your bag, or tweaking a bag pattern.
In my early days of bag making, I would often reuse straps from old bags, picked up in thrift stores. When making your own purse straps you can pick up a bag super cheap in order to reuse the hardware for the straps.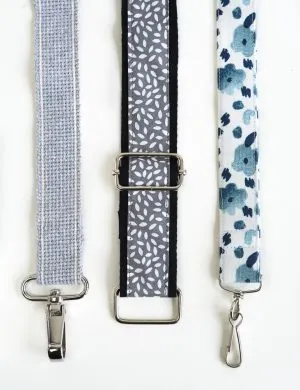 Personally, I am rather passionate about bag making – if you are new to bag making I have the perfect Beginners Bag Making Course for you which covers so many essential skills for bag making, and includes many free bag tutorials.
Alternatively, I have an ebook for sale, with detailed reference chapters plus eight bag patterns.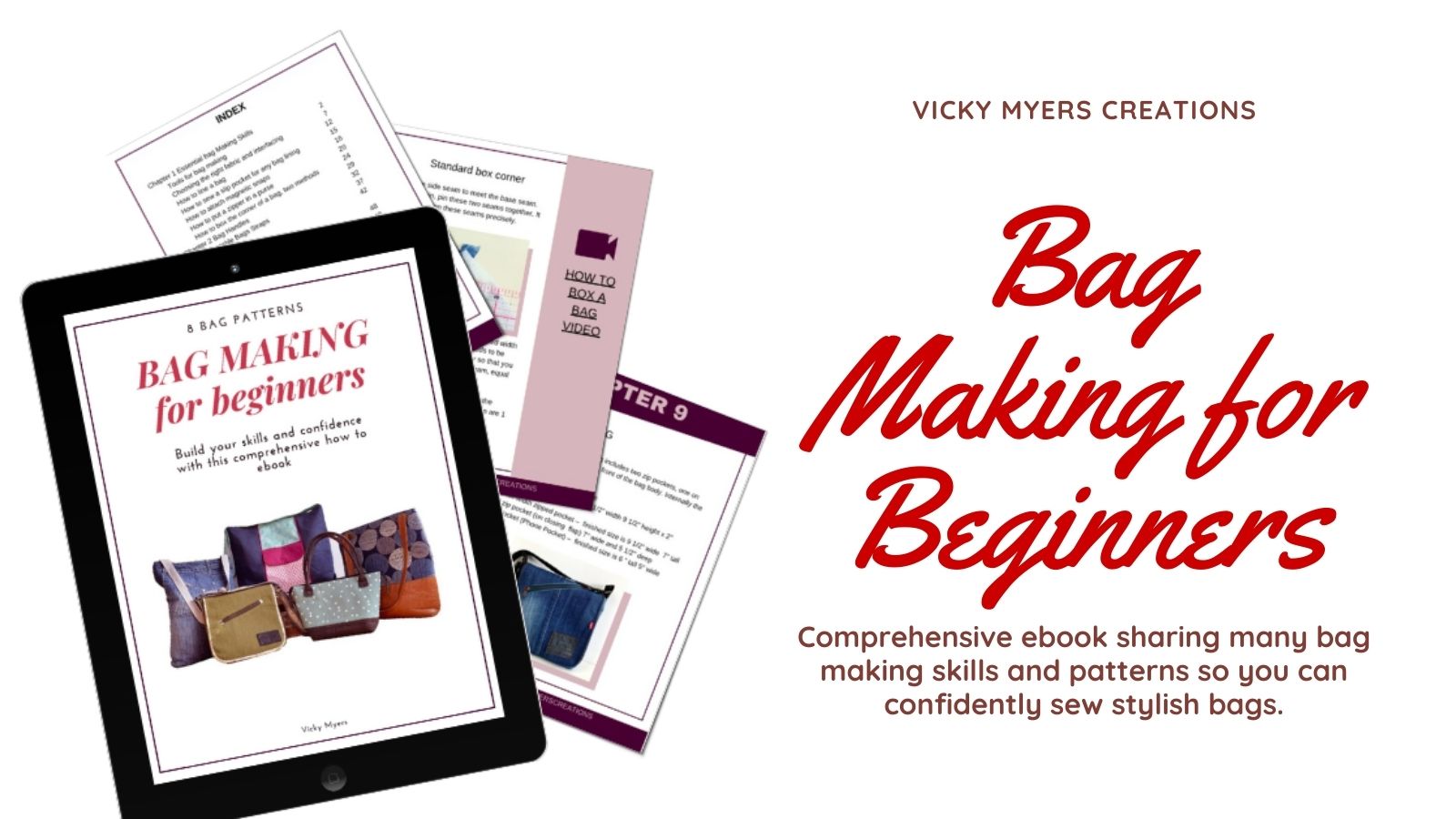 There are several factors to consider when making fabric bag straps, width, the suitability of fabric and interfacing and attachent of the purse strap to the bag. Bag hardware comes in several standard sizes, often 3/4″ (18mm), 1″ (25mm), 1 1/4″ (32mm), 1 1/2″ (38mm), 2″ (50mm).
Choose hardware that suits the size of your bag, for example, a thinner set would be suitable for a wristlet bag.
Next up the choice of fabric and interfacing to go with it. The bag strap I am making is with a canvas weight fabric with fused heavyweight interfacing. For a lighter weight strap, you may choose a quilting cotton paired with Pellon SF101 woven interfacing. You may prefer a heavyweight fabric that requires no interfacing. Take a few minutes to check how your interfacing interacts with your fabric, fold it and see how it feels and how your sewing machine copes with the layers of fabric.
Another consideration when considering the materials to work with is how you are going to attach the bag straps to the purse. Thicker purse straps require stronger sewing machine needles or double cap rivets. Purse straps are frequently attached to the bag when sewing the lining to the inner bag, by sewing to the front external bag before completing, or by using double cap rivets.
To make our fabric purse strap start by measuring the inner width of your hardware, this will be the width of your finished strap.
.
Cut your interfacing and fabric four times the width of the desired finished strap.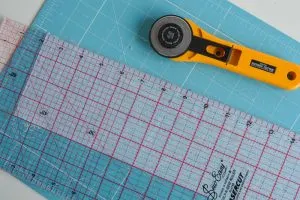 Fuse the interfacing to the wrong side of your bag strap, following the manufacturer's instructions.
Fold the bag strap in half, wrong sides inwards. Press with a hot iron.
Open the fabric out, fold the long edges into the middle pressed line.
Fold again, this time you are folding the right sides together, so the strap is inside out.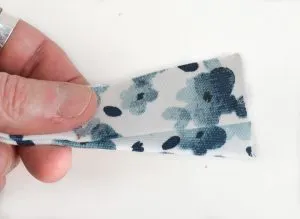 Stitch across the short end, both short ends.
Now for the magic, turn the strap the right side out to discover your super neat ends.
Pin and machine stitch down each side.
Now you know how easy it is to make fabric straps lets think about adjustable bag straps.
For many of us making bags adjustable crossbody straps is an essential skill to our bag making knowledge. But just how do you attach a slider? How do you make the strap? What about a pretty strap or a masculine strap?
How to make an Adjustable Bag Strap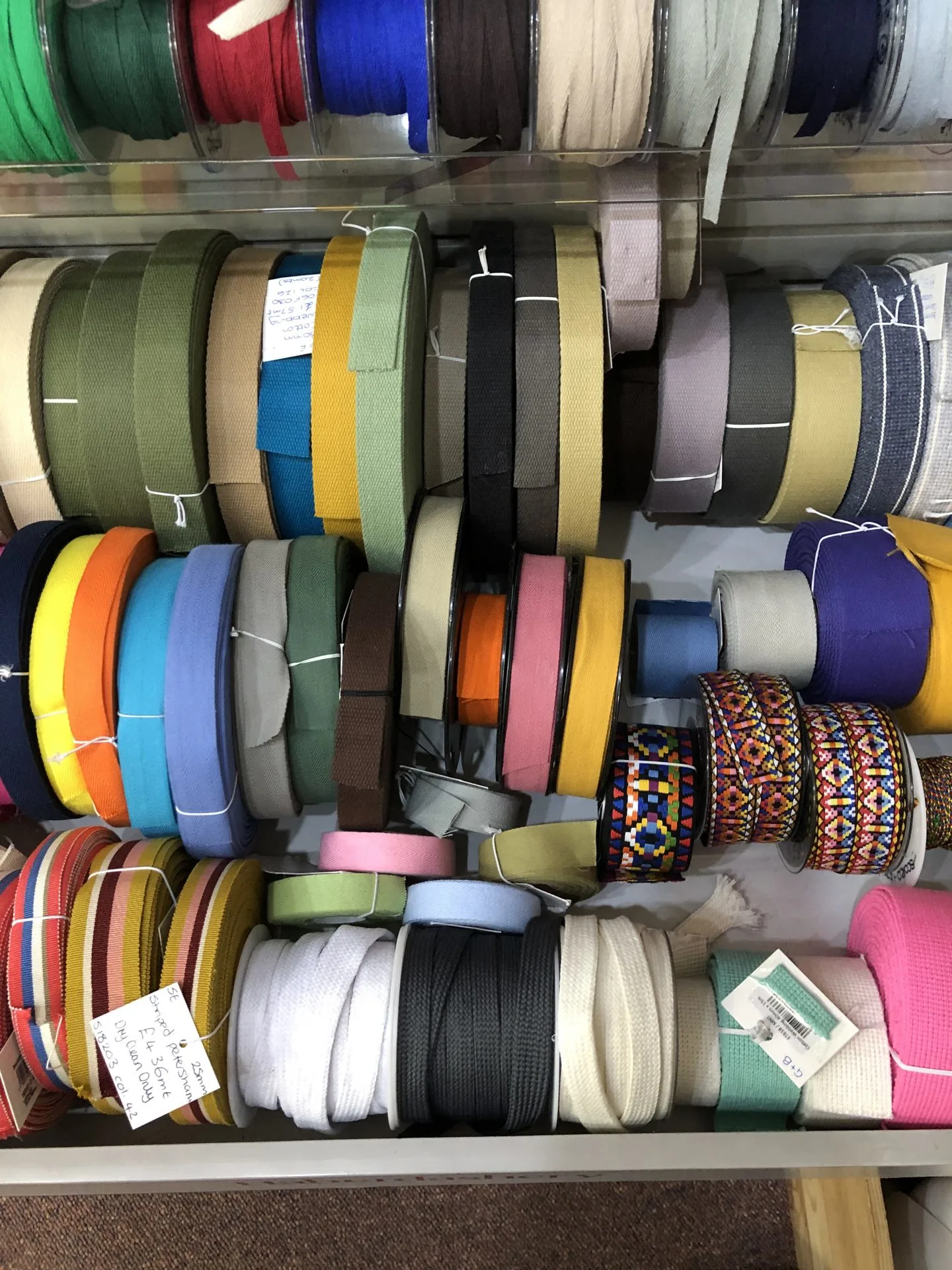 Before we start on how to make the adjustable bag strap decide the material you are going to use.
Cotton Webbing – available in a variety of thicknesses and widths. Often available in a plain color you can, with searching, find striped webbing. Personally I love to jazz it up with bias binding stitched to one side. I have made my own bias binding out of the lining fabric and added a strip to my adjustable bag strap.
Nylon Webbing – Super strong you often find this in shop-bought bags. I often choose it when making a bag for a man. The material can fray easily, a way to prevent this is to melt the cut edge very carefully to deal it.
Fabric – Choose a close weave, pair with a suitable interfacing to provide a strong adjustable bag strap.
The beauty of making your own adjustable shoulder strap is you can make it a length that suits you.
I have just finished making myself a denim messenger bag from a khaki pair of jeans. Check out my free denim messenger bag pattern.
Whilst making this bag I chose to sew the adjustable shoulder strap from cotton webbing complimented with bias binding made from the lining fabric. To make your own bias binding, cut strips of fabric at 45 degree angle (a quilters ruler usually has this angle marked, super helpful). Thread through a bias binding gadget and iron.
You will need two rings and a slider, with the internal width of the bag hardware equalling your strap width. An average strap length is 52″, with two side tabs at 5″ each.
Attach side strap tabs
Cut two pieces of side strap tabs – mine are 4 1/2″ each. Slide on your rectangular ring and fold into a loop. Place on the side panel of the bag, ensure you are not stitching too close to the top of the bag, as it is usual to do this step prior to inserting the lining.
Sewing through thick layers of fabric can be tricky for your sewing machine. Use a strong needle, a long stitch, stitch slowly and use a walking foot if you have one (this helps all layers feed through the machine evenly).
Do not forget to backstitch.
You can stitch a rectangle to secure the strap but I prefer to stitch a rectangle with a crisscross.
2. Attach the strap to the hardware
Thread your strap through the slider. Fold the end under, pin and stitch to secure. I like to stitch a rectangle.
Take the other end of the strap and thread it through your rectangular ring on the side strap tab. Thread from the inside of the bag to the outside with wrong side upwards.
Now taking your end of the strap thread right side up through the slider.

3. Finish the strap and attach to your bag
Lastly, thread the strap from the outer edge of the rectangular towards the bag, fold the edge under. Stitch to secure.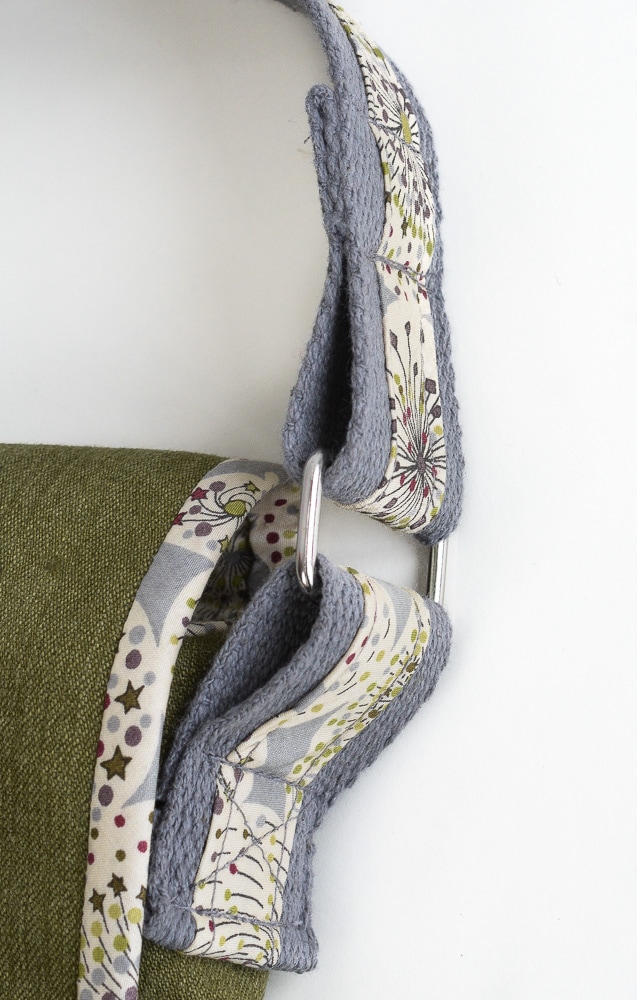 Now you have learnt how to sew bag straps out of fabric, how to make adjustable bag straps and considered ways of making the strap your own.
Check out my other essential skills tutorials for bag making:-
If you love bag making as much as I do, and I guess you do! Check out the many free bag tutorials, here on the blog. Bag making is such fun!