This DIY leather clutch takes less than an hour to make, add as much glam as you like with metallic dots. This fold over clutch bag pattern is a perfect last minute gift.
A couple of weeks back I found myself panicking about my outfit to a wedding. Rather ridiculous as everyone is always busy admiring the beautiful bride… Nowadays wedding invites are few and far between so I had no intention of buying anything new for the event. I chose to wear my Geo dress (pattern review to come), adding wedge heels and a handmade leather clutch.
A few months back I picked up a large bin bag of leather scraps, time to have a play, create a DIY clutch and take my outfit up a notch.
This DIY leather clutch takes less than an hour to make, add as much glam as you like with metallic dots. It is a perfect last minute gift.fold over clutch bag pattern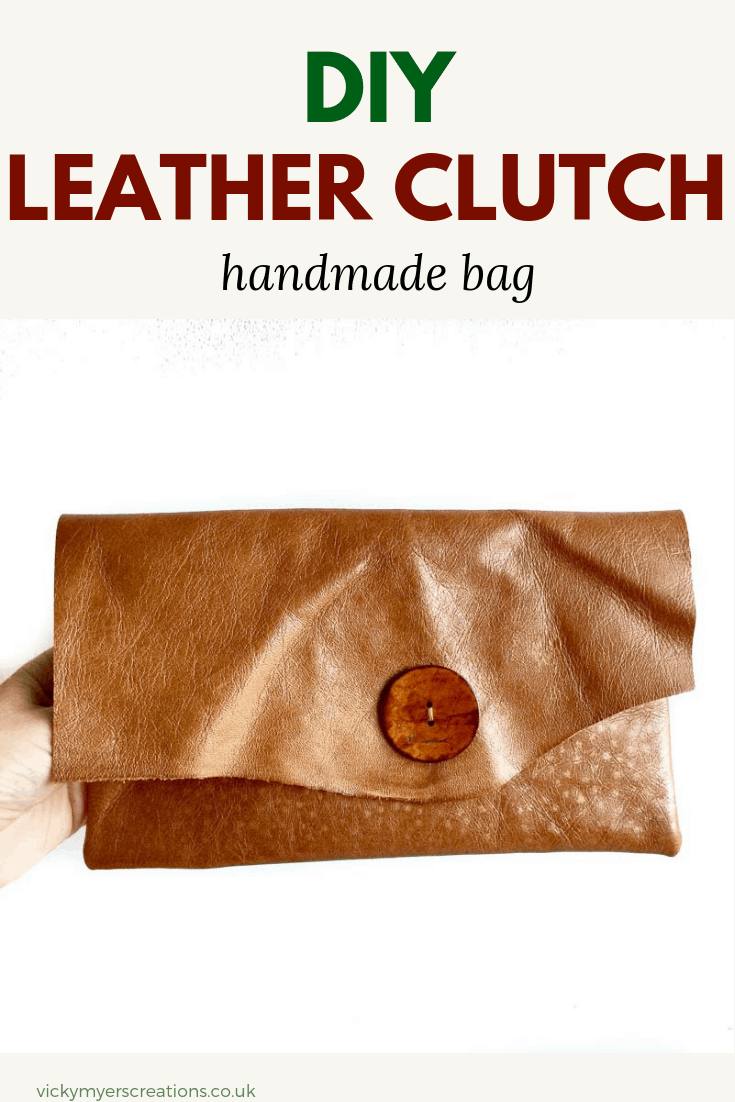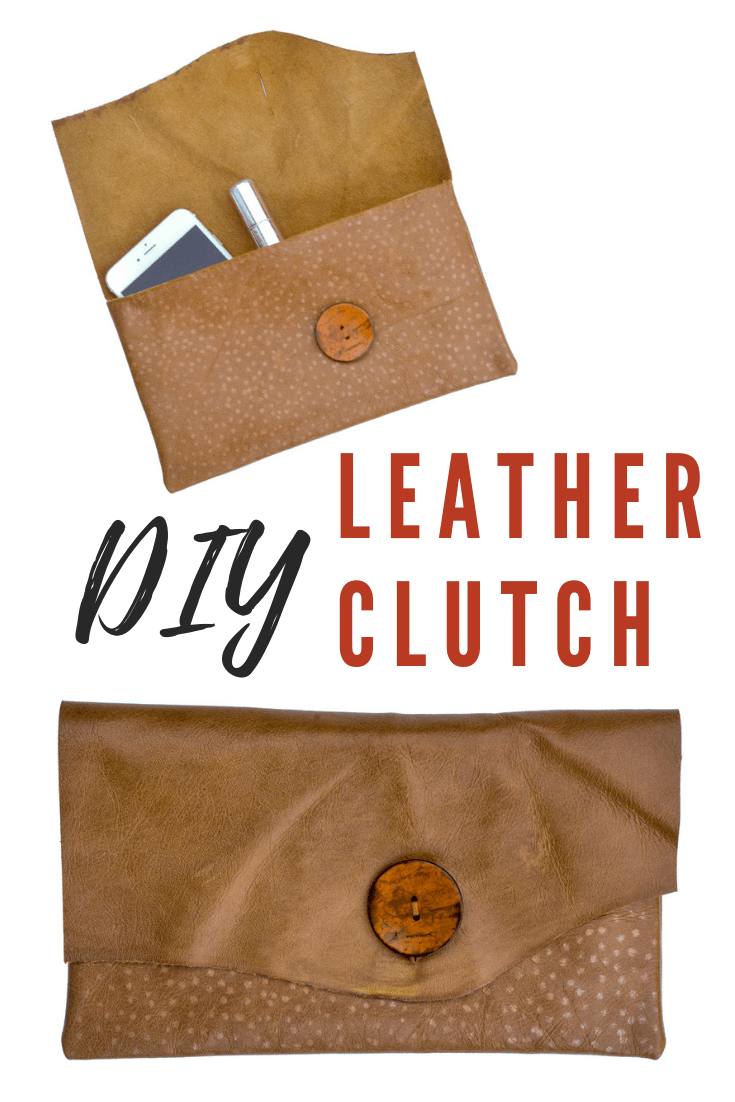 If you love leather bags as much as myself check out my 15 free leather purse patterns.
Fold Over Clutch Bag Pattern
RECOMMENDED SUPPLIES:
Leather 16 by 10"
Button
Rotary cutter, cutting mat and ruler
Cotton lining fabric 10 by 11"
Heavy fusible interfacing 9 6/8 by 10 6/8"
Glue stick
To make your simple fold-over leather clutch purse:-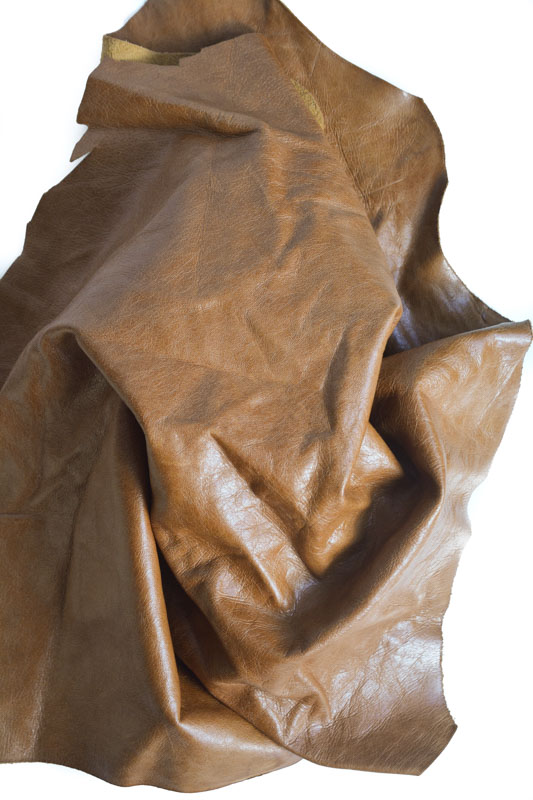 If your leather has a crumpled look you can carefully iron. Always place a cotton cloth between the iron and leather, be careful not to burn the leather by keeping your iron on low.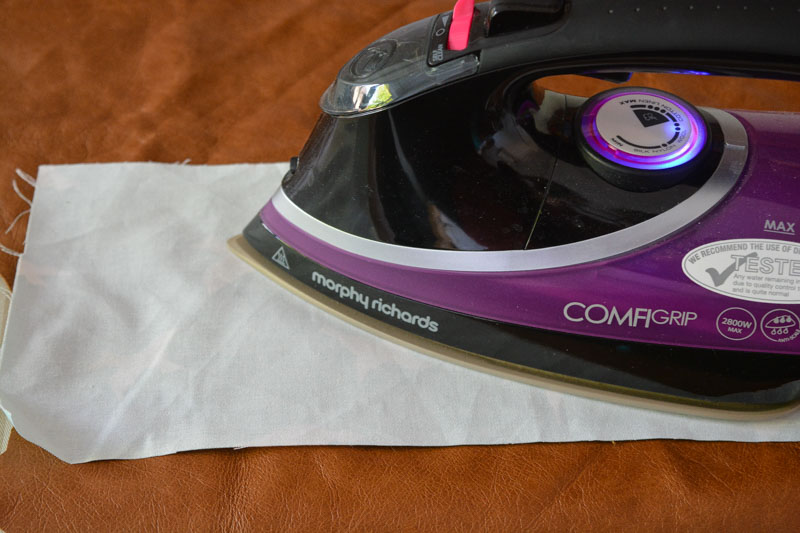 Cut out the leather, one side 16, the opposite side 14.5" and the width 10" I have chosen to keep the wavy edge of the hide for the closure of my clutch, alternatively you could cut a wavy edge.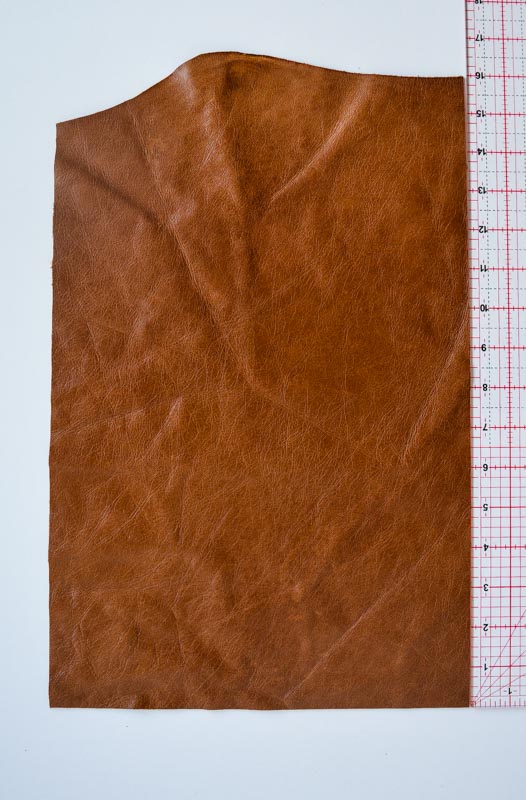 At the straight bottom edge add random dots using a Giotto decor metal pen up to the height 5 1/2". I used the colour copper. If you have not used these pens before they are great fun, the strength of colour holds its own against black card, pebbles etc…
Fold the straight bottom edge up 5 1/2", so the right sides are facing. Hold with clover clips, if you don't have any you can use paper clips (avoid pins as they will make permanent holes).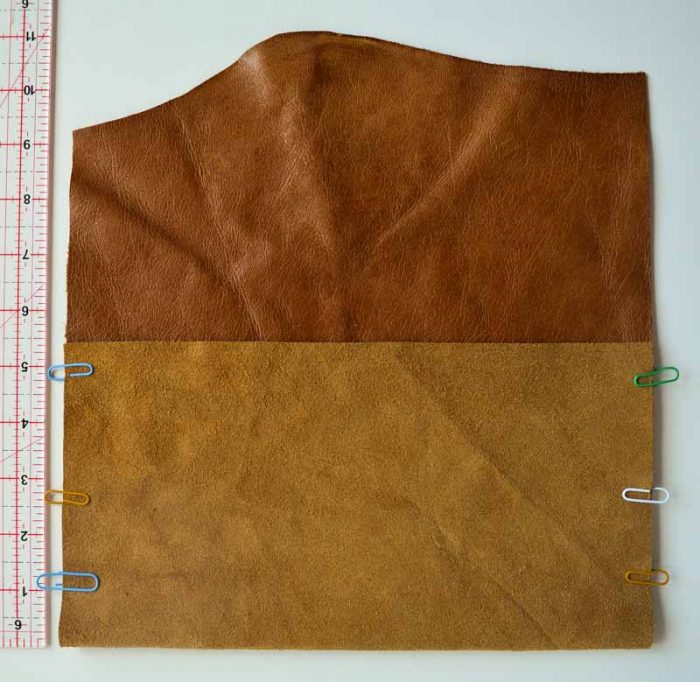 Stitch 1/8 seam allowance down each side. I highly recommend using a leather sewing machine needle and lengthening your stitch. You may wish to check your tension on a scrap of leather first.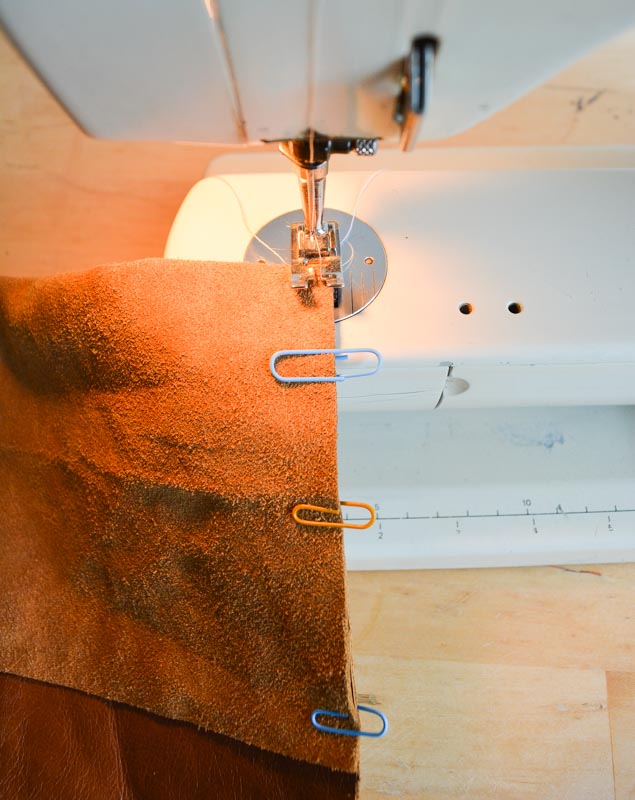 Carefully trim the closing flap of leather 1/8 off each side so it matches the width of the bag.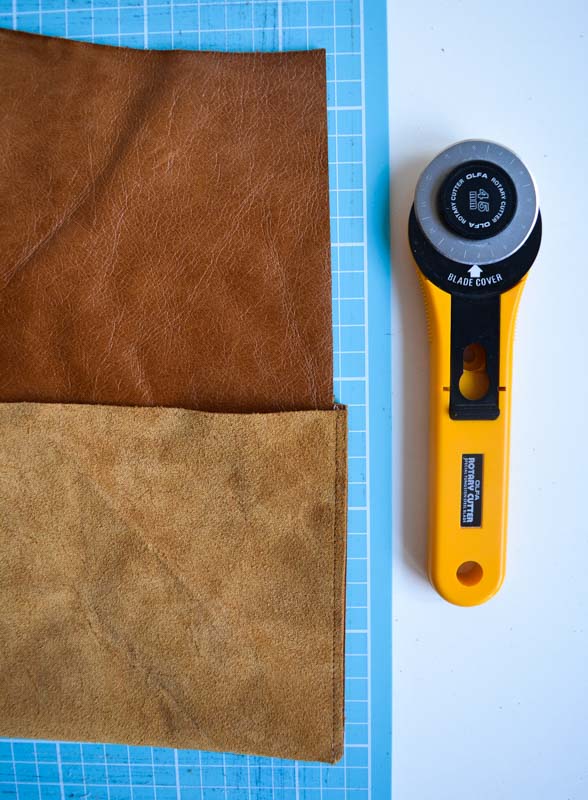 Choose the placement of the button closure and cut a button hole for the button.

Sew the button onto the front of the bag.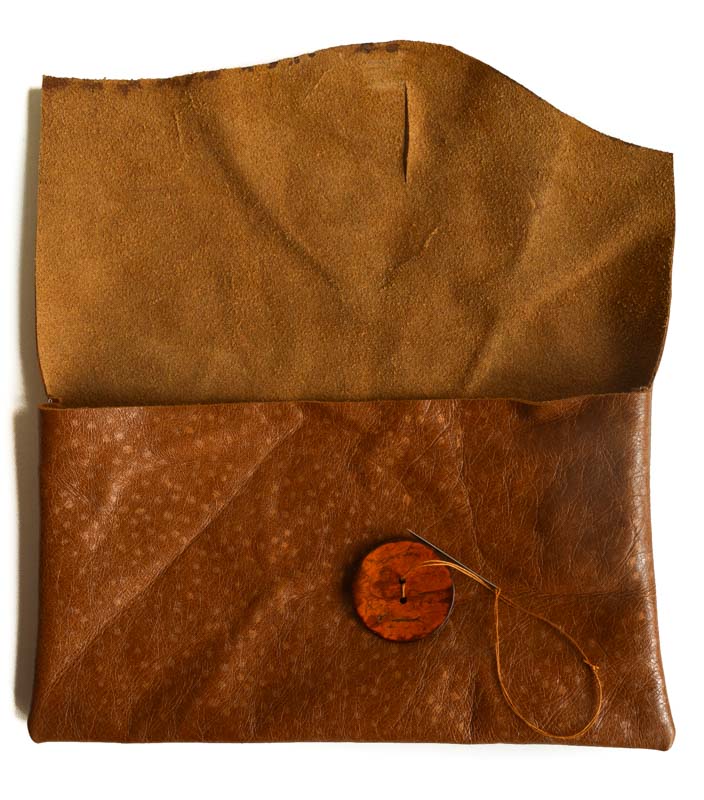 Dependant on your leather you may wish to add stiffened lining to give a stronger form to the finished clutch. To do this cut out stiff interfacing measuring 10 6/8 by 9 6/8. Follow the manufacturers instructions and iron centrally to the wrong side of the lining fabric.
Along the 9 6/8 edges fold over the fabric to the wrong side and glue in place with a glue stick.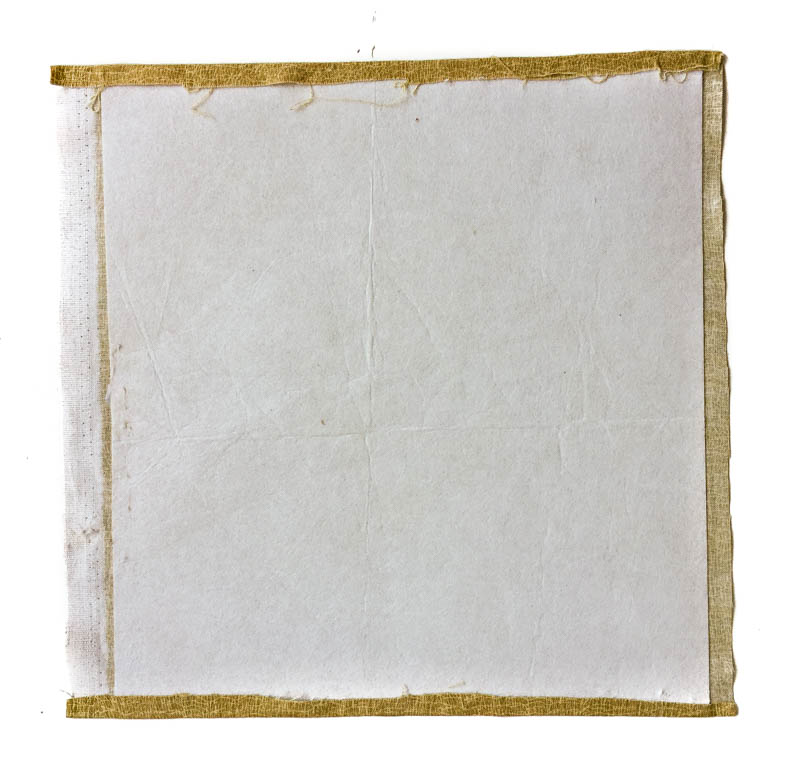 Fold your lining in half, right sides facing. Stitch with a 1/8 seam allowance.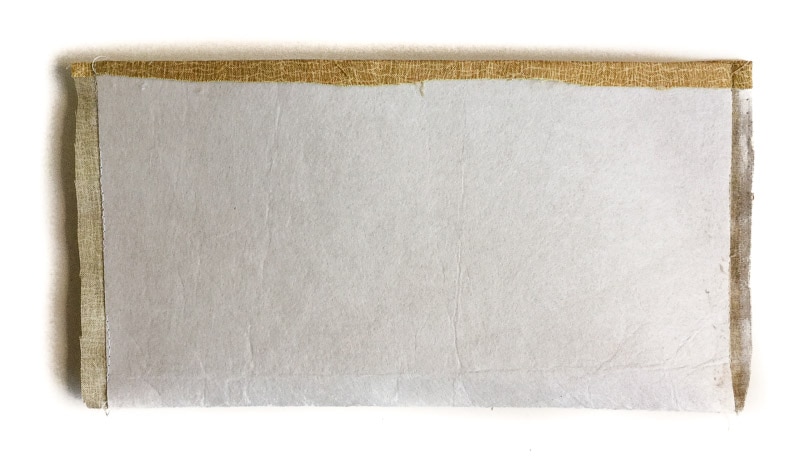 Add glue along the edge of wrong side of the lining and place inside the leather clutch. You may prefer to hand stitch this in place using a strong upholstery needle.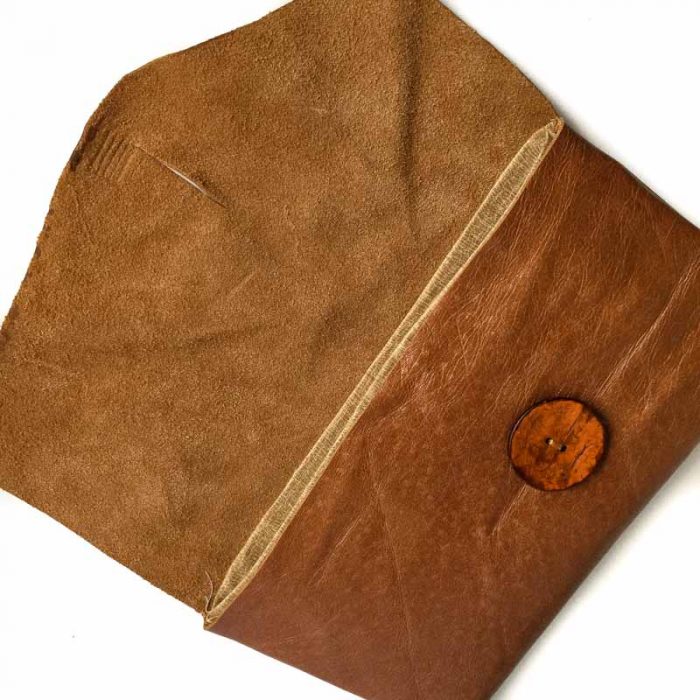 I am tempted to make a few leather fold over clutch purses, to have a play with Giotto decor pens adding a higher contrast pattern. Check out all my the free bag patterns here.
This is my final gift in my 12 Days of DIY Christmas gifts, celebrating six years of blogging, in case you missed the earlier projects:-
Gift 1 – Sashiko Cute Coin Purse
Gift 2 – DIY Felt Christmas Ornament Kits for Kids
Gift 3 – Bicycle Tyre Wallet
Gift 4 – Funky Felt Necklace
Gift 5 – DIY Leather plant pot holder
Gift 6 – Denim Embroidery Hoop Art Tutorial
Gift 7 – DIY Cafetiere Cosy
Gift 8 – Envelope Cushion with Pom-pom trim
Gift 9 – DIY Lunch Bag
Gift 10 – Leather Luggage Tags
Gift 11 – Rainbow Drawstring Bag