Making a paper heart garland is super easy, but even better it is so easy to customize with your favorite papers.
Make your paper heart garland as Valentine's day decoration, as a photo booth backdrop for a wedding, or simply to add some love to your home decor all year round.
You do not need a cutting machine such as Cricut machine to make this heart garland, simply fold your paper in half and make yourself a template heart, alternatively, you can use a heart hole punch.
Table of Contents
DIY Paper Heart Garland
Supplies for your DIY paper garland
Paper (craft paper, old book pages, music scores, magazines, scrapbook paper, printed paper, wrapping paper)
Scissors
Sewing machine or glue
Thread
How to make a paper heart garland
The first step is to cut out lots of hearts from your selected paper. Create a heart shape template with a plain piece of paper, then using the template cut out LOTS of hearts (if you are making this as a photo booth for a wedding I suggest having your friends cut them out as part of your hen do!).
Once you are satisfied you have enough heart's check… I underestimated how many I needed every time!! Lay out your hearts as planned for your garland and double-check you have enough hearts. You need two hearts per finished heart, to make them three-dimensional.
Option one
Join your hearts by machine stitching with a straight line down the middle of the two hearts, I suggest using a longer stitch length.
Continue stitching the desired gap between hearts before sewing the next heart until you have the desired length of garland. I counted for five for the gaps between these old book 3D paper hearts to give some form of consistency. I have used the technique of gelli printing to add colour to one side of the paper.
Option Two
No sewing machine is required! Gather your first heart (remember this is two hearts that we are joining together), mark the central point on each central crease. On the first heart cut down the creased line to the marked dot.
On the second heart cut up from the bottom to the central dot.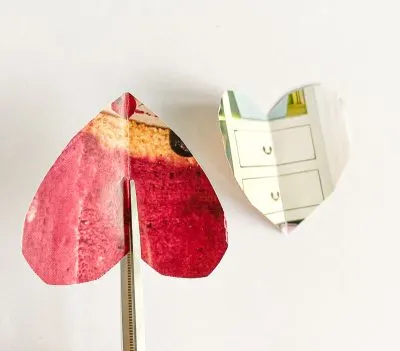 Slide the two hearts together along these cut lines thus creating your three-dimensional heart.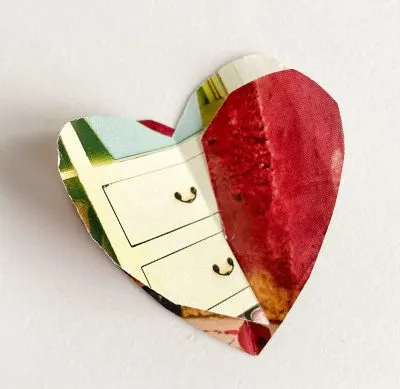 Repeat for all your DIY hearts.
Then with a small line of glue attach a clear fishing wire or plastic thread used for bead making, place the thread down the middle of the heart, and repeat. Then set aside to dry.
Once dry hang your DIY heart garland and enjoy.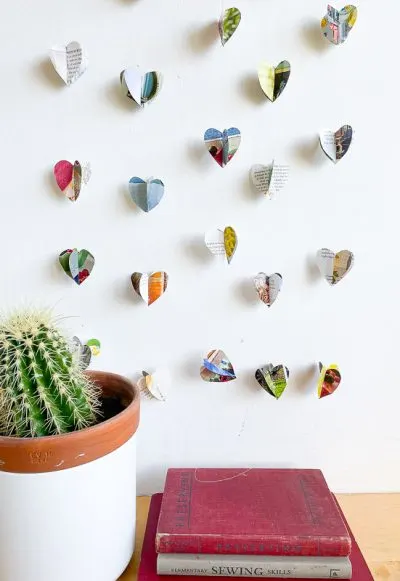 Personally, I prefer the stitching method, I find this a much quicker process.
Do check out my you tube tutorial for using gelli plate printing for your paper garlands.
Paper Heart Garland Ideas
There are so many variations for this heart paper garland banner using a variety of materials, I just couldn't resist making this fun project lots of times to show you!
This paper heart wall art is made with paper treated to some gelli printing for texture – simply fold your paper in half and print on one side of the paper, once dry print the opposite side on the back in a contrasting colour. Once dry cut out your DIY hearts.
Not gelli printed before? It's time to get started – it is such a creative medium, read my how to gelli print and get started. I also have a full video tutorial for you.
How to use paper hearts as decorations
Bridal shower decoration
Photo booth at a wedding
DIY nursery decor
Place on the mantel as home decor
Party decor
Piece of wall art hung from a driftwood branch
Garland for valentines day
Today I am taking part in the Sustainable Craft Challenge, joining some of my creative crafting blogger friends from around the world to share a craft project or idea that has a sustainable or eco friendly twist. This month our theme is LOVE.
Upcycle a plastic container with paint pens
Wire Hanger Soda Can Heart Wreath
Easy Valentine's cards using paper scraps
DIY Place Card Holders with Free Valentine's Place Cards!
DIY Love Container For Valentine
DIY Heart Garland from Upcycled Cards