I have recently joined a Facebook page Stitch Once, Rip Twice, the members agree a sewing challenge every couple of months. I joined the group at challenge no six, to sew a simple dress.
As a teenager I was fortunate to have a great needlework teacher who taught me how to follow dress patterns. I remember some of her sayings, only buy a pattern where it has been made up and is pictured worn by someone, where you can see both shoulders. With this in mind and my desire to stick with an easy to sew fabric I visited my local shop, Style and Craft.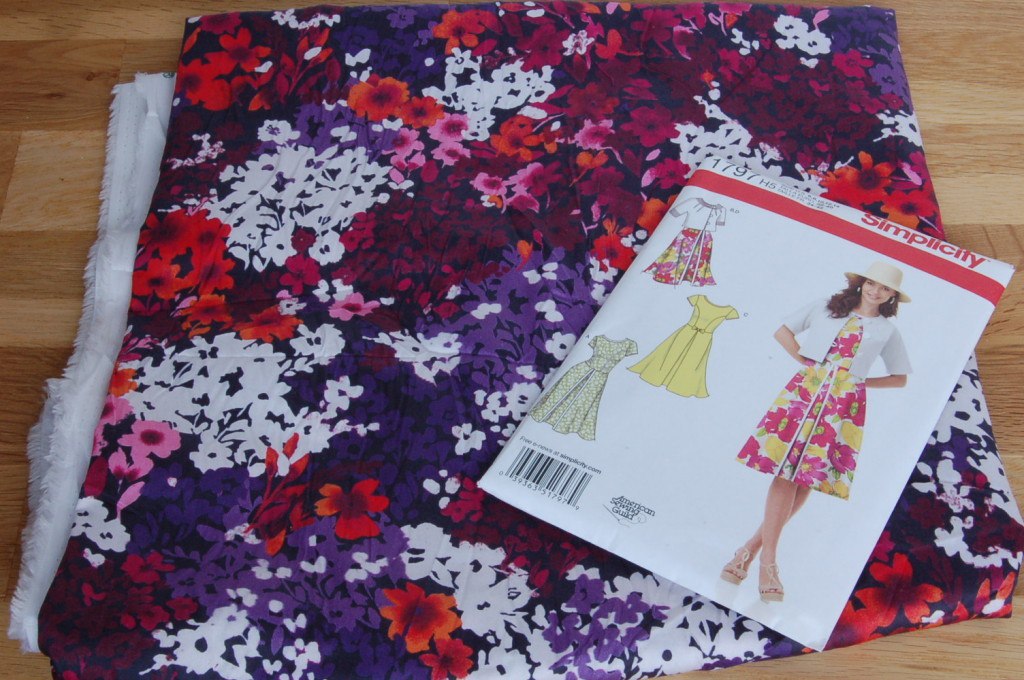 The shop assistants were extremely helpful, and an hour later I left with my supplies, cotton print and Simplicity Pattern 1797:) I have to admit I did gulp at the cost, I find it hard that dressmaking costs so much more than buying a ready made item.
After a small amount of deliberation I decided to make version B.
Sewing the dress was relatively straight forward, rather useful as this is the first time I have sewn an item of clothing for me, since I left school 20 + years ago!
The written instructions seemed a little light on occasion, but the pictures really helped. As is my tendency I did skim read the instructions. Consequently I sewed the binding on the pleats in the wrong place.
The mistake soon came to light when sewing the bodice and skirt together! Thankfully it did not take too long to redo.
Sewing the two together I decided to tack in the zip and check it fitted – to my delight it did. Rather fortunate as I had not really checked my measurements against the pattern or made any size alterations.
Am I satisfied with the finished result? Yes:) I am delighted it fits well. I think I will be able to dress it up or down, as the occasion fits.