This weeks runaway refashion is all about buttons… that's one item I am not short of! I inherited my Gran's button box, and my mother-in-laws. There is something special about using buttons passed on down through the generations. Some of the buttons have stories attached to them, sadly lost now as the generation passes away.
The refashion seems a great way of using lots of odd buttons to add a twist to one of my favourite tutorials.
This makes a super cute small bag.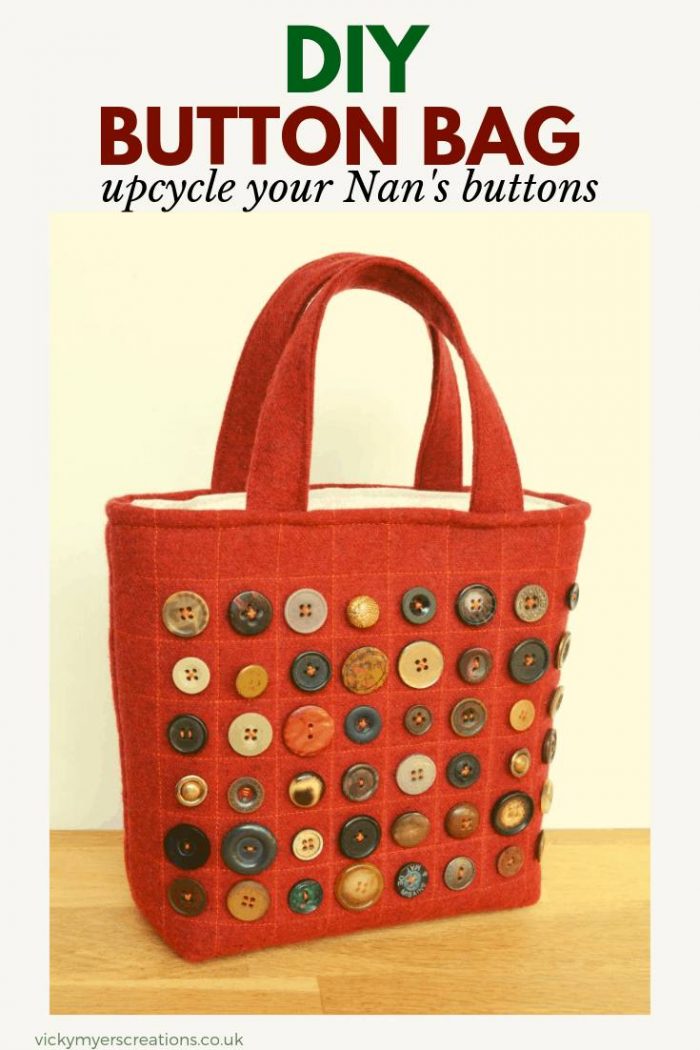 I started with some wool fabric I had been passed on in a gorgeous burgundy colour.
Personally I am rather passionate about bag making – if you are new to bag making I have the perfect Beginners Bag Making Course for you which covers so many essential skills for bag making, and includes many free bag tutorials.
To make your own cut out the bag pieces as per the downloadable Tweed Tote Bag instructions. Add fusible fleece to the main bag piece. Mark out 1″ squares with tailors chalk and a quilters ruler. As you can see from the image I started from the top of the bag each side marking out 8 squares towards the base of the bag (central column on image below).
Stitch these grid lines in a complimentary colour, I chose a strong orange.
Have fun selecting a variety of buttons.
Hand stitch the buttons into place, leaving the top and side line of squares. This enables you to stitch the side seams in place. It has the added bonus of providing a frame around your gorgeous buttons.
Tack into place Annies Soft and Stable to the main bag piece, this adds strength and stability to the bag (mine is quite heavy with the weight of the buttons)
Sew up the bag as the tutorial. I did moderate slightly, placing the lining inside the bag with the top seam allowance turned in (as the outer is shown above) and top stitching the two together.
This bag is available from my Etsy shop – its that time of year where I need to start building up stock ready for Christmas sales.