Create coastal charm with a driftwood and seaglass necklace DIY. Follow my step-by-step guide for a unique beach-inspired jewelry project
As a family we love collecting beach glass, it's become one of our routines whenever we go to the coast. This summer we visited the Atlantic coast in France, it was very short on seaglass but abundant in driftwood.
Seaglass Necklace DIY
Materials for seaglass necklace
Seaglass with predrilled holes
Driftwood
Nail varnish
Jewelry wire
Jewelry fittings
Step 1: Preparing the Driftwood
Start by selecting a range of pieces of driftwood in a variety of lengths. I started with the longest piece then worked outwards choosing pieces to go either side which were approx the same length as each other and slightly shorter than the first piece. They should be relatively flat and comfortable to wear as a pendant. Be sure to sand the edges to avoid any sharp points.
The first step is to drill small holes into the driftwood using the finest wood drill piece you have.
Step 2: Preparing the Seaglass
Seaglass is often found with a matte, frosted appearance due to years of tumbling in the sea. For this necklace I chose to buy a set of gorgeous little drilled sea glass pieces from Etsy. Alternatively, you can drill holes in pieces of sea glass you have found and collected over the years.
Start by drilling a marker hole into the sea glass, I recommend using diamond burr drill pieces.
Place the piece of sea glass onto a piece of wood in a plastic box with enough water to cover the seaglass. This stops everything from overheating and the water absorbs the glass dust created by drilling.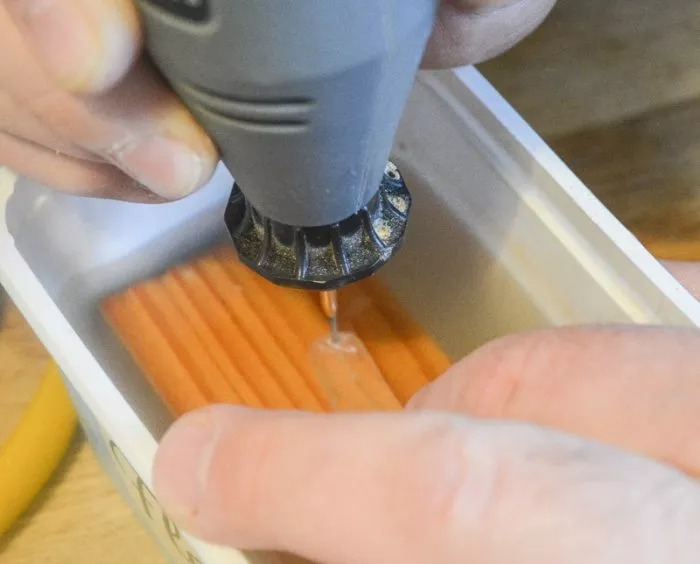 Step 3: Designing Your Necklace
The next step is designing your necklace, much fun ! Lay out your driftwood piece and seaglass pieces on a flat surface to aid the design process of your necklace. Experiment with different arrangements until you find a pattern that pleases you. Consider the size and color of the seaglass pieces and how they complement the driftwood.
Step 4: Creating the Necklace
Cut a length of jewelry wire to your desired length, plus two extra inches for attaching the D ring and clasp. Thread the seaglass and driftwood pieces onto the wire. Ensure that the longest driftwood piece is in the center of your design.
Step 5: Securing the Clasp
Once you've threaded all the seaglass and driftwood pieces onto the wire, thread the jewelry wire through the loop, fold back and twist using pliers. Repeat for the other end of the wire with the jewelry clasp. Use round nose pliers to ensure the loops are secure and won't come apart.
Step 6: Finishing Touches
Inspect your necklace for any loose ends or sharp edges, and sand any sharp edges. Add a coat of nail varnish, if desired to the driftwood. I have chosen to use a subtle nail varnish part way up the driftwood.
Practically tape the two ends of the sea glass necklace to a couple of tin foods so that your necklace is hanging, not touching anything so the nail varnish doesn't stick to anything whilst drying.
Nail polish fans be creative and personalize your necklace to your liking.
Let it dry completely before wearing or gifting it. Your unique driftwood necklace with seaglass is now ready to adorn your neck or share the coastal magic with a friend.
Crafting a driftwood necklace with seaglass is a great way to connect with the serene beauty of the beach and create a wearable piece of art, using smaller sea glass pieces. If you have a larger beautiful piece of sea glass you may wish to try a necklace with wire wrapping. Wire wrapped sea glass pendants are perfect for larger sea glass. Or how about trying an easy macrame sea glass necklace?
Check out my totally different design for sea glass jewelry. Or my post with over thirty different sea glass crafts.