Today I am excited to share this easy step by step tutorial for a DIY macrame plant hanger with you. For a rather long time I have visualized a macrame plant hanger in the corner of my sewing room – today I made it happen!
There are so many styles of macrame plant hangers to choose from, I have chosen to share a super simple style, to be honest this is where my brain is at right now, simple and easy!! But no less effective.
As a lover of upcycling I am naturally using an upcycled material – T Shirt Yarn. In our home, we always seem to have a large stash of t shirts that have shrunk in the wash or gained a tricky to remove stain. You are going to need one large t shirt to make enough rope for this project (it's not made much indentation in my upcycling pile!)


One of the beauties of working with T Shirt rope is choosing the colours – you could even choose a printed t shirt to have hints of several colours in your yarn. Or add beads to a plain T shirt rope to introduce a pop of color to your DIY plant hanger. My beads are from a local Shop (for UK readers The Works).
How to make T Shirt Yarn
If you have not made T Shirt yarn before it is super simple. For this tutorial you do not need to make continues T shirt yarn unless your T shirt is rather small. Fold your t-shirt in half lengthwise. Trim the hem off the base of the T Shirt, cut across in strops approx 5/8″ (2 cm). Cut one side of these loops. Pull the T shirt between your hands and watch the knit fabric curl and stretch.
T Shirt Upcycling Projects to try:
Today I'm joining the Upcycled Project Challenge with this upcycled yarn DIY plant holder.
Step by step DIY macrame plant hanger
Materials
Large T Shirt
Curtain Ring
Large eye beads
Scissors
Plant and plant pot (the pot I am using measures 3 3/4″ across the base)
Large eyed needle
Tape measure
Step 1
Cut your large t shirt to create t shirt yarn. You need four lengths of yarn 68″ long to create your pieces of cord. The t shirt I have used is 23″ width which has stretched to 34″!!
The strips are approximately 3/4″ (2cm) wide.
Step 2
Fold the strips of yarn in half and place this half way point through the curtain ring. Pull the yarn through this loop.
Step 3
Separate out your eight strands into four groups of two. Using your large-eyed needle thread any beads you are using onto each set of two strands (so each bead has two pieces of rope going through it).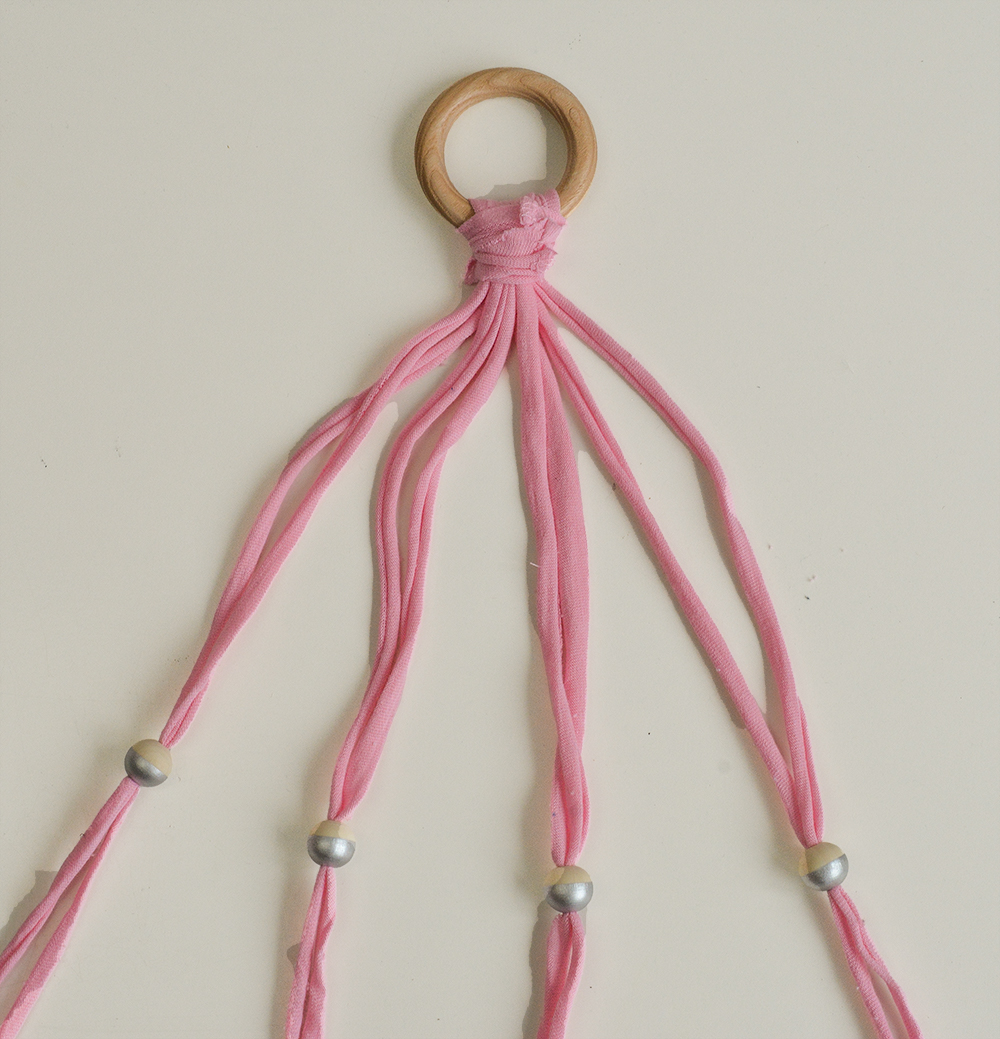 Step 4
Now separate out these strands ready to tie knots. Tie one strand from one pair with one strand from the neighbouring pair, continue until you have four knots. You will have a single strand of fabric on each side and you want to take one from one side and cross it over the larger knot (the one keeping the fabric together) so it meets the other singled out fabric on the opposite side.
Repeat this step, creating two new pairs, and knotting the pair 1.5″ down from the previous knot.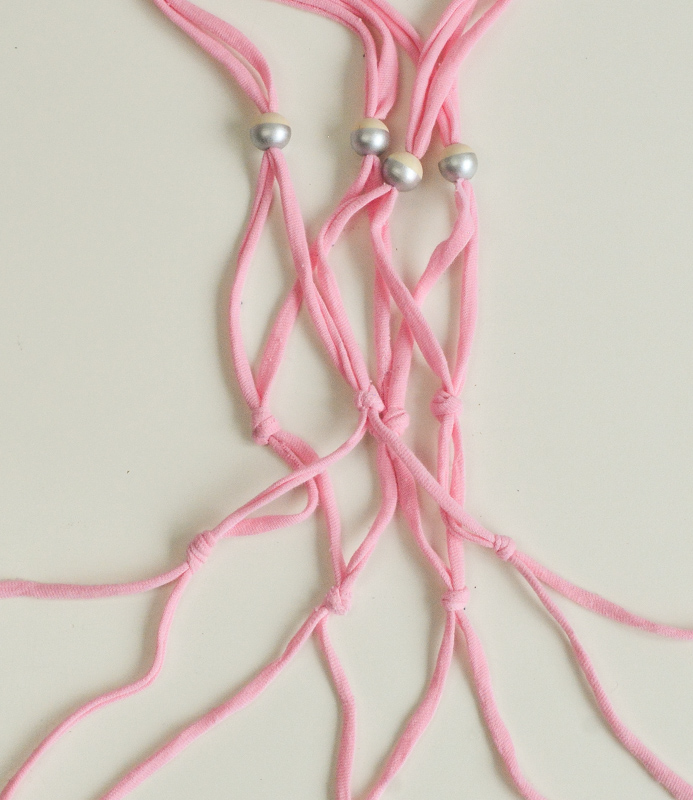 Repeat this step for a third time, it should look like a bunch of diamonds.
Step 5
Tie all the strands together in one large knot. This is where the base of your plant sits.
Place your plant in your DIY macrame plant hanger, hang up and then trim your t shirt yarn at the base to a length which suits.
I love my new hanging plant in the corner of my sewing room, its adding greenery to a space I spend a lot of time in without taking up precious desk space.
If you would like to take this up a notch, or you have a large heavy plant I suggest using a couple of old t-shirts and plaiting three strands of yarn to create stronger rope. Just remember you are always going to need eight lengths hanging down and knotted.
Now let's take a look at what the other participants of the blog hop have chosen for their upcycle project.
Across the Blvd
Sew Crafty Crochet
Purple Hues and Me
Domestic Deadline
Stone Cottage Adventures
Comfort Spring
Sum of Their Stories
Vicky Myers Creations