Reversible Cafetiere Cosy Pattern
November 10, 2018
Do you love hot drinks? I have to admit if I am going to have a hot drink I prefer it hot, not lukewarm! This DIY gift is inspired by the desire for hot drinks. This reversible cafetiere cosy pattern makes a great practical DIY gift. I have reused tweed wool from a skirt picked up from the charity shop, paired with red fabric (a former curtain).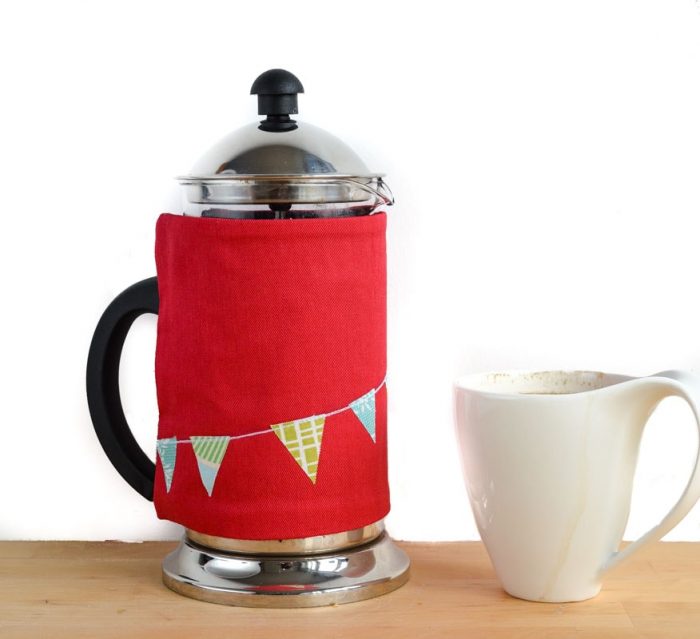 It is truly astonishing how much water goes into producing fabric if I can reuse fabric I will.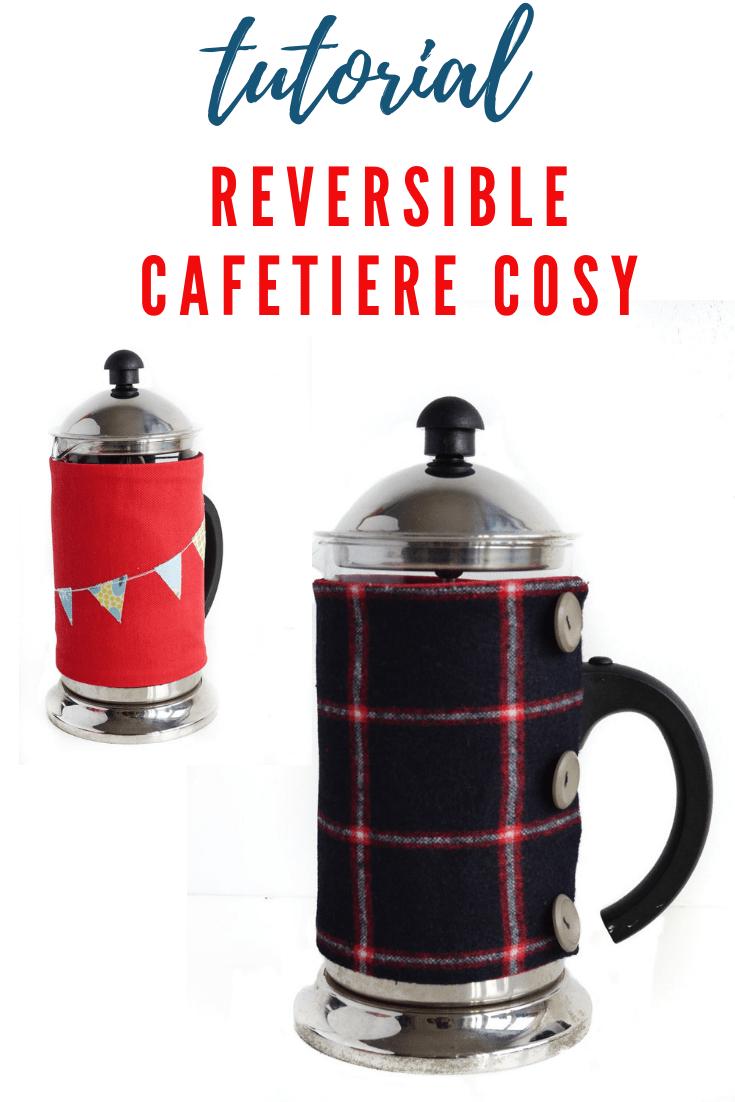 Reversible Cafetiere Cosy Pattern
RECOMMENDED SUPPLIES:
Tweed wool
fabric lining
fabric scraps
elastic thread
3 buttons
measuring tape
Measure the cafetière, around and top to bottom.
Cut out fabric adding 1/2"seam allowance in total – 1/4" seam allowance per seam.
My cafetière for measures
Check the measurements of the fabric, you may need to increase the seam allowance to accommodate the handle and the spout.
I have increased my seam allowance along the height to 5/8 and along the width to accommodate the handle.
Measure out your lining – the reversible side. With tailor's chalk draw a line for your bunting.
Using iron fusible glue to the wrong side of fabric scraps, then peel the paper off.
Cut out triangle shapes for bunting. Place along the tailor's chalk line and iron to adhere in place.
Stitch along the tailor's chalk line two to three times in a contrasting colour.
Create three button loops from an elastic thread, mine are approx 1 1/4″ in length, place along one of the short edges of the lining, wiht the loops facing inwards.
Place the tweed fabric on top, hold in place so your elastic thread does not move around, clover clips are ideal.
Stitch all around, except a two inch gap along the bottom. Trim the seams and corners.
Turn right side out. Turn in your two-inch gap of fabric and hand stitch to finish.
Place your cafetiere cosy around your cafetiere to work out the placement of your buttons. Hand stitch your buttons on.
I have to admit I really don't like coffee but lots of my family do!
This cafetiere cosy is perfect for the man or women in the family. You could expand the present and make a matching tea cosy and coasters.
Stay tuned as I continue the 12 days of DIY Christmas Gifts. In case you missed them:-
Gift 1 – Sashiko Cute Coin Purse
Gift 2 – DIY Felt Christmas Ornament Kits for Kids
Gift 3 – Bicycle Tyre Wallet
Gift 4 – Funky Felt Necklace
Gift 5 – DIY Leather plant pot holder
Gift 6 – Denim Embroidery Hoop Art Tutorial
Gift 7 – DIY Cafetiere Cosy
Gift 8 – Envelope Cushion with Pom-pom trim
Gift 9 – DIY Lunch Bag
Gift 10 – Luggage Tags
Gift 11 – Rainbow Drawstring Bag

A passion for sewing, upcycling and caring for the environment - the perfect excuse to haunt charity shops for bargains!