For the first time, I am holding an upcycling workshop #eek. The challenge is to come up with a project anyone, whatever their skill level, can have a go at, within half an hour. I am inspired by the idea of this upcycled t-shirt necklace from a friend. I have modified the design to fit around the t-shirts I could release from my husband's wardrobe without him noticing!


DIY T Shirt Necklace
This post contains Amazon affiliate links for your convenience. Click here to see my disclosure policy.
RECOMMENDED SUPPLIES:
Three T-Shirts
Scissors
Old bead necklace
Acrylic paint (optional, dependant upon the beads)
Fabric glue (I use E6000 due to its strength and speed of drying)
Cut off the hem of the t-shirts. Then cut across creating 1″ strips, along the bottom of the t-shirt.
Pull these strips between your hands to make your t-shirt yarn curl in on itself. You can follow ky ho to on my youtube video T-shirt Yarn Necklaces.
Place your strips into a circular shape at the required length for your necklace. You may wish them to be all slightly different lengths.
Add your bead necklace (you can see that I have roughly painted what was a bright wooden bead necklace red with acrylic).
Using further t-shirt yarn bind along the joins, wrapping tightly round.
Secure the ends with glue, you may wish to hold in place with pins until the glue has dried.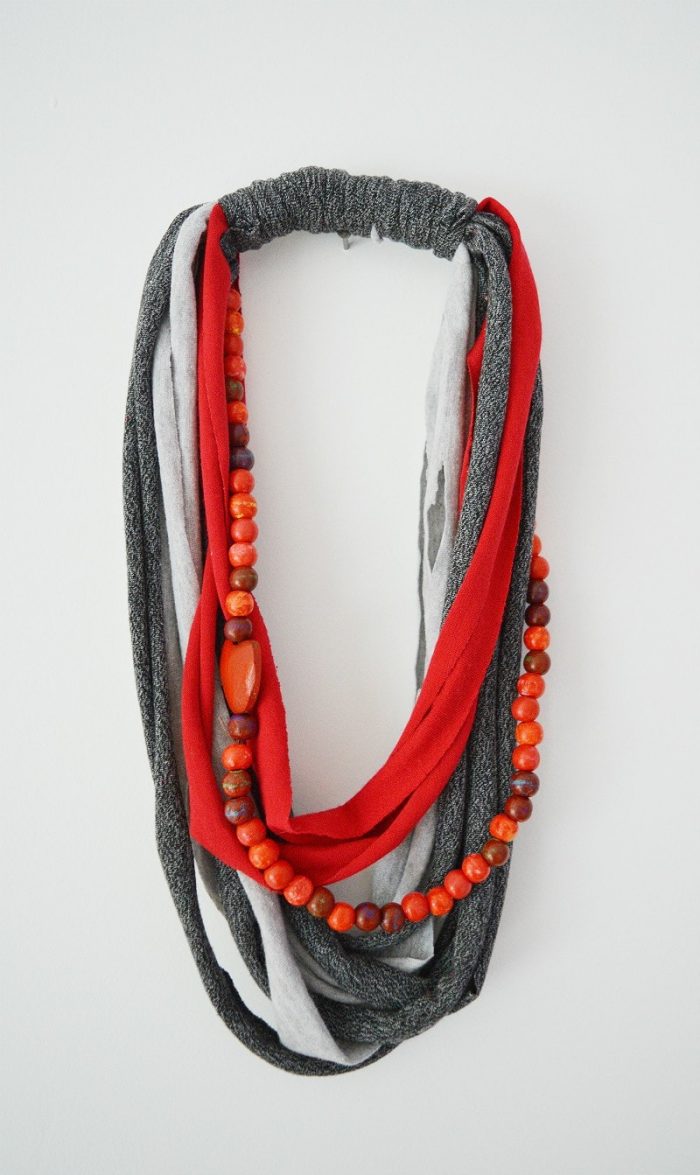 One fun necklace ready to add a bit of cheer to any outfit:) There are so many ways to recycle or refashion t-shirts, check out my Pinterest board here for further inspiration.
If you would like to follow my creative journey sign up to my newsletter – it includes access to my resources library. This includes a selection of PDF tutorials for bags made from former clothes.
Try this fun statement gold leaf necklace.
Don't throw your old T shirts away, upcycle them and give them a new life! Check out my upcycled heart pillow, a reverse applique T shirt scarf or how about a step by step DIY macrame plant hanger.