Are you looking to make a fun upcycled DIY gift? I love this DIY tablet case. The tablet case made from old jeans is quick and easy to make plus it makes a great gift:)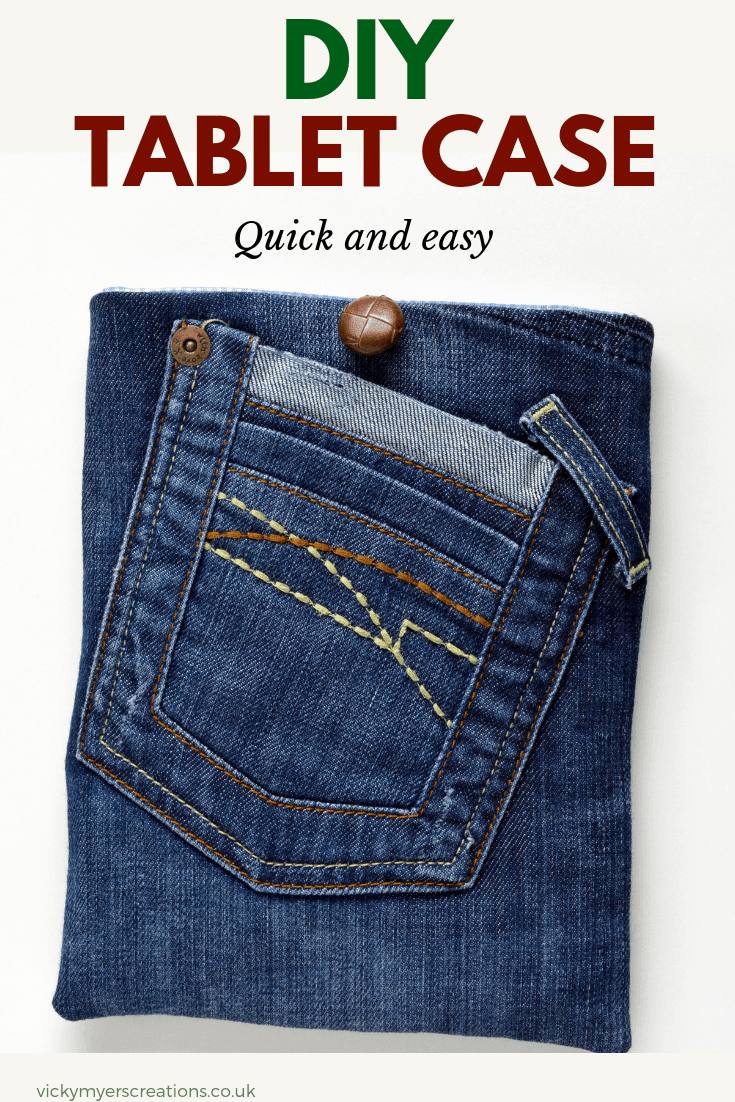 How to make a DIY tablet case
RECOMMENDED SUPPLIES:
Pair of jeans
Cotton Fabric
Fusible fleece
Button
Elastic thread
Measure your tablet, add an extra 6cm along the width and 3cm along the length. This allows 1cm seam allowance. This case is for a mini IPAD. The IPAD measures 20 by 13.5cm, the finished case is 16 by 21cm. I, therefore, cut the fabric 18 by 23cm.
Cut two pieces of denim. Utilise the pocket of your former trousers to add detail plus additional storage. Cut two pieces of shirt.
Cut two pieces of interfacing. Iron the interfacing to the denim, think about the grain of the denim.
Cut two pieces of a type of wadding, I used fusible fleece. Bear in mind the thicker the material the more protection but also the impact this has on the internal size of the finished case. Attach to lining fabric.

Pin your denim right sides together. Stitch around three sides, leaving the top open.
Pin your lining right sides together. Stitch down the sides, and a couple of cm's along the bottom of each corner.

Trim the corners of your denim, and lining as shown.
Turn your denim right side out, carefully turning the corners neatly out (I used a knitting needle to help turn out crisp corners).
Create a button loop from thin elastic. Pin on the back, in the middle. I suggest you measure and mark the middle.
Place your denim inside the lining, so that the right side of the denim faces the right side of the lining.
Pin together, ready for stitching together.

Stitch around the top of the case. If needed check out my video how to sew denim.
Turn right side out. Sew on the button, in the middle of the front of the case.
Slip stitch the bottom of the lining together, and carefully push the lining into the denim.

One finished table case:)
How many will you be making this year? Have you started to think about Christmas?
If you love working with old jeans to create new projects check out my