Learn how to sew your perfect denim garden apron with this free pattern by following the detailed tutorial with step-by-step instructions, or by watching the video.
Spring is in the air, Easter is around the corner – its time to think about gardening. A gardening apron is perfect for holding your gloves, seed packets, gardening shears – keeping everything handy whilst you work away. The trick is plenty of pockets. You can easily make this denim gardening apron in a couple of hours.
Garden aprons make perfect gifts for hardworking gardeners.
Denim is a hardwearing fabric, highly suitable for a simple work apron. The choice of embroidered words transforms this from a denim half apron with pockets into a gardening apron. To keep it multi-functional change up the words or omit them!


If you prefer full aprons I have an alternative denim apron pattern for adults and a free sewing apron pattern for children, or alternatively an upcycled t towel apron tutorial. Ir if you really fancy somethign different an apron made out of crisp packets!
To make this multi-pocket garden apron you will need a suitably sized pair of old jeans – preferably similar to the size of jeans you wear plus an additional denim pocket to create an extra apron pocket. The apron ties are made from webbing, if you prefer you could keep and utilise the waistband of the denim jeans. This garden apron pattern is so simple you don't even need a pattern!
Multi-Pocket Denim Gardening Apron – DIY
Materials:-
Additional Denim Pocket
Webbing
Denim Sewing Machine Needle
Unpicker
Scissors
Embroidery Floss
Needle
Taylors chalk or similiar for sketching lettering
Let's start by cutting out the apron body piece. Cut across the old jeans below the pocket line, and up the sides of the jeans to the waistband.
Next remove the waistband with a seam unpicker – this is such a useful tool to have in your sewing kit. You may have to unpick the This forms the apron body piece, mine measures (I am a UK size 16).
Use a marking tool such as taylors chalk draw out your letters onto the pocket pieces ready for hand stitching. I do not suggest using a pencil like myself as it is rather tricky to see the guidelines!! I have chosen the words Gloves, Seed, and Grow, one word per denim pocket. As you mark the letters on your pockets think about the spacing, you may wish to mark the middle letter in the middle of the pocket first so the word is evenly spaced across the width.
Using embroidery floss hand stitch your words. Personally, I have chosen to stitch with chain stitch, alternatively, you could use a running stitch or whipping stitch to form the words. It was easier than I anticipated to hand stitch into the pocket pieces on the original jeans, just be careful not to hand stitch the pocket shut.
Place your additional pocket onto the apron piece, in place and then topstitch in place. I have used a denim orange thread in keeping with the jeans, your sewing machine will thank you for using a denim sewing machine needle.
Zigzag or overlock the top raw edge to prevent it from fraying.
Place your webbing centrally along the top and topstitch to secure.
Lastly, we need to finish the raw edges of the garden apron. Machine stitch around the three sides with a seam allowance of 1/4″. Snip into the seam allowance every 1/4″ being careful not to cut the machine stitching.
Once placed through the washing machine this creates a beautiful frayed edge. I love how denim frays – see my denim rag quilt and chevron cushion tutorial.
I am an enormous fan of working with old jeans, check out my 31+ ideas for upcycling them, giving a whole new life.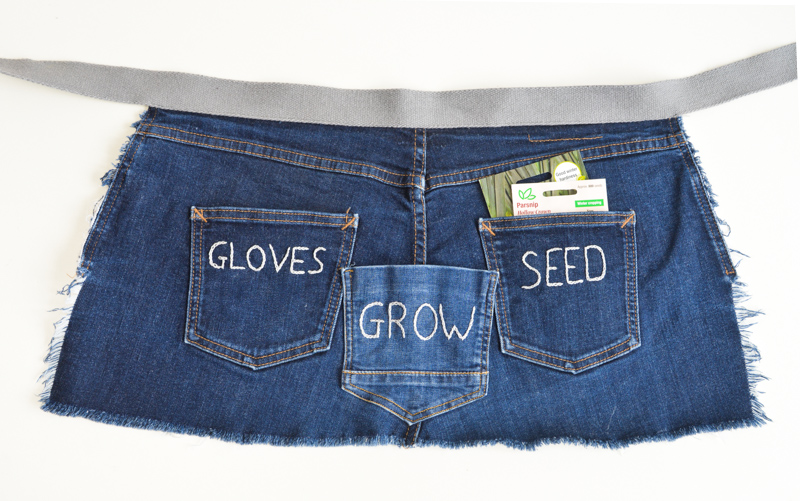 If you are looking for other spring sewing projects check out my friends posts