As the nights draw in we are starting to think about making our own Christmas decor. With many people fully aware of the negative impact of plastic, and the environmental impact of cutting down trees you may be looking for an alternative Christmas tree idea. I appreciate this is a little simplistic, you may be able to source a natural Christmas tree from a farm which plants as many trees as it harvests, as well as replanting the tree you buy in your garden.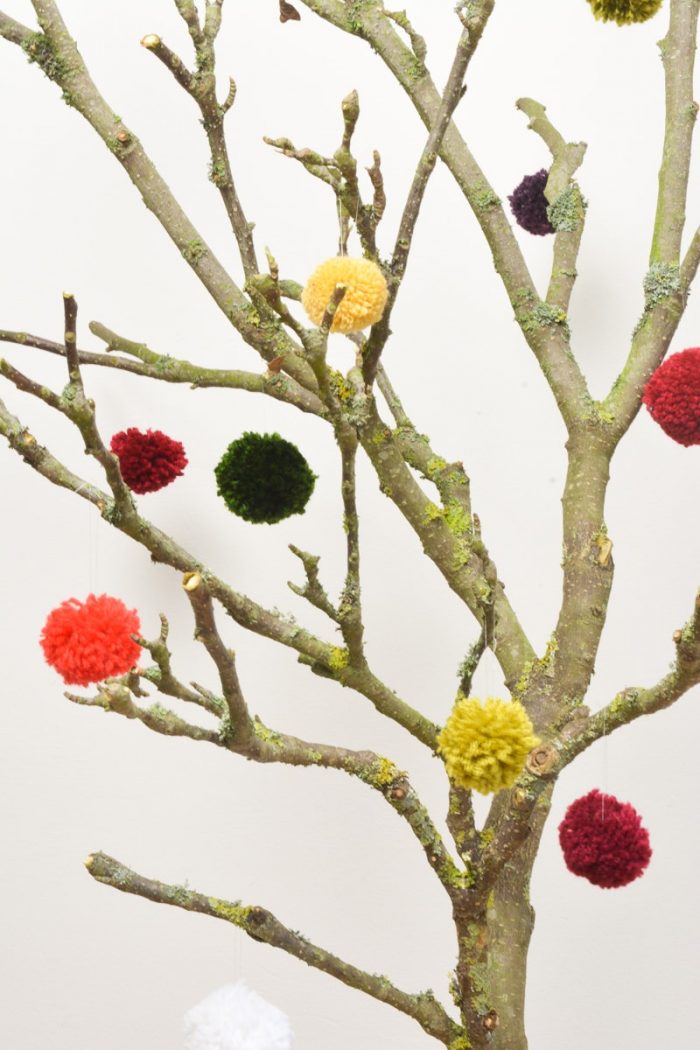 Autumn prunings make a great source of material for handmade decor. Don't throw them away!! As my husband prunes back the garden for winter we are having fun making Christmas decorations. The children love being involved, sharing their ideas and learning practical skills. On Sunday we played Christmas music and had fun.
Our home is adorned with decorating ideas with tree branches. Find out more about our other projects:-
Alternative Christmas Tree -Branch Tree's Three Ways
This post contains Amazon affiliate links for your convenience. Click here to see my disclosure policy.
RECOMMENDED SUPPLIES:
Tree branch
Tree stub for base
Drill
Clear thread or fishing wire
Variety of colours of wool
Optional:-
Christmas lights
White chalk paint spray
Start by creating a base for your alternative Christmas tree – we have used one large branch to form the tree placed into a piece of tree trunk.
Drill a hole into the tree trunk fractionally narrower than the branch. Select a suitably sized wood drill piece.
Whittle the base of the branch so the branch sits snugly into the base. This needs to sit tightly so the tree does not wobble over.
So what happens if you don't have a large branch from pruning of the right shape? You can make an alternative Christmas tree using several shorter branches. Angle the drill piece so the branches are arranged in a pleasing fashion.
We have arranged four different branches into one base.
Now for the fun part how to decorate your alternative Christmas Tree – what do you already have in your home, what can you use?
We have experimented with beads from old jewellery hung on wire. Think about the proportion of your decorations in relation to the size of your alternative tree. It is super easy to make mini baubles out of old jewellery,
They look good on the small trees and could make the perfect table decoration for the Christmas season.
The rest of the family are rather keen on sparkles – they just couldn't help but try a version of the branches wrapped in sparkly wool If you fancy this check out my tutorial for twig wrapping.
For the larger tree, we have used odds and ends of wool to make baubles. I highly recommend a pompom maker (I love the ones made by Clover, super easy to use), it makes pompom making much quicker and easier – I have a tutorial here if you have not done this before.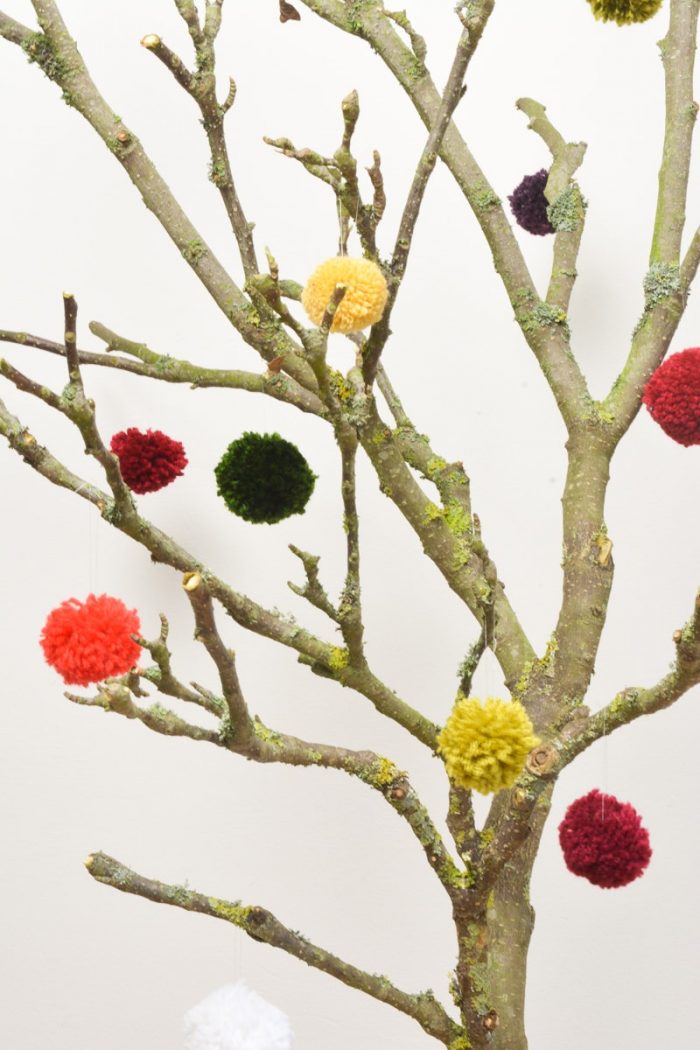 So have fun, use the prunings from your trees and the items from around your home to trim them up. Looking for further Christmas tree related crafts? Check these great Christmas tree ideas out.