Do you have a small toilet? Ours received a lick of paint six years ago – I'm rather embarrassed to admit the kids had nicknamed it the minging toilet. It really needed a revamp. So I was delighted to be offered some tools by Ryobi – the perfect motivation to tackle the room. It's small, that's not going to change, but the feel of it had to go!
Do you have a similar problem? Choose a theme and work with what you have. What resources do you already have? Most people have left over tins of paint in the shed. Pick a colour theme, paint items you already have to create a cohesive look.
For our bathroom the first job was stripping the textured wallpaper and sorting the boxing in (the original was removed for a plumbing repair and just wasn't going to go back). As the sink and toilet worked fine they stayed. Replacing the boxing in cost £40.
The walls and woodwork were redecorated with paint left over from other projects.
So the fun bit, adding personality by changing the decor touches, on a budget. The curtain was replaced with a blind. I found a curtain at a carboot to make a Roman blind with. It set the colour theme for the room. A few internet searches later I had learnt how to make the blind.
To make your own thrifty blind think about using what you have. I used some bias binding to make an encasing for the rods.
The rods were made from garden canes. I bought the hoops on the back.
As I am never going to pull the blind down I was happy using garden twine to pull it up. Cost £6
With the colour theme set I gathered a few supplies from the garden and shed.
I used left over paint from previous Rustoleum projects (remember the shabby chique mismatched dining room chairs?). I mixed two colours together to gain a shade which tied in with the Roman blind. Using one paint on a variety of objects brings a cohesive touch to your thrifty makeover.
Over the summer we have collected shells, sea glass and pebbles with holes. The bathroom is a perfect showcase. It has become a beach themed room.
You can use an old frame and freshen it up with paint. I used a quilting ruler to measure out a grid format.
A glue gun works well for holding shells and glass to paper. £-
To create a holey pebble art work find a plank of wood. Apply paint with a knife, layering it up and capturing some of the not quite mixed bits of paint to create a textured piece.
On the back add picture fittings before adding nails on the front to hang you holey pebbles.
Tin cans were painted and filled with plants. Keeping the air fresh in a bathroom is always a good thing! I'm hoping the plants will help. The plants cost £6.
Lastly I created a homemade reed diffuser, I followed the direction from this blog post (Moral Fibres). Hopefully the combination of a reed diffuser and plants will help help keep the air fresh.
We are yet to source/make a towel rail, plus I'm secretly coveting a old wooden window to transforming into a mirror. The toilet upgrade has cost less than a £100 and has been referred to as the poshest room in the house!!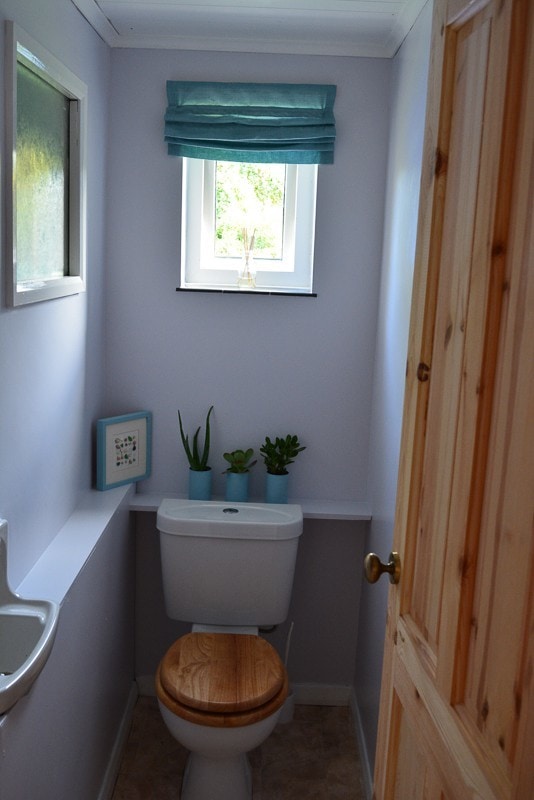 Thanks to Ryobi for supplying the tools – new tools were just the motivation my husband and I needed to transform the room. I'm wondering why it took us six years!

The tools were supplied by Ryobi. All opinions are my own.