A few weeks back I signed up to take part in #restylingexchange being run by AmyNicoleStudio and Pilar Bear:-
"Our hopes for this year's restyling exchange is to get even more participants, raise awareness for refashioning and being sustainable in our sewing practice"
My immediate thoughts were what fun to take part in a global refashioning event – to post a garment from my wardrobe to be refashioned, and to receive in the post a garment to refashion.
I posted this maxi dree bought in a charity shop a year ago and only worn on holiday. Much as I like it, to have a garment only worn for a week a year seems unnecessary.
I am delighted with the top I refashioned top I received back from Helen Ridley.
She even included some extras.
I received the most beautiful dress from Eve of thecreativecurator. My daughter immediately fell in love with the dress and protested against said dress being refashioned – but if a garment is not worn for whatever reason then why not refashion?
Initially, I felt I had hit the jackpot in terms of quantity of fabric with a fun vibrant print – feeling it should be easy to meet the brief:-
"Whacky, loose fit, slightly masculine silhouette but feminine in cut / colour "
But as I unpicked the seams I soon realised that the dress was made up of relatively small pieces – persuing @thecreativecurator's Instagram account I spotted her top nine makes for the coming year. I briefly toyed with changing the dress to a style similar to the Karri dress. But I just wasn't sure my dressmaking skills were up to it. Plus I wanted to stick to the brief, you can supplement with items from your stash but you are not to buy anything new. For me this included patterns.
So I decided to go for a kamino top.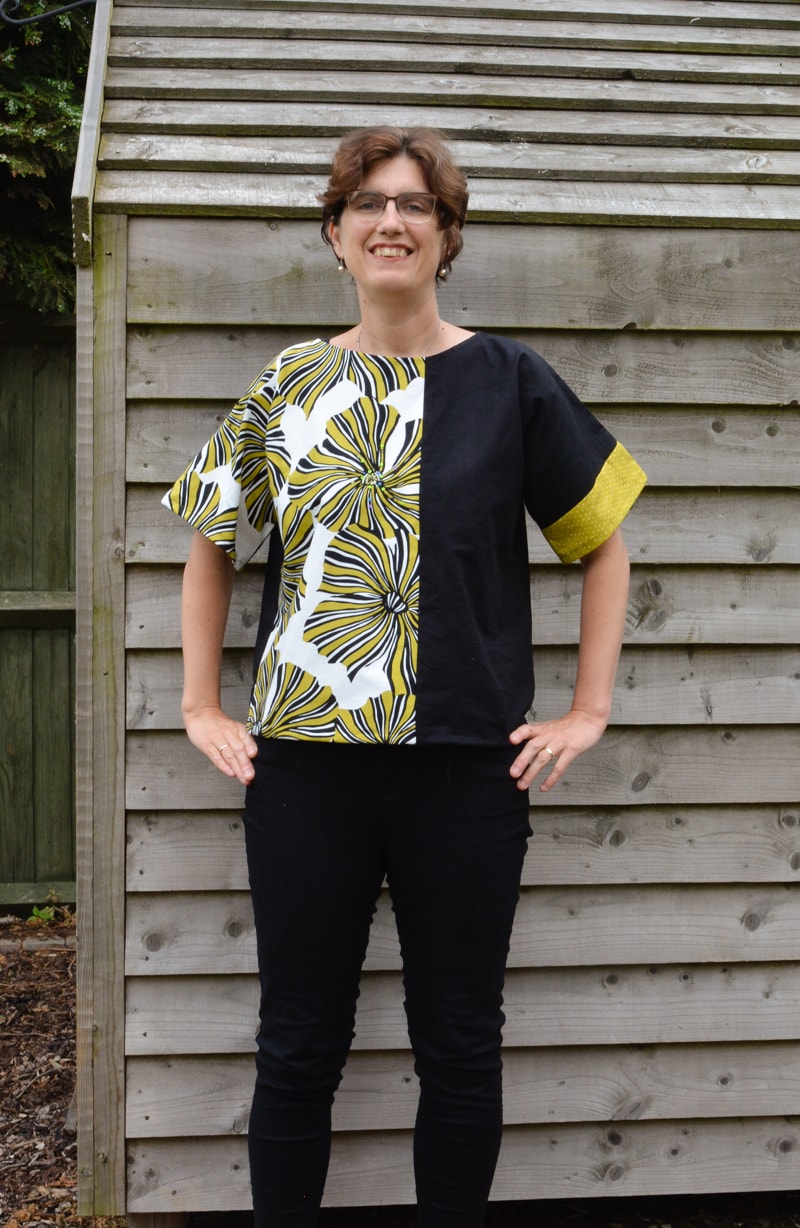 Starting with an old top as a basis to make a paper pattern.
The front of the top warranted the largest piece of the original dress, coordinated with black fabric and a lime piece from my stash.
These were sewn together, seams finished with a zig zag stitch to prevent fraying.
Onto the back, with smaller pieces to work with, I chose to go for a triangular piece centrally.
Sewing one side of the triangle to start with I then cut away the excess black fabric.
Placing the second piece of black fabric along the raw edge I create the rest of the back piece, cutting to size once stitched.
Then I placed the front and back pieces together.
Lastly, I added the lime edge of the cuff, prior to sewing the top together – shoulder/sleeve and side/sleeve seams.
The neckline and hem I edged with bias binding – to gain an even neckline I used a bowl as a gauge.
Having been through various emotions with this refashion I love the finished result.


I just hope the sizing works well for Eve, I suspect I should have made it slightly bigger…. I have to confess I would be very happy to keep this top for myself.