DIY Picnic Blanket Tutorial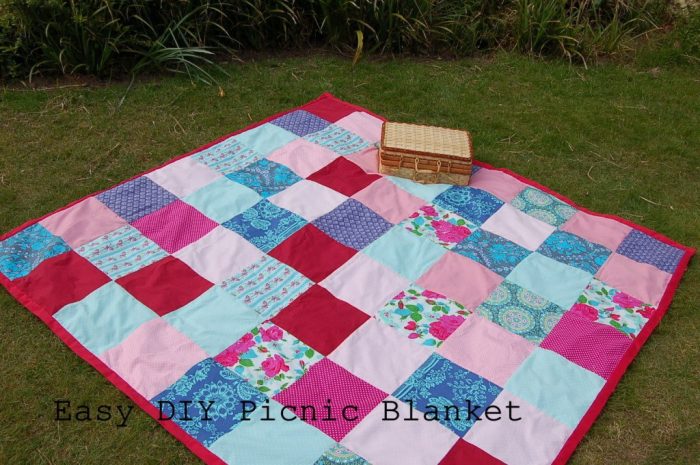 For this project use whatever fabric you have to hand, as long as it is similar weight. This picnic blanket is made with old curtain for hemming, shirts, fat quarters, and some from the fabric from my stash. This is lined with a fabric shower curtain, just in case the grass is damp!
You will need:
64 cotton fabric square's which are 24cm by 24 cm ( 9.5″ by 9.5″)
Fabric strips 7.5cm wide 1300 mm for hemming (3″ by 51″)
Fabric shower curtain 1200mm by 1200mm (47″)
To make:
Cut out your 64 squares from a variety of fabric
Lay out your squares into a design you are happy with.
Pin rows of squares, and machine stitch (seam allowance 1cm)
Press well, sew your rows together.
Lay out your shower curtain, trim off any curtain ring holes. Lay out your patchwork fabric on top. Pull taught and pin all round.
Iron your piece of binding in half and then tack on. Machine stitch.
Remove your tacking stitches. Fold along your ironed fold, turn in hem and hand stitch.
One fully unique picnic blanket:)
Now where's the summer??!
A lovely thank you to sew scrumptious for the fat quarters used in this project – I won them in a giveaway far too long ago to mention when!
I hope you have had a creative week, as usual I am popping over to Handmade Harbour to see what everyone else has been up to this week,
Since making the original picnic blanket I have made a second as a gift. This time I have added ties at the side for ease of carrying.
Sew up four ties in co-ordinating fabric to your binding, place on the wrong side of the rug laid towards the centre of the rug, and sew in when binding.

This post is linked up
here