Learn how to make an easy DIY wood coffee table using materials to hand.
My husband has been working on a big garden transformation, removing redundant climbing equipment and raised to beds to create a fabulous new seating area, centered around a fire pit.
We love the transformed garden from the children's play area,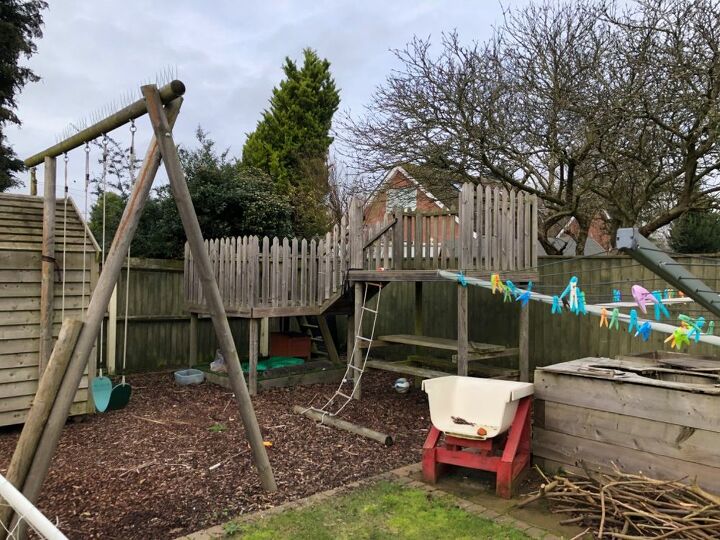 To an area, we can all use, with space to grow a few veggies at the back as the weather warms up.
You can read more about the garden transformation here:-
When the fire pit is not in use a coffee table sits over the top, perfect for drinks and snacks in the sunshine.


DIY wood coffee table
For the frame you will need:-
Eight pieces 2' long 1 3/4" square

Four pieces 18" long by 2 3/4 and 2"(these are the legs)
For the top you will need:-
Ten pieces

29 1/2 by 2 3/4 by 3/4"'
Building a frame for two sides of the table with two long pieces screwed to legs.
Predrill a hole then fix in super-long screws- these screws are long 3". Doing this on the table helps you get a flat edge for your finished table.
Join the two sides together to form a square with your remaining four cross pieces. It's helpful to have an extra pair of hands to help you hold the pieces in place whilst you drill.

Once we had the completed frame we double-checked that it fitted over the fire pit as planned.
Lastly cut pieces for the top. We have used 10 old fence panels from the former climbing equipment, each piece measures 29 1/2 by 2 3/4 by 3/4"'
As the pieces do not fit snuggly across the top they are spread out fractionally, evenly across the top.

Screw these in position to secure, my husband used a countersink drill piece so the top of the screws lies flat to the tabletop.
Lastly, apply a coat of teak oil liberally to protect the wood.
I love the result, the coffee table keeps the fire pit dry and is light enough for me to lift off when we wish to toast marshmallows.