As a family we love looking for sea glass, hunting for the treasure on trips to the beach. We especially love the coastline from St Aygulf to St Maxime (between Cannes and Marseille, southern coast France) but the big question is what to make with the sea glass?
Today I am sharing with you a sea glass mirror. We spotted a boat shaped mirror in a reclaim shop (slightly out of context as its clearly a modern mirror!) just waiting to be transformed into our style.


If you love sea glass as much as us check out our sea glass projects:
Sea Glass Bowl
Sea Glass Lamp
Sea Glass Christmas Decoration
Sea Glass Jewellery
But what if you don't have any sea glass to hand? After all not all beaches are the same and some have none! It is possible to make fake sea glass, by softening the edges of regular broken glass. IfIf you make your won do try and find a selection of colours of glass, having the odd piece of blue and brown really adds to any sea glass craft. You find instructions here.
Sea Glass Mirror
Click here to see my disclosure policy.
RECOMMENDED SUPPLIES:
Mirror
Gorrilla Glue
Sea Glass
Chalk Paint
This is our starting point of a mirror, I appreciate that many people will like this mirror as it is but it's not really our style.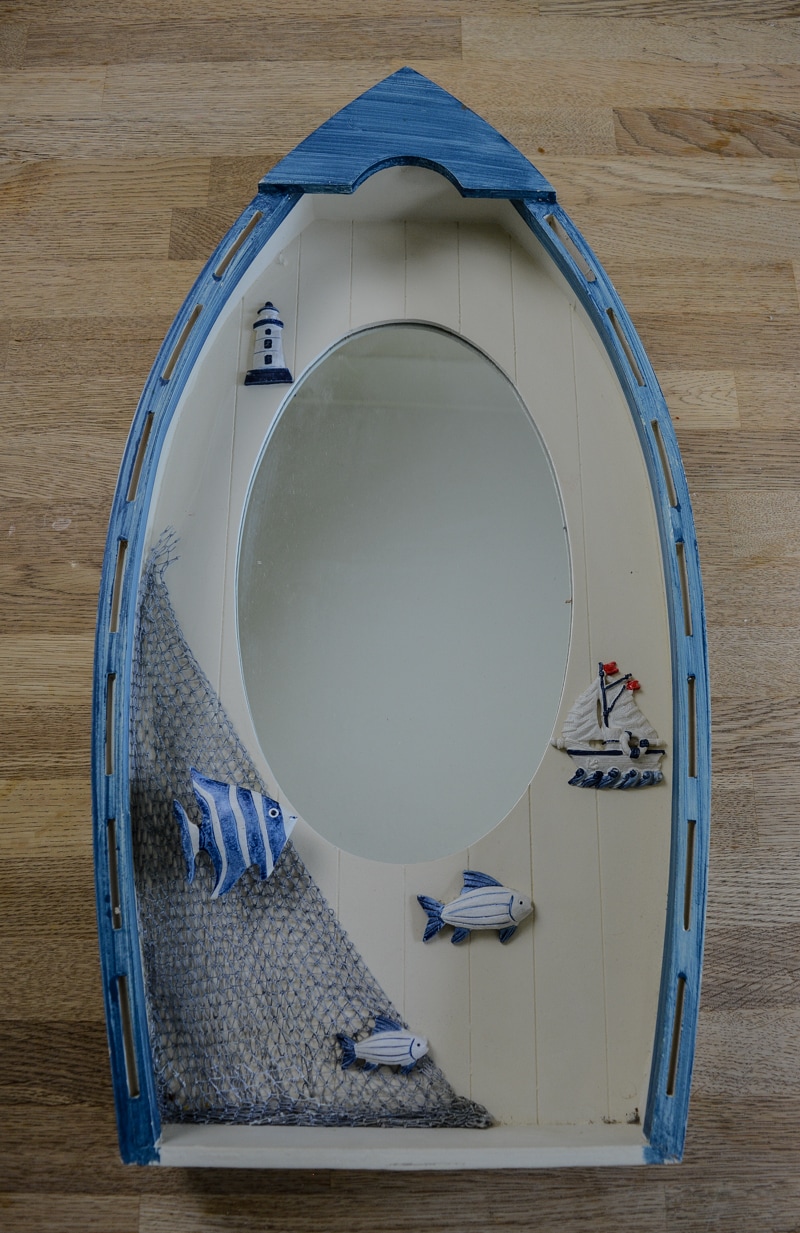 To start firstly remove the mirror and set aside. Remove any unwanted items from the mirror frame, prise them off with a chisel.
The frame now looks a little worse for wear, to say the least!!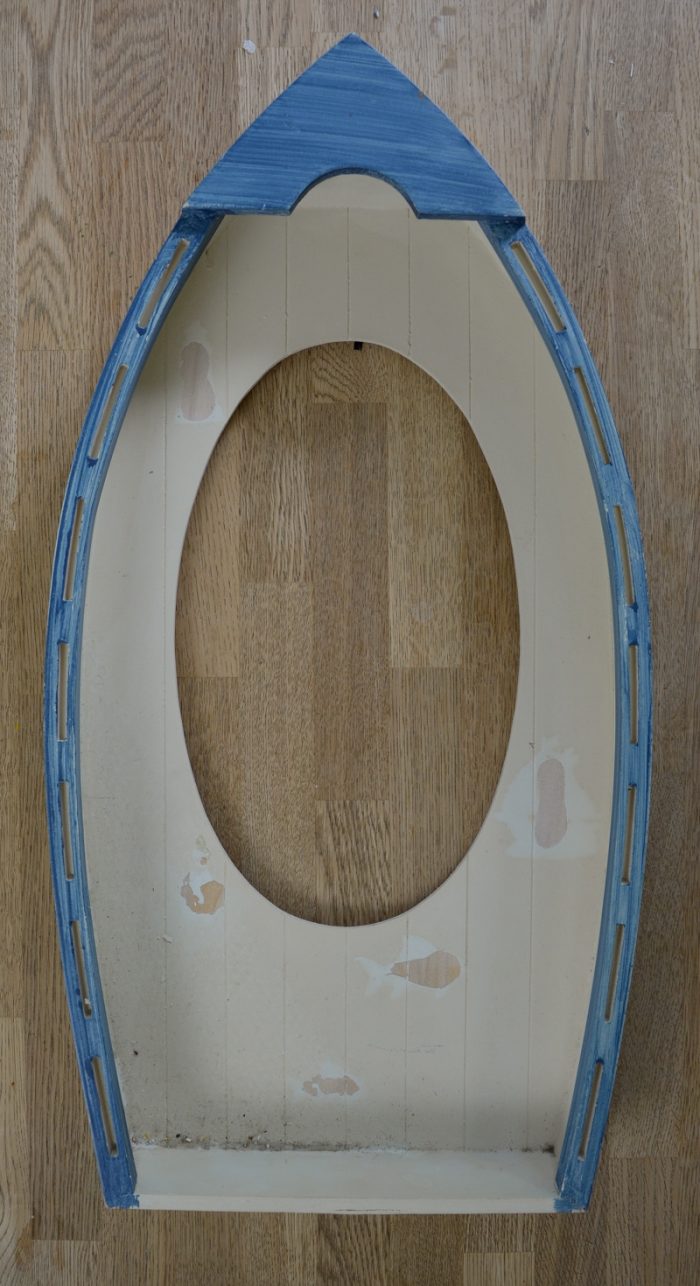 Fully clean the frame and apply a coat of white chalk paint to the wood. Chalk paint is great as you don't need to sand your surface first.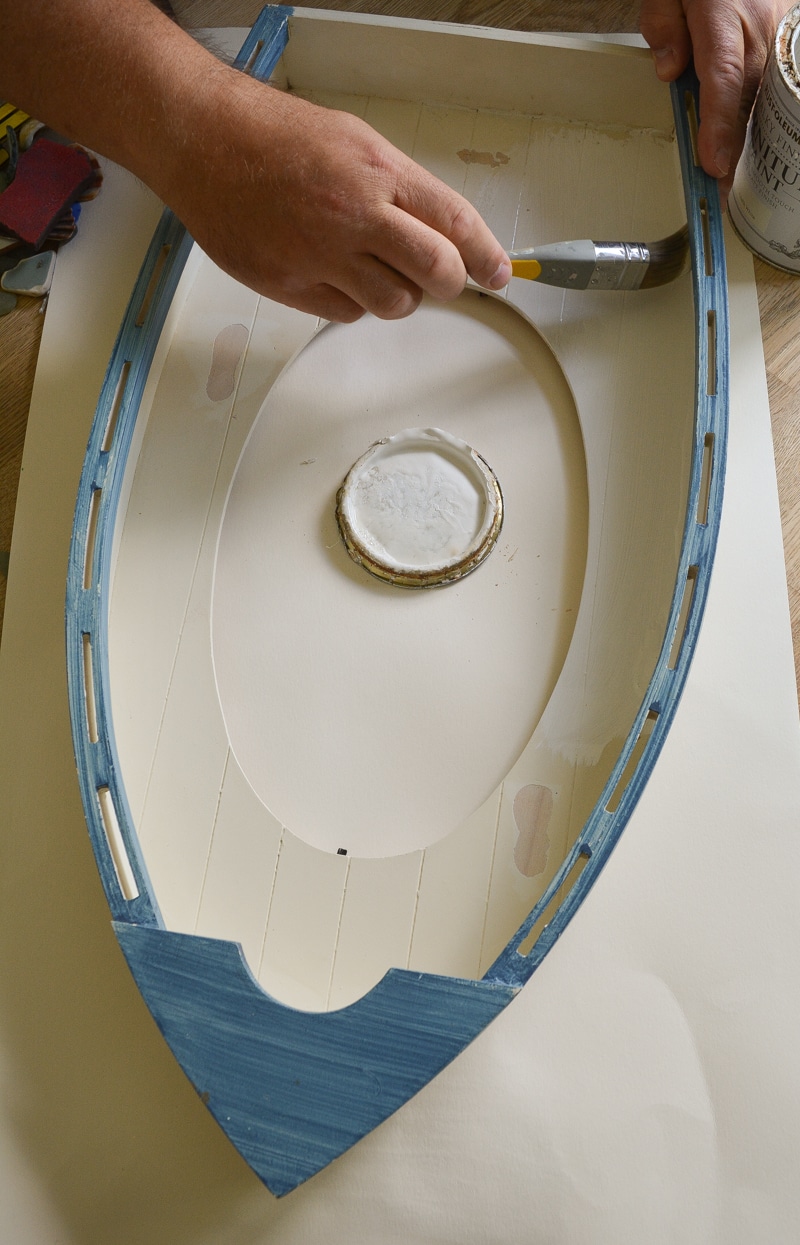 Once this has fully dried it is time to have fun with your sea glass and fill the mirror frame. We glued as we went, ensuring a balance of white and green glass.
Once we had finished the sea glass we knocked back the blue frame a little with white paint.
Lastly clean and then place your mirror back in the frame. The finished mirror is rather tricky to photograph, despite reading hint and tips about spraying the frame with deodorant so you and camera don't show in the picture!!
Easy DIY Sea Glass Mirror - beach themed decor
Take a preloved mirrror and frame to create a beach themes mirror - perfect for showcasing your favourite pieces of sea glass.

Prep Time 20 minutes

Active Time 2 minutes

Total Time 22 minutes
Materials
Framed mirror
Chalk paint
Gorilla glue
Sea glass
Instructions
Thoroughly clean mirror frame
If the frame requires a refresh paint with chalk paint
Once dry select sea glass and glue onto frame with gorilla glue