Today I am sharing with you a review of several FREE long sleeved T-Shirt PDF Patterns. It's been a while since I took part in Me Made May over on Instagram, since then I have made several clothes for myself but done absolutely nothing about plugging the identified gaps in my handmade wardrobe, namely long-sleeved T-Shirts and pants/trousers. I have to admit to being a little nervous about sewing with knit fabric, mainly due to my fear of sewing necklines plus grappling with tension when using my serger. If you do not have a serger you can still sew knit fabrics, check out 10 tips for sewing knits perfectly.


If you are new to sewing up PDF patterns then here's a couple of pointers for you. Download and save the pattern. Open it up (I use Adobe software for this which is a free download too). Select print – ensure on the printer settings you have chosen the setting actual size, do NOT choose size to fit.
Once you have your printed sheets it is time to assemble the PDF pattern – check out my how to assemble PDF patterns instructions.
Free PDF T Shirt Patterns Reviewed
The Green Tee
The Green Tee pattern includes good instructions for how to assemble a PDF pattern, plus the pattern is written in layers so you can select and print just the size you want. I love it when patterns have this feature, it saves on ink and printing time.
The pattern instructions give advice about the stretch required in the fabric, including a chart so you can check the stretch of your fabric. This is a really useful feature I have not across before. The pattern does not include any advice or guidance on how to sew knit fabric.
The neckline (my main worry with knit t-shirts) advises sectioning the neckline into four equal parts and the same for the neckband. Unhappy with my first attempt I unpicked and redid the neckline, it was worth the extra twenty minutes.
I found the pattern easy to follow, I chose to sew the next size up as I prefer slightly looser garments. Will I sew it again? Probably. This is a good basic Tee, perfect for wearing under thick woolly sweaters, just what my needs are right now.
Find the pattern here, join their Facebook group for a coupon code to download for free. The standard pattern comes with short sleeves but on the website, there is a free additional pattern for long sleeves.
Cross Hem Tee for Women,
The cross hem tee comes in sizes 00-24, the length is designed for average height 5'4″ – 5′ 6″ (slightly surprised that this is average height), at 6′ tall I clean forgot to add any length. The spot of contrasting fabric along the hemline is easy to achieve, once I stopped guessing the instructions and read the pattern properly! This pattern includes great details re body measurements, I now know I am a pear shape.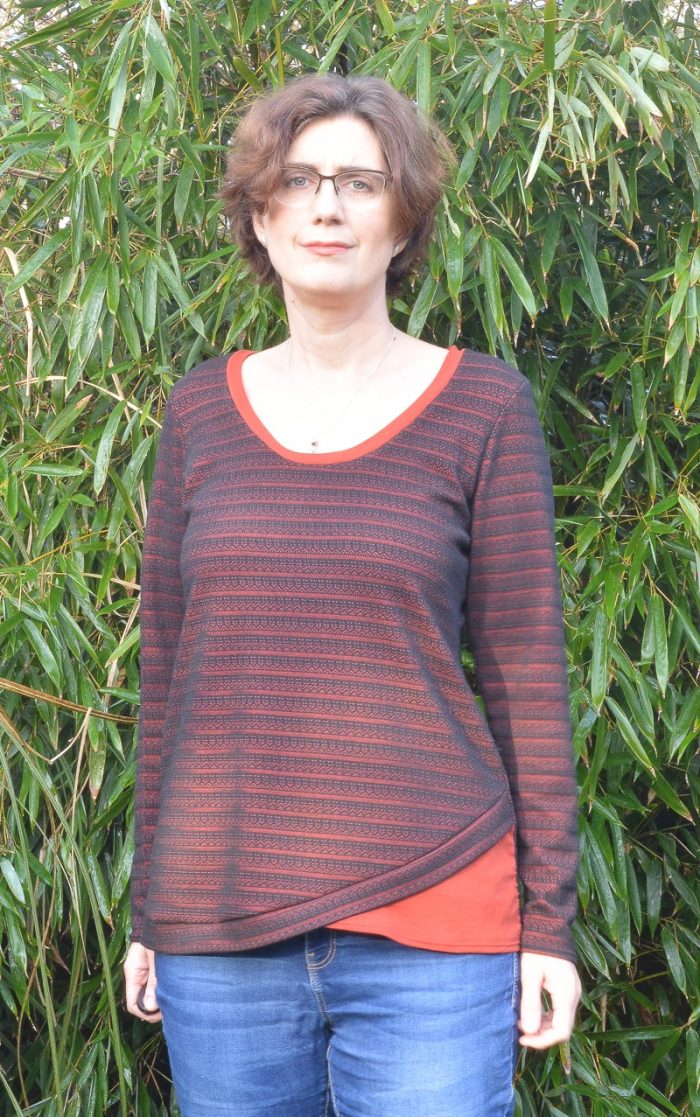 Find the pattern here, join the facebook group for a coupon code to download for free (you will need to hunt around in the group for the code, it is one of 2017's 12 Days of Christmas free patterns).
Laundry Day Tee,
The Laundry Day Tee is highly versatile, with scoop, v neck and cowl necklines and three hem lengths tee shirt length, tunic or knee-length dress plus five sleeve options. I chose to sew up long sleeves, with tunic length and curved neckline. I love the length and personally prefer a slightly loose t-shirt design, although perhaps not this loose! Next time I will size down.
The pattern includes many photographs of the various versions which will help you make a decision as to which version to sew, plus if you are nursing a link to a blog post as to how you can change this top to become a nursing top.
I found the instructions clear, detailed and easy to follow. At the end of this pattern is a glossary of sewing terms plus an invite to contact the designer if you become stuck at all-perfect for a person new to sewing with stretch fabrics.
Find the pattern here, join the facebook group for a coupon code to download the pattern for free. The pattern comes with nested layers – I love how much ink this saves when you only print the size you need.
Ladies Raglan Tunic Pattern
This pattern come in two sizes s/m and m/l – I hacked the pattern leaving off the bottom piece, converting from a tunic to a top. This pattern comes with an optional cowl neckline. I love how this pattern enables you to use smaller pieces of fabric and pair them together.
The raglan tee pattern is available thanks to scatterthoughtsofascattymom.
Looking for further inspiration:-
Hi-Low T-shirt by So Sew Easy has a long hem at the back.
Cloud 9 Tee by the Striped Swallow which has a curved hem front and back.
Plantain T-Shirt by Deer and Doe has a slightly flared fit at the waist and patched elbows (this is my next project!)
The Stellan Tee by French Navy is a boxy t-shirt