This DIY triangular Christmas tree is made from an old pallet and a string of Christmas lights, simple yet effective Christmas decor suitable for your sideboard, mantlepiece or even your porch. We have made one – but if you are going to decorate your porch three in varying sizes could look lovely. Do you look at Christmas decorations in shops and wonder how to make them yourself, or is that just me?!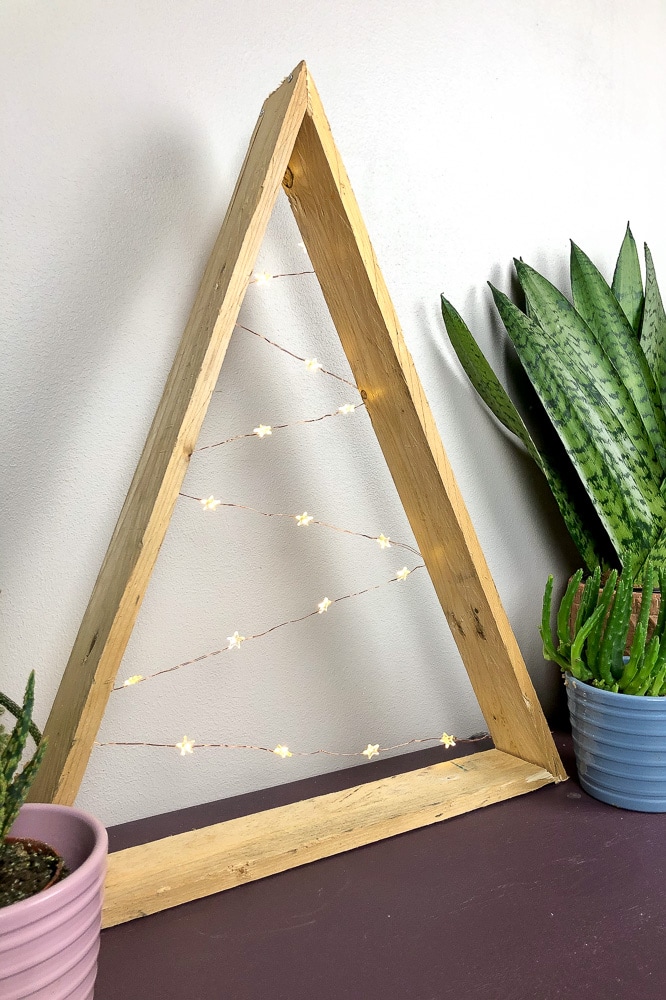 When choosing to work with a pallet you may wish to consider the labeling of the pallet and its former use, especially if you are making the decoration for inside your home. You can read about the labeling of pallets.
Wondering where to source a pallet from? I have found them through simply asking on local Facebook pages, people who have had deliveries may have a pallet they would love you to take off their hands. Alternatively, other online selling forums may have them, or your local builder's merchants.
Pallet Wood Christmas Tree
Instructions
Firstly dismantle your pallet - we use a pry bar to prise the pieces of wood off the base and remove the nails.
Play with the pieces of wood to establish the dimensions of your triangular Pallett Christmas Tree. Ours measures 23 1/2" along the long side and 16 1/2" along the base, making the finished height 22"
Now you have your wood lengths its time to cut the edges of the pieces to form neat joints, we marked with a pencil and cut using a hand saw
Join the pieces of wood together - you can use wood glue, a nail gun or screws. We used very short screws (my husband is hankering after a nail gun!)
Now for the fun part, time to decorate the tree. We have used a nail gun to secure a string of battery star lights along the back of the frame.
Check out my other pallet wood Christmas tree tutorials:-
DIY Upcycled Pallet Christmas Tree