I have had great fun the last few days on twitter – becoming rather involved in a question about what can be made with crisp packets, what would you recycle crisp packets into? Somehow that chat has morphed into the desire to research the question.. recycled crisp packet dress anyone?
This is a fab design by Rebekah Kirkland. I'm not sure a dress is for everyone, Eau de fish & chip shop anyone??
On a more day to day basis here's a round up of tutorials to inspire you to reuse the empty crisp packets which will appear over the christmas break .
9 Recycle Crisp Packet Ideas
Key rings:
Melt the crisp packet in the oven and convert into a key ring.
Crisp bag earrings
You can learn how to fold triangles here. I am guessing that you then melt the triangle in the oven and add earring fittings – I suspect thats a blog post waiting to be written:)
Recycle crisp bags into bags
The tutorial teaches you how to weave folded crisp packets and create a bag.
Bracelets
Weave crisp packets together to create a sparkly bracelet.
Waste bin
Recycled crisp packets into a woven rubbish bin – I love the bright colours but am not sure I have the patience myself!
Drinks coasters
Great tutorial for combining crochet and crisp packets..
Pencil cases
Transform them into funky pencil cases with this great tutorial.
Crisp packet wallet
This project involves fusing crisp packet layers together using your iron.
Crisp Packet Apron
Stitch crisp packets together to form the crisp packet apron.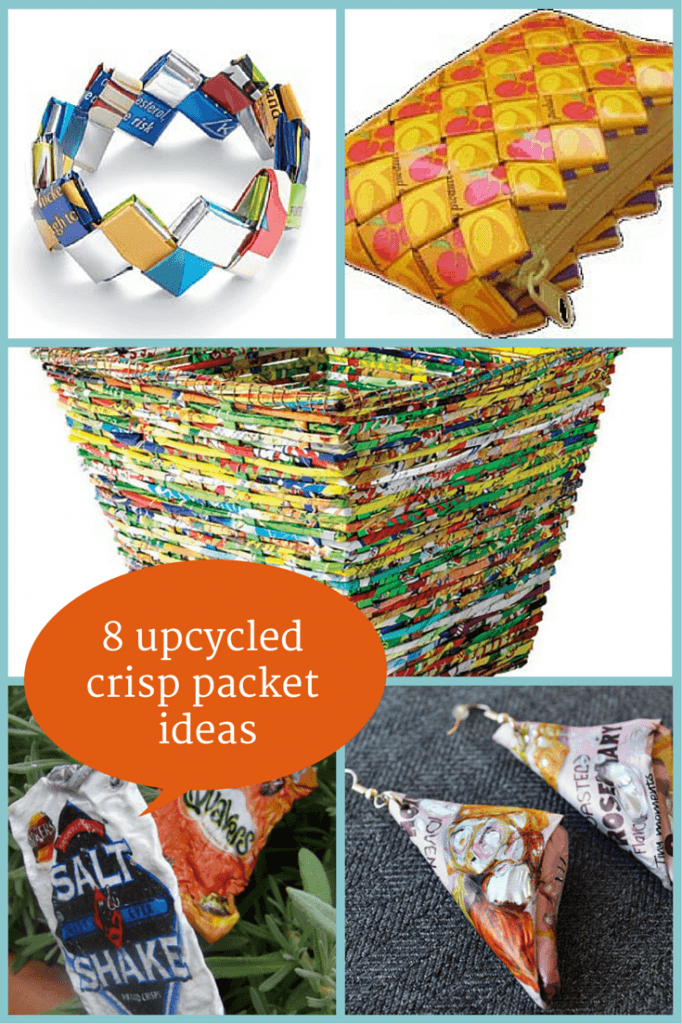 All I need to do now is eat some crisps – then I can try some of the projects out:)
Which is your favourite? What would you make?