Discover how to paint gold mirror frames like a pro! Transform your decor with my expert tips. Get started on your DIY project today.
When looking for a new to you mirror do not be put off by a gold frame. Painting a gold mirror frame is super easy and relatively quick. The process is very easy, just wipe down the frame with a damp cloth then apply two coats of Fusion Mineral Paint using a brush.
For the first time in a few years, we have a mantlepiece. The perspective of our new living room is focused on the gas fire and mantlepiece, a large mirror placed over the mantlepiece adds reflective light into the north-facing dark room.
When I spotted this large gold outdated mirror in a charity shop for a mere £8 I snapped it up, the mirror frame is not to my taste but that is easily solved. Car boot sales, thrift stores, or yard sales are good places to find your own ornate gold mirror.
What paint do I use to paint a mirror frame?
I have chosen to work with fusion mineral paint, alternatively, you can use chalk paint, the process is very similar. Both paints need little preparation, no sanding is required which is ideal for a gold mirror frame that is often ornate in design (and therefore harder to sand).
With both choice of paints you will apply thin layers. For fusion mineral paint you are then finished, chalk paint then requires a thin layer of wax to complete.
Fusion mineral paint is acrylic paint so be warned it doesn't wash out of your clothes, whereas chalk paint is water-based and will wash out!!
How to paint a gold mirror frame
You will need:-
Preparation for painting a mirror frame
How easy is it to remove the mirror from the frame? My mirror looked well and truly adhered to the frame, so I chose to leave it in situ. If your's is easy to remove then remove the mirror and set aside.
Clean the gold mirror frame by wiping off any dust and removing any grease marks, a damp cloth is useful for this.
Place the mirror on top of tin cans so you can easily reach the edges of the side of the frame.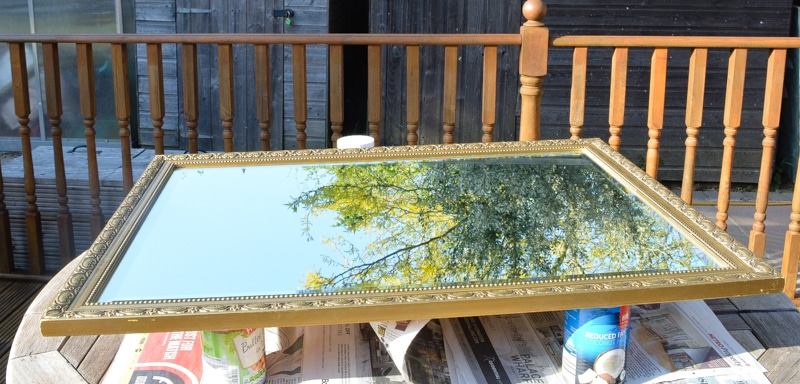 To protect a mirror when painting a frame use a masking tape mask around the very edges of the mirror, next to the frame, this will save you from accidentally painting the mirror.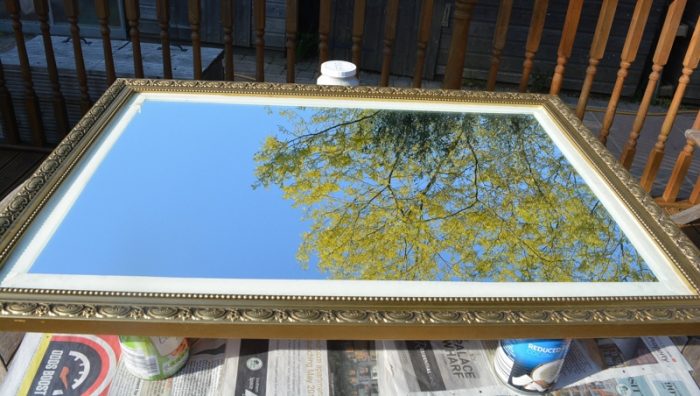 Paint gold mirror
Whichever paint you have chosen to work with apply a thin layer to the entire frame, working the paint into all the recesses in the frame. A small paint brush helps reach all the small areas in the ornate frame allowing you to create good coverage with your first coat of paint.
Allow to fully dry, the drying period will depend upon your choice of paint, always follow the manufacturer's instructions regarding drying time.
Apply a second coat of paint. Applying thin layers ensures you do not end up with drips and/or pooling in the ornate design. This will help you keep the original ornate details in your gold frame.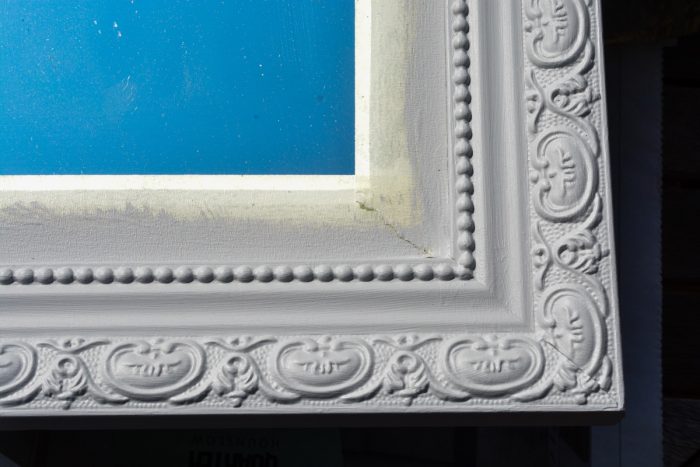 If you are working with chalk paint apply a coat of wax with a wax brush, this top layer protects the chalk paint.
The next step is to remove the masking tape, if this has stuck to the paint you can score around the edge of the frame with a knife.
Lastly, clean the mirror with glass cleaner and microfiber cloth.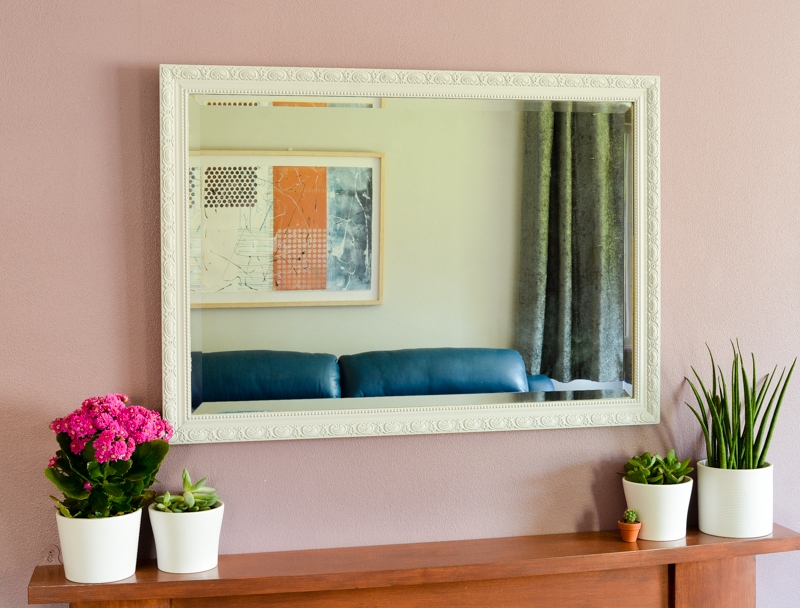 I hope you like your mirror makeover as much as I do – with this mirror project you have breathed new life into a vintage mirror and added your personality to your home decor.
Frequently Asked Questions
Should I use spray paint or brush-on paint for a gold mirror?
As you will have noticed I have only discussed painting the ornate mirror frame, this is partly because I find painting easier to control. I find I frequently overapply spray paint causing drips and pooling, An acrylic-based spray paint will work, but be super careful to ventilate well, or ideally spray outside ensuring you have fully covered the mirror itself.
How can I achieve a distressed look when painting a gold mirror?
I suggest choosing to work with chalk paint so that you can use dark wax to create a distressed look on your finished mirror. The dark wax will seal the paint and create a darker, aged look.
Is it possible to repaint a gold mirror frame if I change my mind about the color or finish?
Yes! Fusion mineral paint is easy to paint over, however, if you have chosen to work with chalk paint you will need to carefully remove the layer of protective wax. For this reason, if you think you may change your mind I strongly suggest working with an acrylic based paint instead.
If you are not familiar with fusion mineral paint it is incredibly versatile, check out my updated mid-century furniture or ombre effect sideboard. If you are looking for further ideas for old mirror frames check out my denim mirror.
Have you used Fusion Mineral Paint before? I have to admit I think I am a convert, check out my bedroom furniture project with the paint here. I think I will be painting the mantlepiece next!!