I bought these wicker baskets months ago, they were so quick and easy to transform. Now the children are back at school I am attempting to tick off projects on my to-do list.
With fortune on your side you can pick up wicker baskets in charity shops, they are so easy to update with spray chalk paint, then add a splash of color with pom poms. A far cheaper version than those retailing in the home stores.
Baskets are so useful for storage, but dare I admit to the odd thought about Christmas gift baskets? With a bit of forward planning, you could make your friends and family a range of baskets.


How to upcycle a basket
RECOMMENDED SUPPLIES:
Basket
Chalk Paint Spray ( I used Pinty Plus but if you are in the US Rustoleum is available)
Balls of wool
Scissors
Thread
To make:
Remove any lining from the basket.
Spray the basket with a light coat of spray chalk paint, follow the instruction on the can ensuring you shake well and hold the can at the recommended distance. Be careful to do this in a well-ventilated area.
Allow to fully dry then apply a second coat.
Whilst this is drying make your pompoms. I love a pom pom maker, so quick in comparison to my childhood days with a cardboard ring! I have tied a few brands, I do think clover is worth the extra pennies if you are going to make a few.
Wrap the wool around one side of the pom pom maker, close, wrap around the second side. Cut the thread with scissors, then tie around the middle. Leave long tales on the yarn.
Sew the pom pom's onto the middle of the basket. I used a wool needle, threading the long tales through to the inside of the basket then tieing in a knot.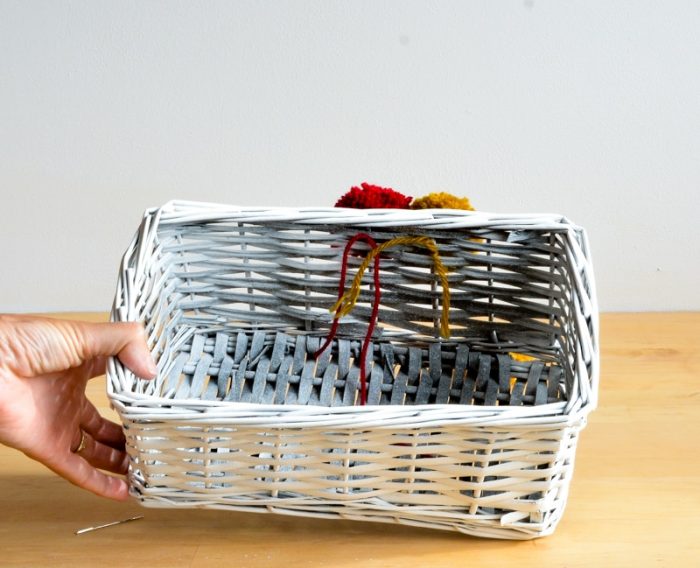 If your basket has a lining, now is the time to place it back inside the basket.
Fold over the lining to the right height, removing any tie. Place back inside the basket then hand stitch in place. I used a white thread to coordinate the lining and basket.
My dilemma is what to keep in my basket, will I refill with odds and ends re sewing, keeping my handmade cleaning products in, dressmaking patterns?
Sor more upcycling projects do sign up to my newsletter – readers have access to my resource library which has a handy hints and tips sheet for using chalk paint.
[mailerlite_form form_id=1]
If you are looking for other fun gift packaging ideas then do check out my sweet tin transformation, it is by far the most popular post on the blog.