This is my first ever quilt following a pattern…TA DA!!!
The pattern is set out as:
Supplies required, the 55″ quilt uses nly 7 fat quarters and 1 3/4 yards for background fabric
A line coloured drawing is given to show how all the blocks are pieced together
Followed by instructions for cutting out and sewing each type of block (five different blocks). As this was my first time block I appreciated it was the square rectangular pieces to be cut and sewn up first.
The triangular blocks helpfully showed the technique for sewing squares into triangles, although generally the pattern focuses on the block designs, as opposed to quilting techniques.
I used shirts for the plain colours, and treated myself to some campervan fabric, and patterned white background.
I have to admit to being initially overwhelmed, I had a month to make it so I decided to start early and crack on – here I am on the deadline just finishing it in the nick of time!
Cutting out the square blocks first, sewing them up and pressing them meant I could lay them out as I went – this was my effort to ensure I was progressing!!
I used a quilting book for reference and quickly learnt the value in ironing as you go, and checking that my blocks were the same size before piecing together (as you can see they were not despite my best efforts!)
I decided to go use an old duvet for backing and invested in some spray adhesive – I found this invaluable. I used an old oil cloth just in case I accidentally sprayed slightly wider than the fabric!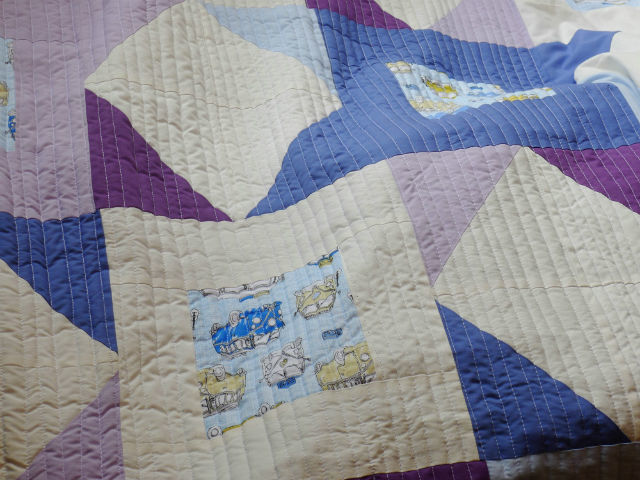 Then came the decision re quilting it – having gone for tram lines I say hats off to quilters who make quilts big enough for beds – my patience was stretched!!
As I am new at quilting I have a lot to learn about how the type of quilting can impact on the overall effect of the quilt. I had not realised that the quantity of quilting with a white thread would result in the colours looking lighter.
I am really pleased with the finished quilt, it's the perfect size for a special baby due in December:)
It's great for once to be ahead with sewing! Thank you Amy for the chance to pattern test, you can purchase the pattern from her Craftsy shop.

This post is linked up
here