Bring a splash of nature indoors with this fun and easy wrapped twig centrepiece, perfect for the table or mantlepiece. Twirly twigs and odds and ends of yarn are all you need for this upcycled craft. Slowly wrap twigs in yarn to create your own twig bouquet.
This week has been a bit of a whirlwind, with the children off school we have been making slime (oh how I hate slime!) and playing with plaster of Paris by creating moulds in sand. I was hoping to wrap twigs to create a bouquet but it turned out the idea only appealed to me. Not to be deterred this weekend I dug out scraps of yarn, raided the kindling for the fire pit and created my own wrapped twig bouquet.
Gradually wrapping twigs with yarn is a peaceful absorbing activity. I wrapped twigs this afternoon whilst watching a rather dreadful Christmas film with my son – he loved the film whilst I loved the crafting.


Wrapped Twig Bouquet
RECOMMENDED SUPPLIES:
twigs
yarn scraps of various colours and thicknesses
scissors
This is such an easy craft activity.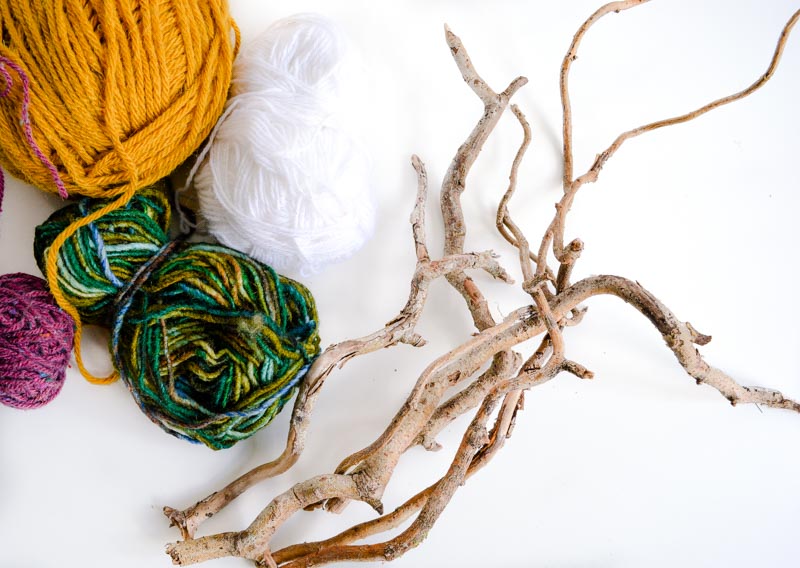 Start by wrapping the yarn around the twig, secure with a knot.
Continue wrapping the yarn tightly around the twig. Secure with another knot when ready to swap colours.
Have fun playing with a variety of yarns and colours.
I am so excited to share my 12 days of DIY Christmas gifts series. Do sign up for my newsletter for crafts, upcycling and sewing projects.
Thanks to Cindy who commented on my recent autumn garland (which used odds and ends of sewing thread) requesting odds and ends project for yarn. I hope you like this twig bouquet.