Today I am going to share with you a great handy cutlery bag, perfect for picnics or taking to work for a lovely salad lunch. The cutlery bag is super easy to make, using a former shower curtain (or you could use PUL fabric) to line the inside.


Body image and women is a complex area. So many factors influence how we feel about our body shape, dependent upon which continent you live in, how you are brought up, self-esteem, I could go on and on. I am conscious that my relationship with energy and sugar in the last couple of years has not been healthy. For over a year I have been thinking about joining some form of diet club. There are lots of schools of thoughts about the healthy relationship with food, with many believing that diet clubs do not work in the long term. Personally, I respond well to the accountability of weighing into someone. The focus helps me address my desire for sugar-based snacks.
At Easter, I bought a bikini as motivation and joined slimming world. I am loving the discipline it brings – I have always enjoyed vegetables but tend to get stuck in a rut. The variety of food, the new recipes, meeting new people are all great, however, lunch times are not so good, I have to be super organised to make a pack up a salad. Then there is the cutlery issue (if you are still with me this is where the sewing comes in!). There are occasions I need to take cutlery with my plastic tub of salad.
Tada, I thought – how lovely would it be to have a pencil case shape cutlery bag, with a beautiful print of a knife and fork. Lined with shower curtain fabric, just in case there is nowhere to wash up the used cutlery.
I have experimented with several ways to gain my image of a knife and fork on fabric, not that hard one would think?! First up I painted cutlery with fabric paint and tried to print onto the fabric, not that easy as cutlery is generally curved. I tried to curve the fabric round the cutlery but the print was far from precise.
Next up I created a stencil from an old plastic wallet and sponge painted through – as you can see the paint spread.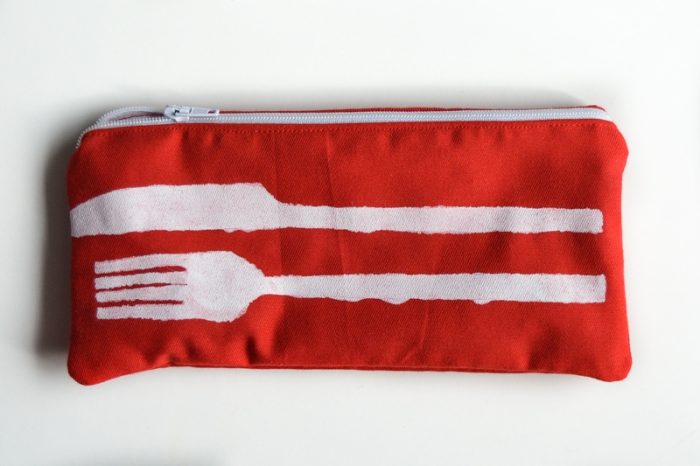 My favoured option, printing onto freezer paper. If you would like to make your own you can find the templates here.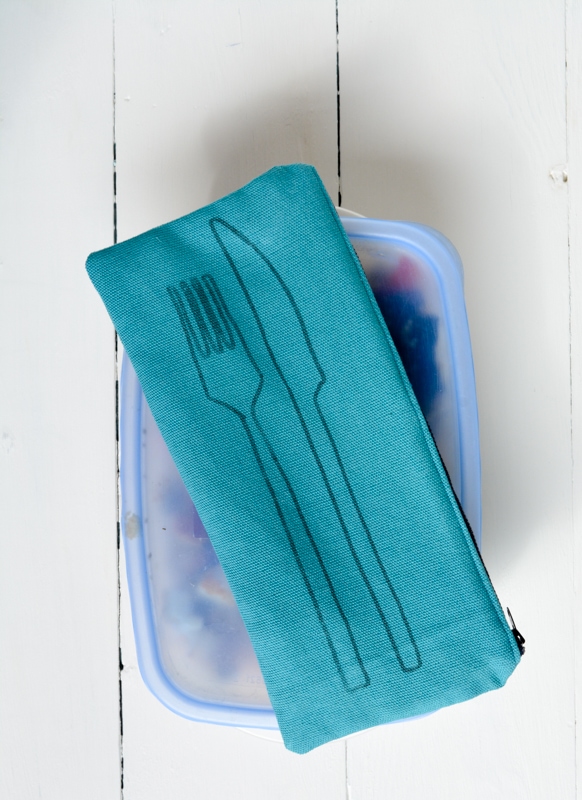 Personally I am rather passionate about bag making – if you are new to bag making I have the perfect Beginners Bag Making Course for you which covers so many essential skills for bag making, and includes many free bag tutorials.
DIY Cutlery Bag
This post contains Amazon affiliate links for your convenience. Click here to see my disclosure policy.
RECOMMENDED SUPPLIES:
Freezer paper (yes you can get it in the UK!)
Two pieces of fabric 8 1/2″ by 11″ (I used old curtains)
Two pieces of shower curtain fabric 5″ by 10 1/2″
12″ Zip
Iron your fabric. Cut out two pieces of freezer paper, approximately 8 1/2″ by 11″, place it shiny side facing towards the fabric and iron to adhere.
Trim your fabric as close as you can to the freezer paper. Place in your printer, fabric side up for taking the printing ink. Photocopy your template onto the fabric. Check out Easy Sewing for Beginners video on how to print on fabric using freezer paper.
Peel the freezer paper away from the back of your fabric.
To make the cutlery bag:
Trim your cutlery bag pieces to 5″ by 10 1/2″ (you may wish to make this smaller or larger depending upon your cutlery size).
Place one side right side up. Lay zip along long edge right side down, followed by shower curtain lining. Pin in place. Sew the three layers together.
Turn the fabrics over to reveal the zip. Pin and then top stitch to prevent any fabric becoming caught in the zip.
Repeat for the second side of the bag.
Unzip the zip by three-quarters. Fold out so the right sides of the lining face each other, and the right sides of the bag face each other. Ensure the zip lies towards the lining.
Stitch around leaving a turning gap along the long edge of the lining.
Turn right sides out, then slip stitch the turning gap on the lining.
This DIY cutlery bag is perfect for days out and about. The shower curtain lining makes it easy to wipe clean or throw it in a low-temperature wash. It could also make a nifty gift. Will you use the template to print the simple outline of cutlery or to create a stencil for printing through?
If you would like a variety of free PDF bag patterns sign up to my newsletter for access to my free resource library, the resource library also includes Top Tips for Bag Making.
Sign up for the newsletter for top hints and tip sheets, plus PDF of the most popular bag patterns.