As my confidence in sewing garments grows my interest in buying fabric increases. I try and reuse fabrics and former garments for most of my sewing, creating bags from curtains, dresses from jeans, refashioning charity shop items. However, there are times when new fabric feels a must – especially as I am a size 14/16, if I was a size 8 it would be easier to source fabric from former garments!!
I recently listened to a fascinating podcast by Jen Gale interviewing Charlie Rossett the owner of Offset Warehouse. Sewing your own garments avoids sweatshop labour in the making of clothes but the issues of creating the cloth remain. Stories of rivers turning red with dye in China made me stop in my tracks – it is time to rethink. The reality is the cost of jersey fabric at £15.99 is not going to prohibit me sewing the garment, I can either afford to dress make or not!
As a result of the podcast I have sourced places to purchase ethical/organic fabric online in the UK. I am delighted as it is not as expensive as I feared.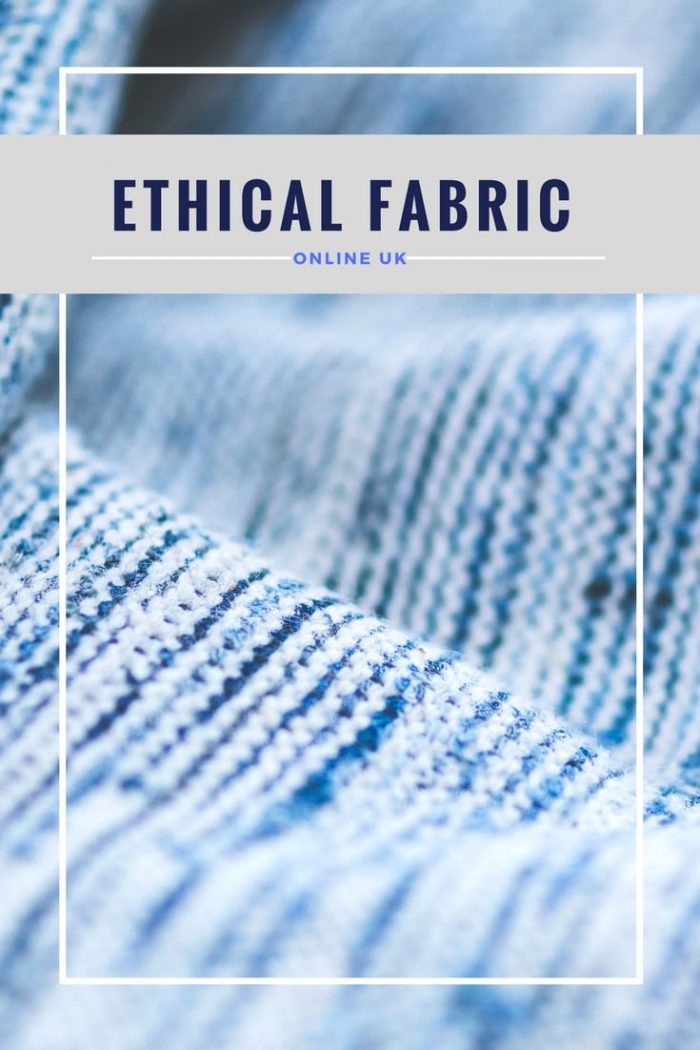 Online Ethical Fabric Guide – UK
Started by Charlie almost as a by-product of her thesis research when at university. The fabric is sourced from around the world, often from small villages. The range is wide, it includes denim, jersey, ikhat. Prices are between £15 – £28
This company have beautiful fabrics originating originally from Denmark. They have a whole section of organic fabrics, including fun jersey knits for children plus organic sewing thread and yarn. With my first order I received a stunning catalogue full of inspiration. Also, sell organic wool and sewing thread. Prices range from £9-£15 per meter.
All the fabric is woven in the UK, the company specialise in high-quality jersey fabric. The current range of fabric is plain colours or stripes, in a variety of weights. The stock includes a recycled cotton blend range in a variety of weights in either grey or black. Prices range from £ – £
The website includes a fun organic jersey range, which would be ideal for sewing children's clothes. Priced at £10.50/meter
This company has the most extensive range of fabrics in this list, with great information about their business philosophy on their about page "Our cotton is sustainable. We believe in 'reduce, reuse, recycle'. Growing organic cotton uses crop rotation." The fabric includes jersey, fleece, denim, linen, lycra, silk, upholstery fabric, wool. There is a remnants page, which includes lucky dip boxes for you try and a range of fabrics. Prices range from £5-£15
All fabrics are hand loomed in Burkina Faso (Africa) using locally grown, organic and fair trade certified cotton. Orders of 25 meters or more, as it is woven to order.
A co-operative which sells Khadi fabric, a versatile fabric Indian which combines cotton, silk and wool in various mixes to create a range of natural fabrics. The fabrics are plain solids and beautiful prints. Prices range from £4- £7 per meter.
I have decided to spare you from my personal wish list from each shop!!
If you know of other places to buy ethical fabric I would love to hear about them, please do share in the comments so I can add them.