I was delighted to hear of the arrival of Mabel, one special baby girl. A strong desire to make her a unique gift led to the thought to make a fabric baby book.
After some browsing of Pinterest I decided to make a book with a page for each letter of her name, represented by appliqued animals.
A sketch later and layout was sorted. Designs were inspired by google image searches for appliqué animal shapes.
One of the wonderful benefits of a fabric stash is having suitable fabrics in for projects such as this. I used bondaweb to adhere the pieces to the base fabric prior to machine embroidering.
On each page I endeavoured a add different types of touch sensation to each page; different types of fabrics, the butterfly wings, and elephants ears are flaps, the noses & eyes vary – buttons, a crowd of French knots, silk embroidered circles.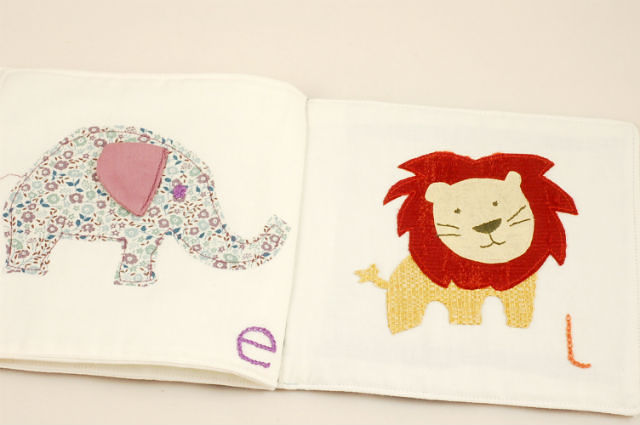 I added a layer of wadding in between the pages, and topstitched round the edges of the pages. The two pages were machine stitched down the middle to hold the pages together. The wadding and top stitching did add the finishing touch:)
It did cross to my mind to add custom order applique fabric books to my Etsy shop. However I was put off when trying to think of two different animals for the letters G and E as demonstrations of the name George!
As usual I am popping by Handmade Harbour 🙂
This post is linked up here