A couple of week's ago I was fortunate to attend the Great British Sewing Bee Live Exhibition, I have to confess that despite taking my camera I took a pitiful grand total of one photograph… Naturally, I shopped and shopped, going over my budget on fabric (somewhat inevitable!). As planned I bought fabric for:
Ellens Esplanade Bag by Chris W Designs
The gorgeous colourblock dress by Sew Different. Meeting the designer Laura in person was a delight as was seeing her beautiful patterns sewn up in a variety of fabrics.
Unplanned purchases:
Laminate fabric from Sew Scrumptious – this feels really soft and will make beautiful bags.
Knit fabric to make my niece a dress (who can resist sewing for a nearly three-year-old?!).
Knit fabric to make myself a top.
I introduced myself to the editor Sam of Sew Now magazine (if you have this months magazine I have an article published on how to apron from a shirt). It makes such a difference if you physically meet someone, lovely that she is from up north – a twang of Yorkshire accent (after 20 years in Norfolk my northern accent is barely noticeable).
The best part of the day, other than having a fun day out with my Mum, was watching Lauren Guthrie (former Sewing Bee contestant) demonstrate binding necklines on jersey fabric. Seeing her work out the length of fabric needed for the neckline by pulling the neck binding semi-taught and pinning around the neck opening. Learning, finally, how to add a second thread to my machine so I can use a twin needle. I came away inspired and confident about necklines.
Then I came home…. I decided to clear about my wardrobe of long knit tops to create some dresses for my niece and practice my knit sewing skills, both with the tension on my overlocker (serger) and with using a twin needle.
I have used the pattern by Love Notions called Li'l LDT. I have sewn this pattern up for my daughter, the size range is impressive from age 2 to 16. Sadly the far right top was not quite big enough to squeeze a tunic out of.
This was my first go at a neckline, originally it went on beautifully but accidentally the wrong side outwards. The second time of stitching was not so good, with an uneven edge. I decided to go ahead anyway and topstitch the seam allowance down, this was not so bad once pressed. But then I realised the back of the dress had a hole in the jersey fabric…
The second dress made it to completion with a twin needle on a standard machine.
Sadly the hem stitching could be straighter, glad it's not being judged! I used stay tape, another tip from Lauren. Locally I could not buy iron on as she suggested but even so sew in really did make a difference.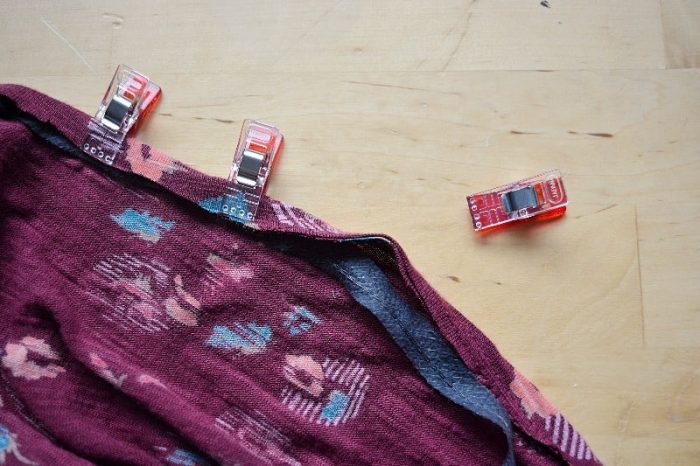 I followed Lauren's tips about using clover clips, such a relief to not worry about overlocking through a pin, jamming the machine and potentially damaging the blade.
So how do you use a twin needle? I have discovered that the square hole on the top of my machine is for a second spindle. If you do not have a second spindle you can still thread your machine with two threads by using two bobbins on your one spindle. Place your threads so one pulls to the left and the other to the right. Thread the machine as normal with the two threads.
Sew your hem with the right side of your garment showing. The bobbin underneath will create a zigzag shape on the back, this creates the stretch/give. If you don't have a zigzag but more of a straight line try loosening the tension on your top threads.
These are my finished garments, one dress and one tunic from 1.2 meters of fabric, not quite enough for two long sleeves, I think the layered look is fashionable?! The hem is straighter:)
So would I go to the Sewing Bee Live again? Yes if the free demonstrations appeal, I learnt so much in the thirty minutes. I'm not quite sure how I have not got my head around twin needles before, do have go (don't forget to buy a jersey one for jersey fabrics),