Learn just how easy it is to make a Christmas pudding decoration with this quick sew project. The finished Christmas pudding decoration is perfect to hang on your tree, or add to the front of a Christmas card, doubling as a card and a mini gift.
I appreciate not everywhere in the world has the tradition of a Christmas pudding, so what is a Christmas pudding? The traditional pudding is served in the UK on Christmas day. It is made with raisins, sultanas, currants and is a rich dense dried fruit pudding which is steamed for hours. Personally I love it 🙂
It is frequently made in a round pudding dush, served with a dash of alcohol which is set light to or a sprig of holly., along with custard, cream or brandy sauce.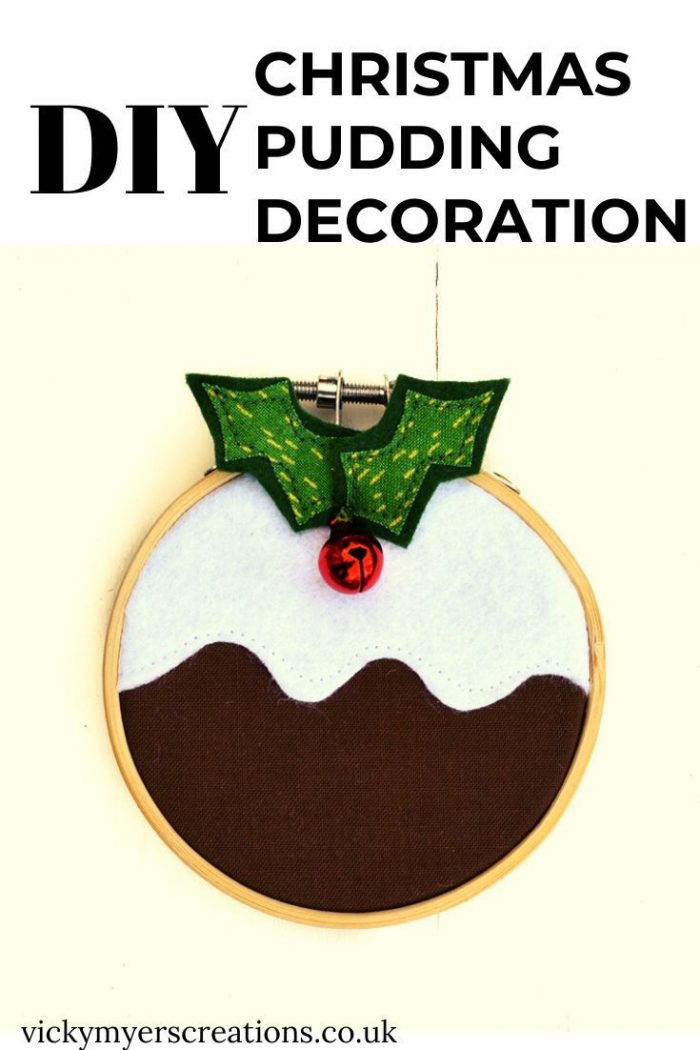 Small embroidery hoops are the perfect starting point for making your own Christmas pudding decoration.
How to make a Christmas Pudding Tree Decoration
This post contains Amazon affiliate links for your convenience. Click here to see my disclosure policy.
RECOMMENDED SUPPLIES:
Embroidery Hoop (I have used the size 3″ )
Brown Fabric
Green fabric
White and green felt
Red bell
Scissors and needle
Taylor's Chalk
Check my video tutorial how to make a Christmas pudding decoration.
Let's start by measuring out a circle of brown fabric – place the embroidery hoop onto you brown fabric, draw around approximately an 1″ wider. Cut out. If you are using the same size embroidery hoop you can download a free template.
If you are using bondaweb iron onto the reverse of your white felt (or similar fabric for the top of the Christmas decoration). Cut a piece of fabric to represent the brandy butter sauce (or custard). This needs to be as wide as your embroderidy hoop, with a wiggly line across. Iron onto your brown fabric and topstitch in place.
Place into your embroidery hoop. Stretch taught in the embroidery hoop.
Next, let's make the holly, cut out small holly shapes from green fabric. Place onto green felt, glue into place.
Top stitch the green fabric and cut out your holly leaves.
Hand stitch the holly leaves and a bell, at the top of your Christmas pudding decoration.
Lets finish the decoration. Using a simple running stitch around the edge of the brown fabric gather the fabric in and fasten tight.
Cut a piece of felt fractionally smaller than your embroidery hoop, place over the top of your gathered brown edges and slip stitch to secure.
Add a hanging loop if desired and hang from your Christmas tree.