As the nights draw in our minds have turned to DIY Christmas decorations – or at least decorations that can be used for both autumn and Christmas! My husband is busy pruning back the garden ready for winter, so we are busy making the most of the free prunings to make new Christmas decorations. This DIY pompom wreath can be dressed for any season but I have chosen to decorate with autumnal/Christmas themed pompoms.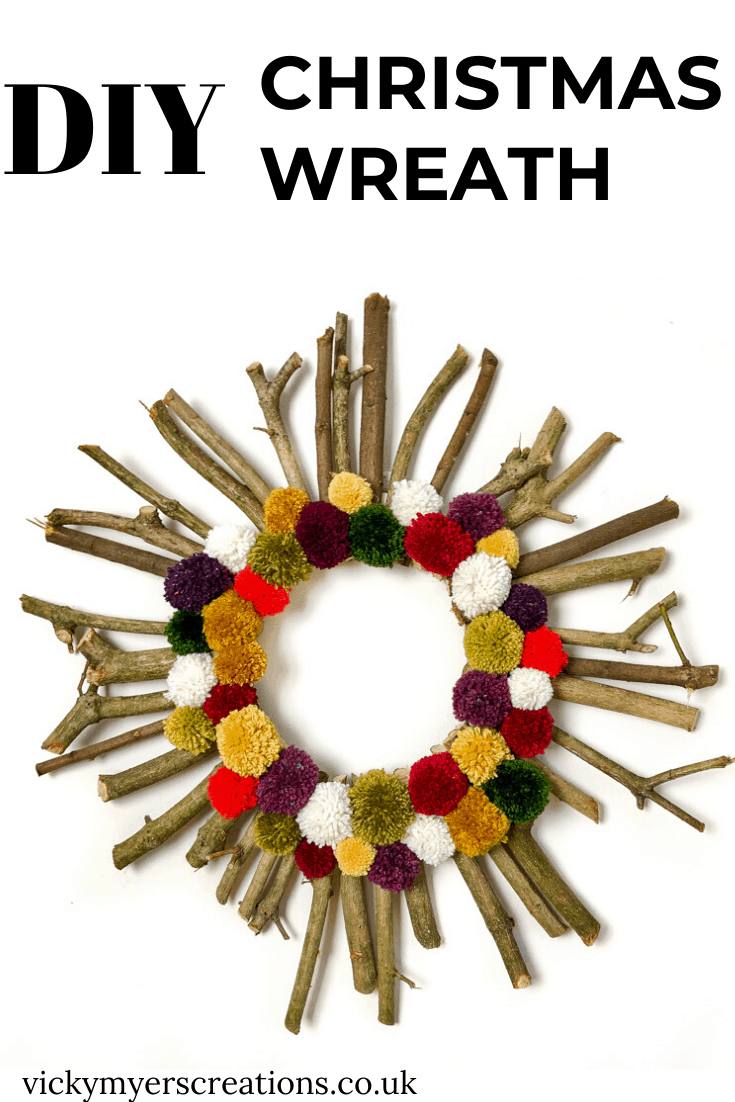 If you too like making the most of the materials you have to hand check out our alternative Christmas tree made from garden prunings. These can be decorated in so many ways, using old jewellery, wrapping in yarn or making pompom baubles.
Our home is adorned with decorating ideas with tree branches. Find out more about our other projects:-
DIY Christmas Wreath
This post contains Amazon affiliate links for your convenience. Click here to see my disclosure policy.
RECOMMENDED SUPPLIES:
Sticks
Saw or Shears
Electric Staple Gun
Selection of yarns
We have used a wire wreath base bought from local garden center for a mere 49p as the base of this wreath, plus some prunings from a garden tree.
Cut a variety of branches between 6 and 9″ long. You can see that some of our sticks are straight, some a little more interesting to add shape and variety.
To attach the sticks to the wire wreath you can either use an electric staple gun or netting fencing staples. The sticks need to be attached to both wires of the wreath frame to help stabilise them. If you use a staple gun, you may need to knock the staples in a little deeper with a hammer.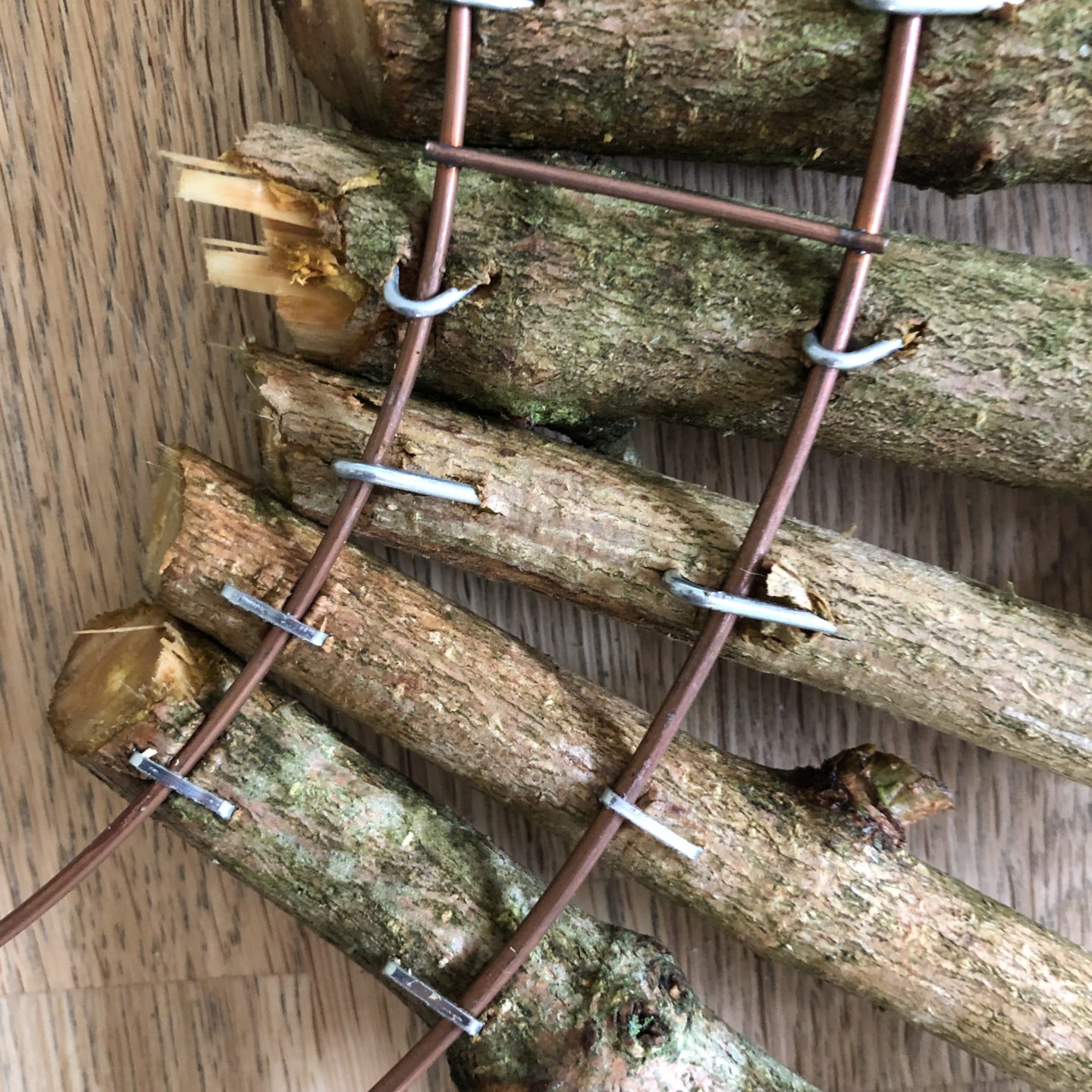 Gradually attach sticks, working your way around the wire wreath.
Now for the fun part, decorating the wreath. After much discussion, we decided to go for Christmas coloured pompoms in two small sizes. I love working with clover pompom makers, so much easier than the old cardboard rings of my childhood. Check out my tutorial for making pompoms (just change out the fabric scraps for yarn).
Once you are happy with your pompoms glue in place with a glue gun.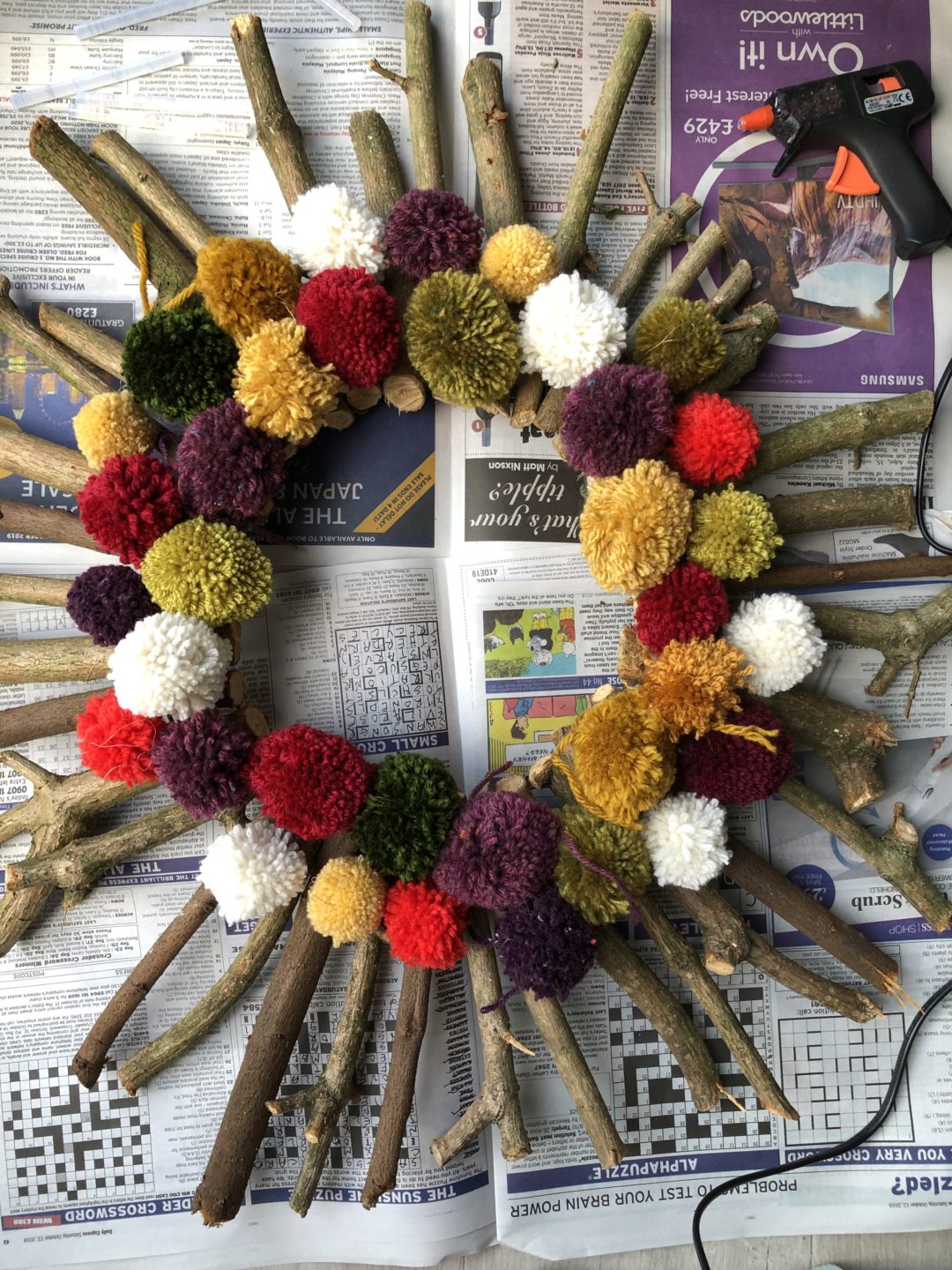 .
Lastly, hang your wreath and admire. My daughter is determined to persuade me to add a large red bow at the base, and ideally, remove the mustard pompoms and replace with a further mix of red and green.
If you love wreaths, and working with recycled materials then check out these fabulous upcycled wreath tutorials.
How to make a Christmas Wreath
Prep Time 20 minutes

Active Time 3 hours

Total Time 3 hours 20 minutes
Materials
Sticks/branches
Wire Wreath frame 12"
Yarn
Tools
Electric staple gun or fencing nails and hammer
Glue gun
Pompom maker
Gardening Shears
Scissors
Instructions
Cut a variety of sticks between 6-9" long
Nail to wire wreath frame
Make lots of pompoms using pompom maker
Arrange around the wreath
Glue to the wreath using a glue gun