I have been experimenting with making a doormat using old jeans – I am rather fortunate in that I have a rather large stash of jeans. My kind friends always pass them my way.
There are many pairs in my stash where I have already used the legs which I have kept for the waistbands and pockets. This DIY doormat makes full use of these denim pockets.
I have designed the doormat for our patio door which leads from our dining room into the garden, now it is spring our guinea pig has moved outside so the door is in constant use as we go in and out to feed her. The laminate floor can become rather dirty.
The beauty of making your own doormat is you can make to the size which suits you – this doormat is 27.5″ by 16″ fitting perfectly between the back door and our dining room table.


Sign up to my newsletter for fortnightly news and tutorials – I am passionate about sparking your creativity to use the resources you have to hand.
[mailerlite_form form_id=3]
Are looking for further ideas for what to do with your old jeans? Check out my 25+ craft ideas for old jeans
DIY Doormat using old Jeans
This post contains Amazon affiliate links for your convenience. Click here to see my disclosure policy.
RECOMMENDED SUPPLIES:
Navy fabric measuring 27.5″ by 16″ (or measurements to suit you)
Fabric glue
Sewing unpicker
Approx 12 pairs of jeans
Scissors
Start by unpicking your jean pockets and waistbands.
Once you have a large selection of pockets place them, overlapping onto your denim base fabric. Think about the placement of the pockets, I like to mix up the matching pockets so they are not next to each other and to have a range of tones of denim. Pin in place then stitch.
To sew through so many layers of fabric/denim I suggest a denim needle, a long stitch length, and possibly a walking foot (dependant upon your machine), alternatively you could use fabric glue to adhere them to your navy fabric.
If you are struggling to sew through the layers check out my youtube video on How to Sew Denim.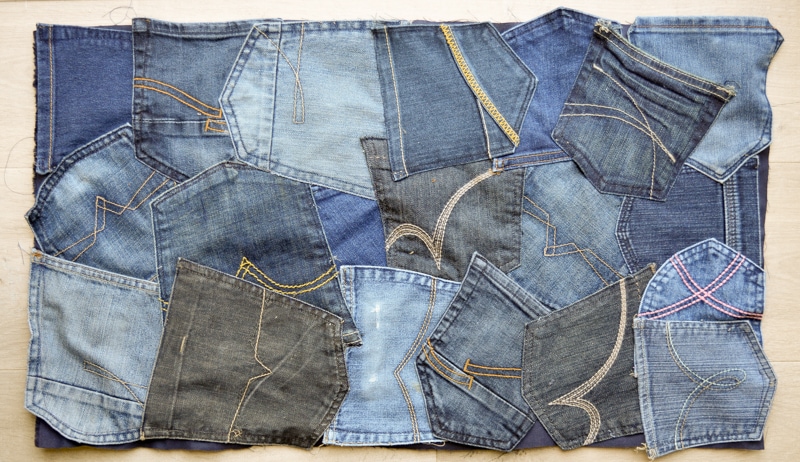 Cut your rug gripper mat to size. Glue to the wrong side of the mat and allow to dry.
Next to edge the denim doormat with your waistbands. Open out the waistband and enclose the raw edge of the rug. Pin then stitch, your waistband enclosing the denim pockets edges, the waistband acts similar to bias binding. Trim at the corners of the rug.
Repeat all around. With the corners, fold the second edge in creating a mitred look. Glue with fabric glue, hold in place with a peg whilst it dries.
Neaten, if required, the corners with a little hand stitching.
My doormat may not have the most perfect 90 degree corners, but I love it. I finished the doormat on Friday, its amazing how much dirt it has gathered already!
If you prefer a detailed video to written tutorials check out my you tube video DIY How to make a denim doormat from old jeans


This post is linked up here.