I am super excited to share with you how to upcycle a sideboard, this is my upcycled sideboard before and after. There's nothing quite like using what you have and giving your room a whole new look with some upcycling.
The sideboard sits in the corner of the living room, a bit of a dead space where "stuff" tends to accumulate on the top for no apparent reason. Giving the sideboard a makeover the plan is to transform this dead space.
A few weeks back I reminded my husband that he had agreed to the upcycling the oak sideboard with fusion mineral paint, casually dropping into the conversation he had agreed I could paint it purple… My husband looked somewhat taken aback, clearly forgetting previous conversations!! With him away for the day it was the perfect time to make it over – the sideboard is very heavy so I needed to paint it in situ – rather close to his favourite chair near the television.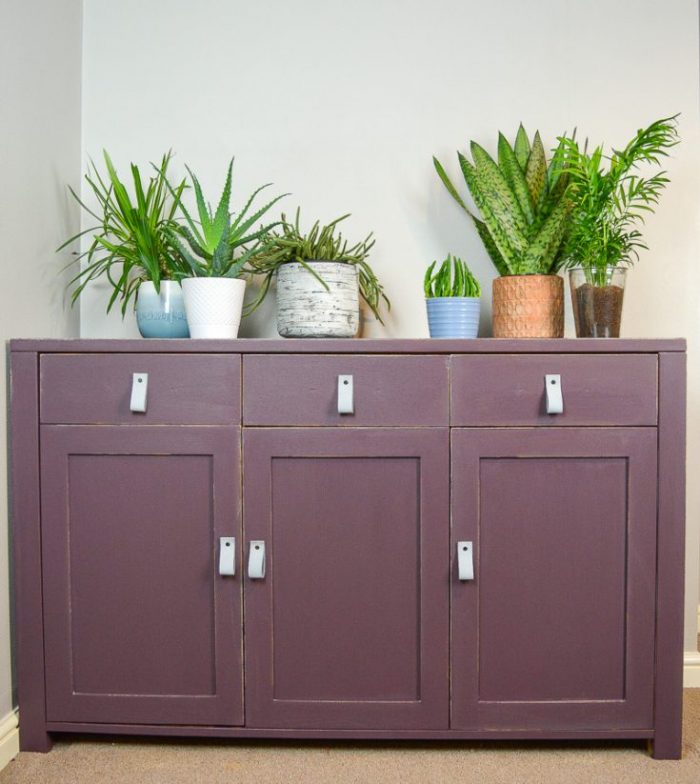 To complete the transformation I spent time contemplating a variety of door handles as they can completely change the feel of a piece of furniture. I considered old fashioned door handles, mixing and matching glass handles but decided instead to opt for a contemporary feel with leather handles. I could not be more pleased with the result, it has such a different feel to it and reflects my current taste in furniture (I appreciate some people prefer original wood and that this is not for everyone).
We treated ourselves to new indoor houseplants as a gift to ourselves on our 15 year wedding anniversary – all I have to do now is keep them alive, which as my father-in-law would say is a little bit of a challenge! I am not renowned when it comes to indoor houseplants.
This post contains Amazon affiliate links for your convenience. Click here to see my disclosure policy.
How to upcycle a sideboard
Learn how easy it is to update your old sidebaord wirh fusion mineral paint and new leather door handles

Active Time 1 day

Total Time 1 day
Tools
Filler tool
Sandpaper
Paint brush
Screw driver
Drill
Door handles (if replacing)
Instructions
Whether you are changing the hardware or not you will achieve the best finish by removing it from the sideboard.
If you are replacing the hardware and the new has different fittings, fill the holes with woodfiller. Allow to fully dry and sand down.
Thoroughly clean the sideboard, I have used washing up liquid in warm water with a cloth. You need to ensure there are no grease stains of any sort left on the furniture, as the paint will not adhere to grease.
Are you planning on knocking back the edges of the furniture to reveal a contrasting colour as opposed to the wood? If so paint the contrasting colours along the edges.
Once this first colour is dry rub wax where you plan on sanding back. The wax acts as a resist and helps you sand back to reveal the colour beneath. I have used a block of beeswax.
Paint you mineral paint onto the funriture, I have chosen geranium which is a beautiful plum like colour.
After half an hour sand to reveal the original colour beneath. I have been a little reserved with my sanding but you can see the grey peeping through.
Fusion mineral paint is touch dry very quickly but does not fully cure for three weeks. Bear this is in mind when adding new hardware - it will scratch relatively easily in the whilst fully curing. Drill you new holes for handles and add to the sideboard. To update my sideboard I chose to use grey leather handles (I bought these as I had no grey leather to hand but they would be super easy to make)
Select a drill pices suitable for wood and the size tht reflects the fittings of the handles.
Recommended Products
As an Amazon Associate and member of other affiliate programs, I earn from qualifying purchases.

I hope you enjoyed seeing my upcycled sideboard before and after. I love working with fusion mineral paint, it has a very durable finish, plus it is super easy to obtain a flat finish with no brush marks. Check out my other how to fusion mineral paint projects:-
Upcycled ombre effect sideboard