Today I am going to show you three different types of bag handles, web handles, padded handles and corded handles. Making bag handles can really change up the way a finished bag feels.
Personally I love leather, but sometimes bags need a different finish. Let me show you how to make purse handles.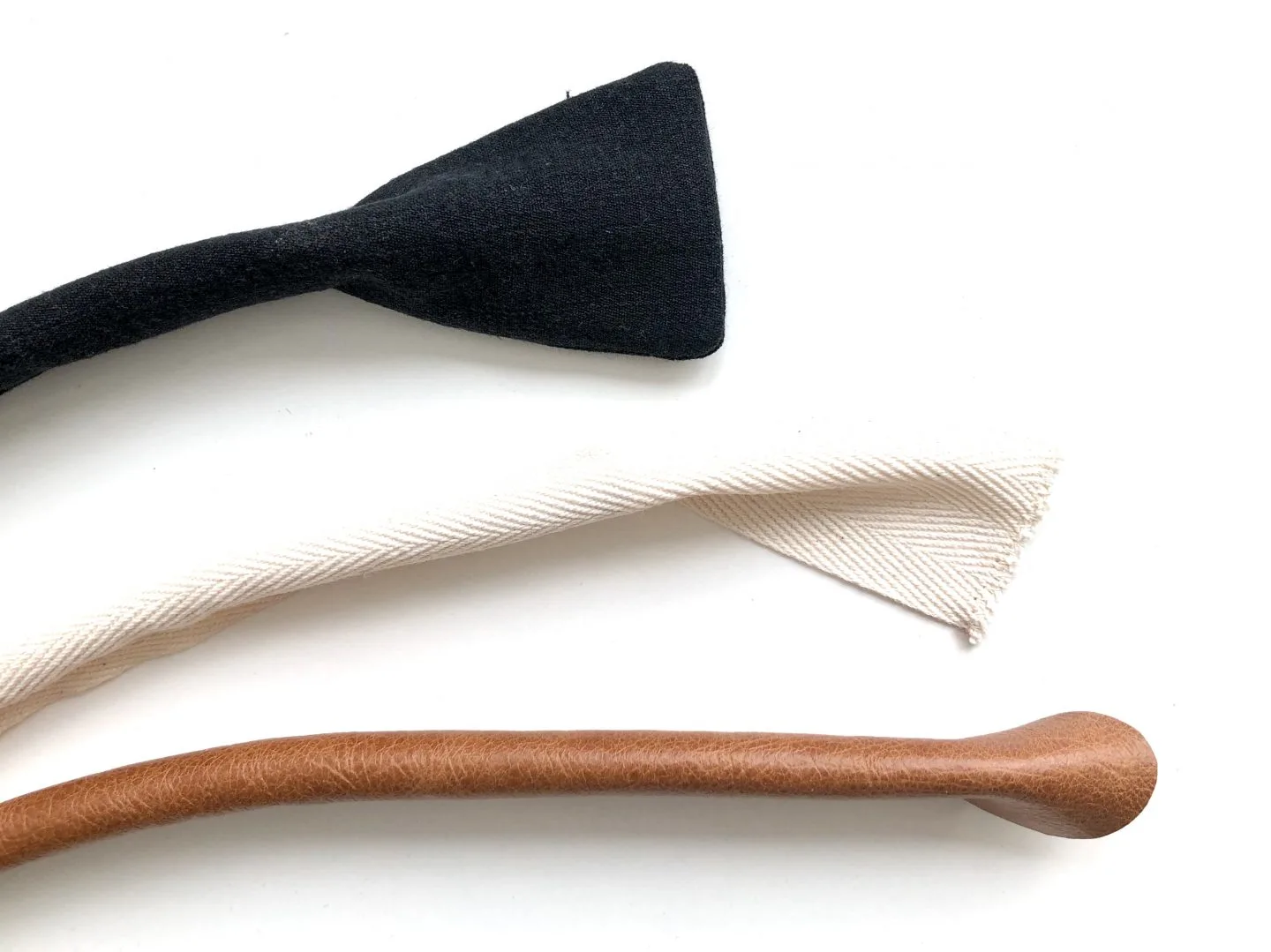 Please do not be intimidated – it really is easy to make fabric handles for bags.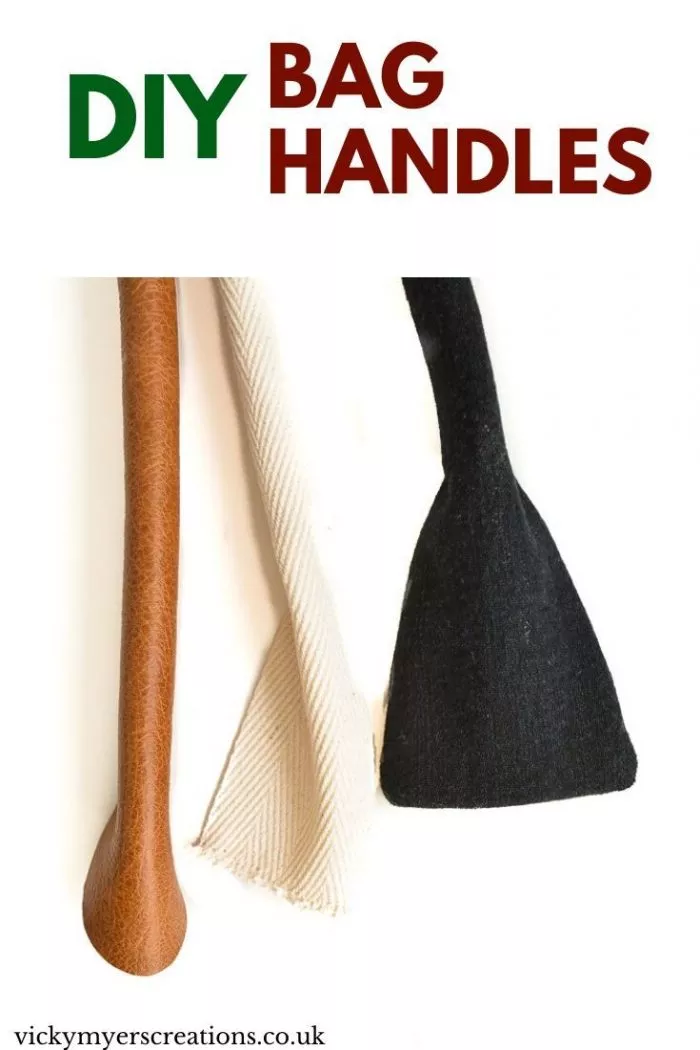 Check out my other essential skills tutorials for bag making:-
If you are new to bag making then check out my Bag Making for Beginners Ebook, with five reference chapters covering many bag making skills and eight incremental bag patterns you will be sewing bags like a pro.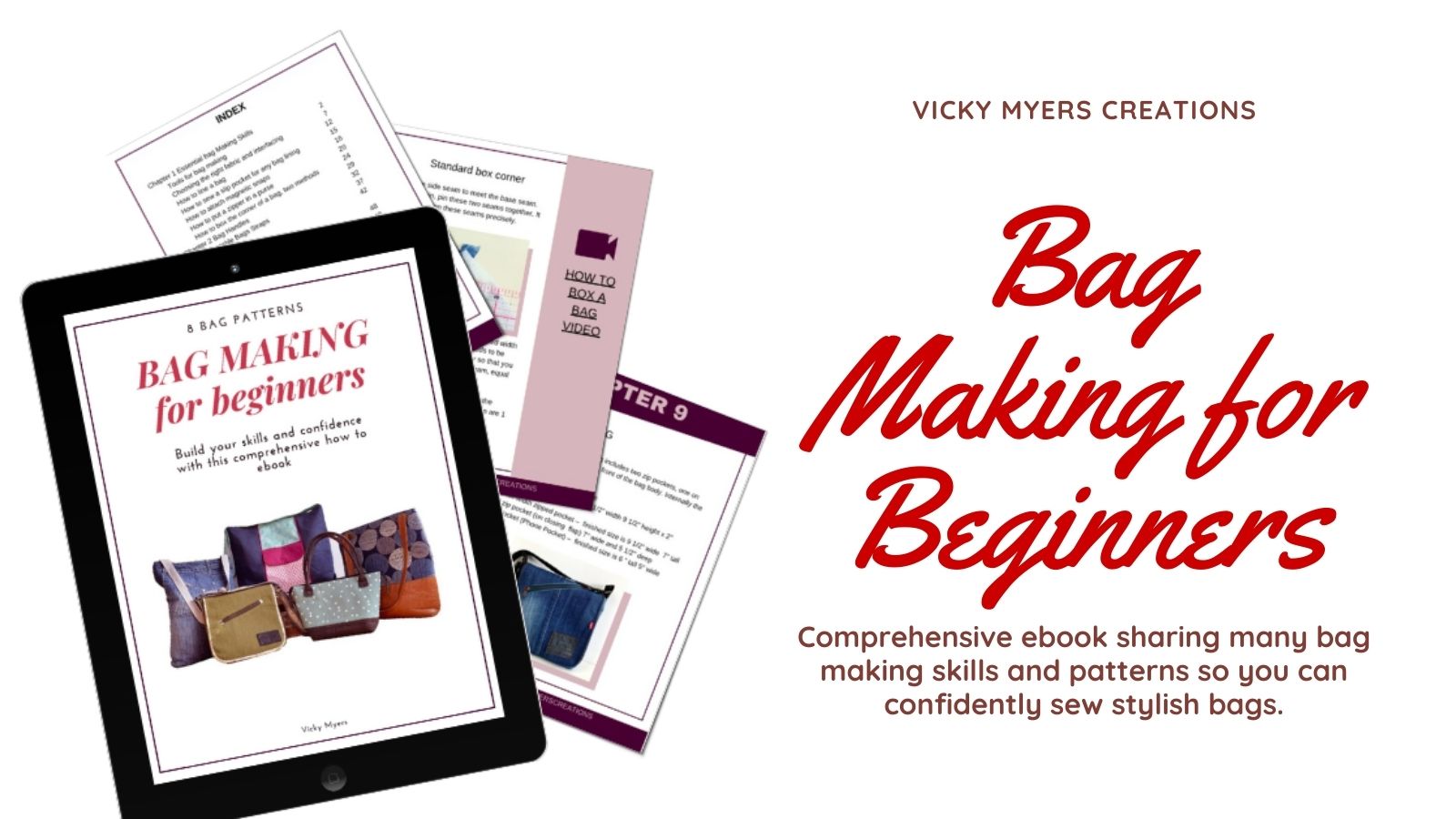 This post contains Amazon affiliate links for your convenience. Click here to see my disclosure policy.
Webbing bag handles
Webbing is used frequently for bag handles as it is super strong. There is a variety available on the market, from cotton to nylon. If you shop around it is possible to find some striped or patterned versions.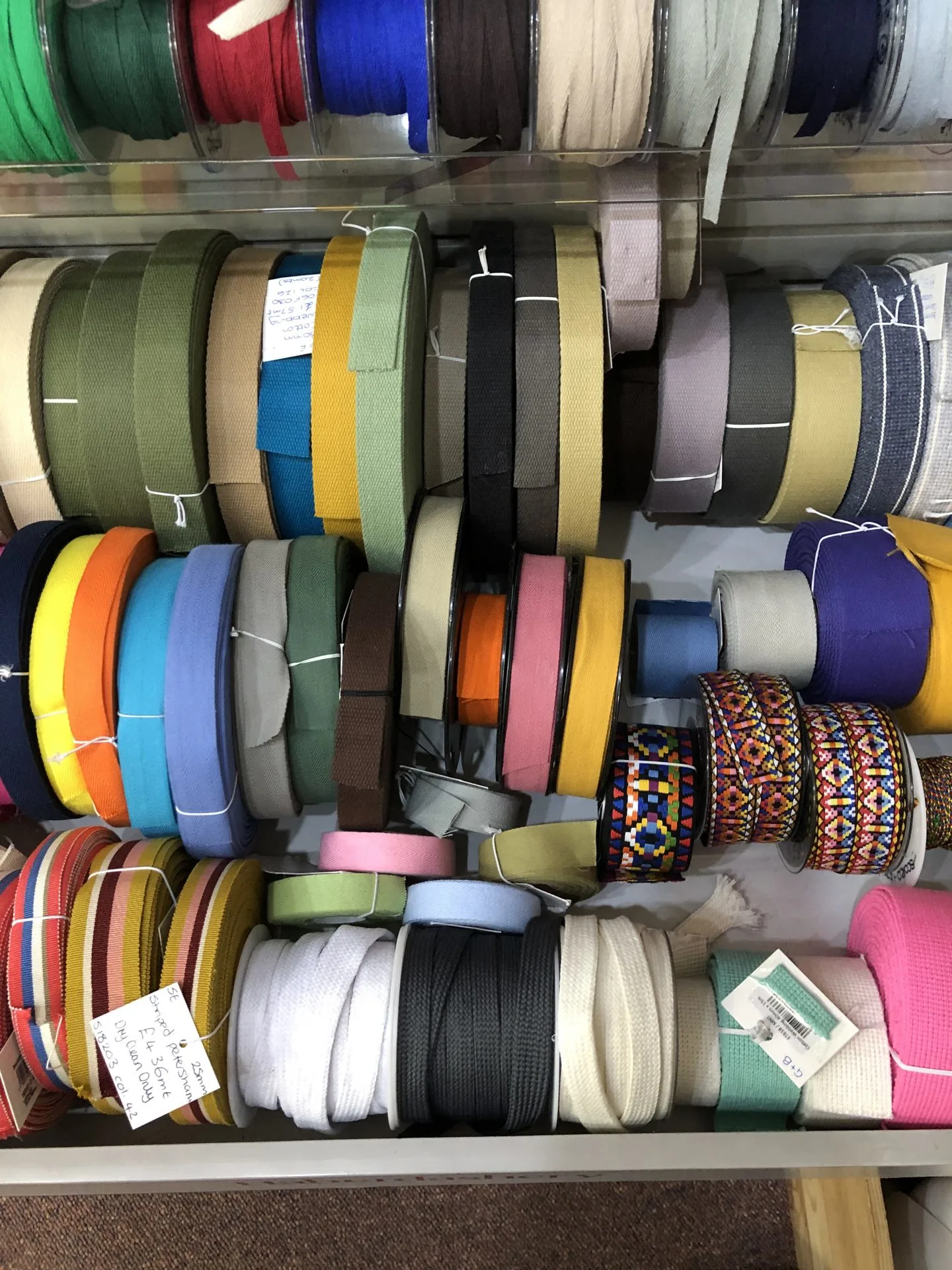 You can choose to decorate the web handle by, for instance adding a stripe of bias binding to one side of the webbing.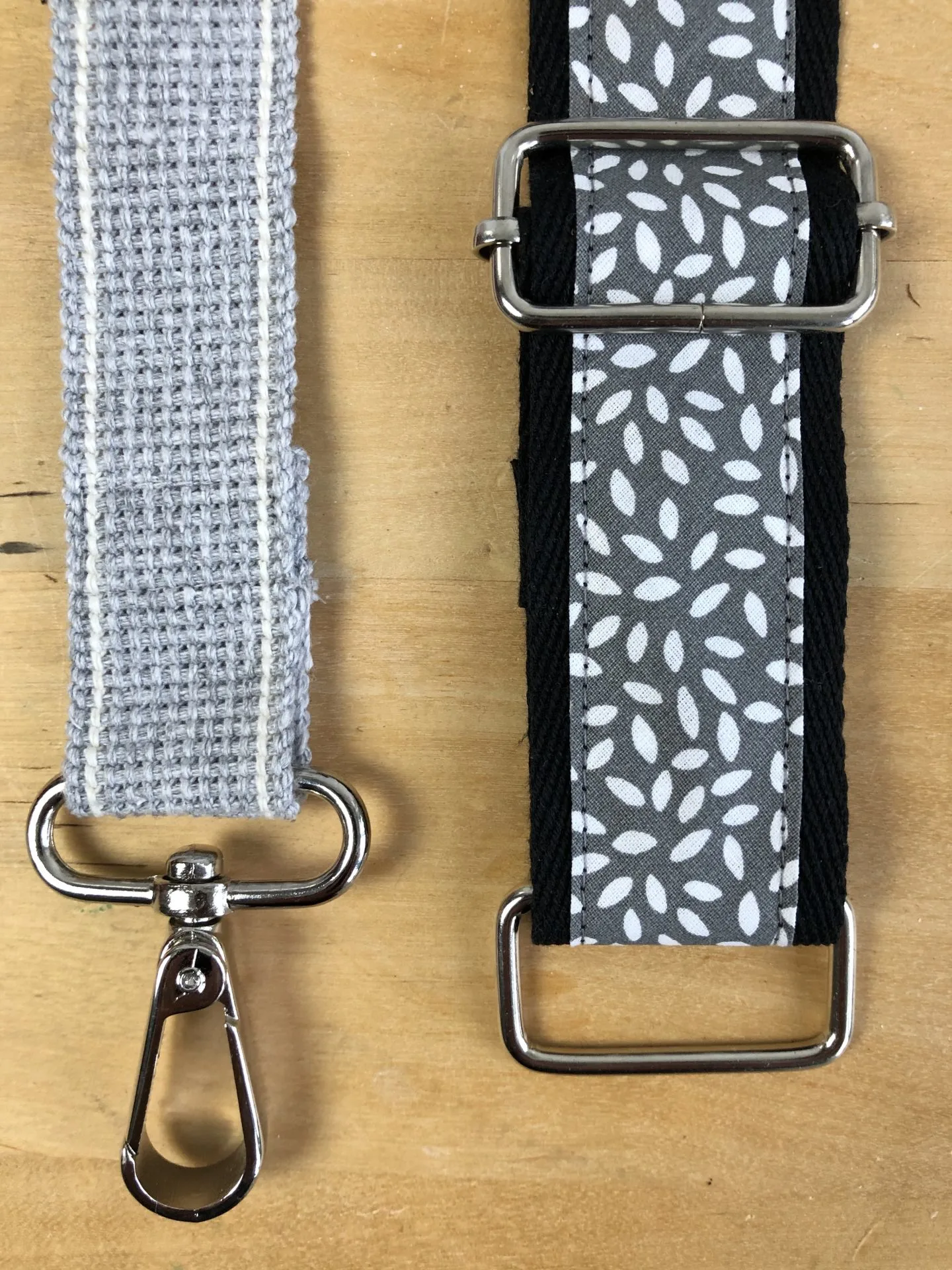 Webbed handles are frequently used as diy tote bag handles and for cross body adjustable straps.
You can easily make corded handles with webbing – the trick is to choose cording which works well with the width of your webbing.
To make corded web bag handles you need:
Webbing, 1/2″ wider than your cord
Cord
Zipper foot for your sewing machine.
When you cut the cord to size you may wish to sellotape the cord together so it doesn't fray, if you think you may put your bag in the washing machine I suggest tightly wrapping thread around and around the cord where just above where you are going to cut it.
Cut your cord about 1 1/2″ shorter than the finished bag handle.
Wrap the cord in the webbing, hold with clover clips.
Using a zipper foot stitch along the edge of the webbing encasing the cord.
If you end up with a wobbly edge like myself consider using wonder tape to hold the raw edges together. Wonder tape is double sided tape which does not glue up your sewing machine needles and disappears when washed – great invention. Place along the edge, place the cord in the middle peel the paper off and press the two sides of the webbing together.
Lastly zigzag the raw edges at the end of the handles. This will stop the ends fraying until you are ready to sew onto your custom handmade bag.
Leather Corded Bag handles
Now there are some tricks to working with leather – never pin as you will have those holes forevermore. Clover clips are great for holding leather together. Today I have chosen to use the wonder tape as mentioned previously. Thread wise I suggest using a nylon upholstery thread, the tannins in leather can corrode cotton thread.
Cut out your leather wide enough to wrap the cord and allow a stitch line. Mine is 2" wide. I find a quilters ruler and rotary cutter are very useful for accuracy and ease when doing this.
If you like rounded edges fold the leather in half, then cut the curve. This ensures both sides match.
Place a piece in wonder tape along one long edge. Fold the leather strap around the cord. The wonder tape will hold the two edges together as a temporary measure.
Machine stitch using a zipper foot, a leather needle, a long stitch length. I also suggest fractionally loosening the tension. Every sewing machine is different, mine just didn't quite cope with the thickness of leather so I have used the sewing needle holes to hand stitch the handle together.
Using a running stitch from one end to the other, then doubling back on yourself to secure the ends.
Padded bag handles
These are easier to make than you think – and look super effective. Let me show how with some black jean fabric, alternative fabric suggestions include canvas, cotton and faux leather. These finished padded bag handles measure 21″ (71cm). I use this design of handle on the large denim tote free bag pattern.
Materials:-
2″ by 26″ of fusible fleece, twice (once for each handle)
2 1/2 by 26 1/2″ two pieces of denim (two piece's per handle, so four for a pair of bag handles)
I use a quilters ruler, cutting mat and rotary cutter to cut bag handles, using the quilter's ruler helps me enormously with cutting the pieces accurately. If you don't have these tools to hand you can mark your fabric with tailor's chalk and a standard ruler.
For each bag handle you need you need two pieces of denim and one piece of fusible fleece. As you can see the fusible fleece is smaller to reduce bulk in the handle seams.
Fuse the fusible fleece to the wrong side of one of your bag pieces, ensure you follow the manufacturer's instructions and allow the appropriate amount of time as you iron (personally I can be a little hasty and then realize it has not adhered!)
Place the bag handles right sides together. Machine stitch around, with a 1/4″ seam allowance. This is the edge of the fusible fleece. Allow a three inch turning gap along one side of the long edge.
Trim the corners of your handles, close to the stitches but not cutting through them.
Turn the fabric right side out by pulling through the turning gap. Carefully ensure you have pressed out your corners neatly, I used the end of a paintbrush but do not push too hard so as not to break the stitches. Press your handles, including the turning gap.
Ladder stitch to close the turning gap.
Fold the handles in half. Starting after 2 1/2" stitch close along the edge stopping 2 1/2" before the end. Ensure you backstitch at each end of your stitching, you don't want the padded handle coming apart.
So now you know different methods for how to make padded and corded bag handles it's time to decide on the length you require. The straps on an over the shoulder bag is frequently 24″ (60cm) long, or for a shorter handle 15″ (38cm). I suggest looking at the bags you already have and measuring the handles, what length suits you??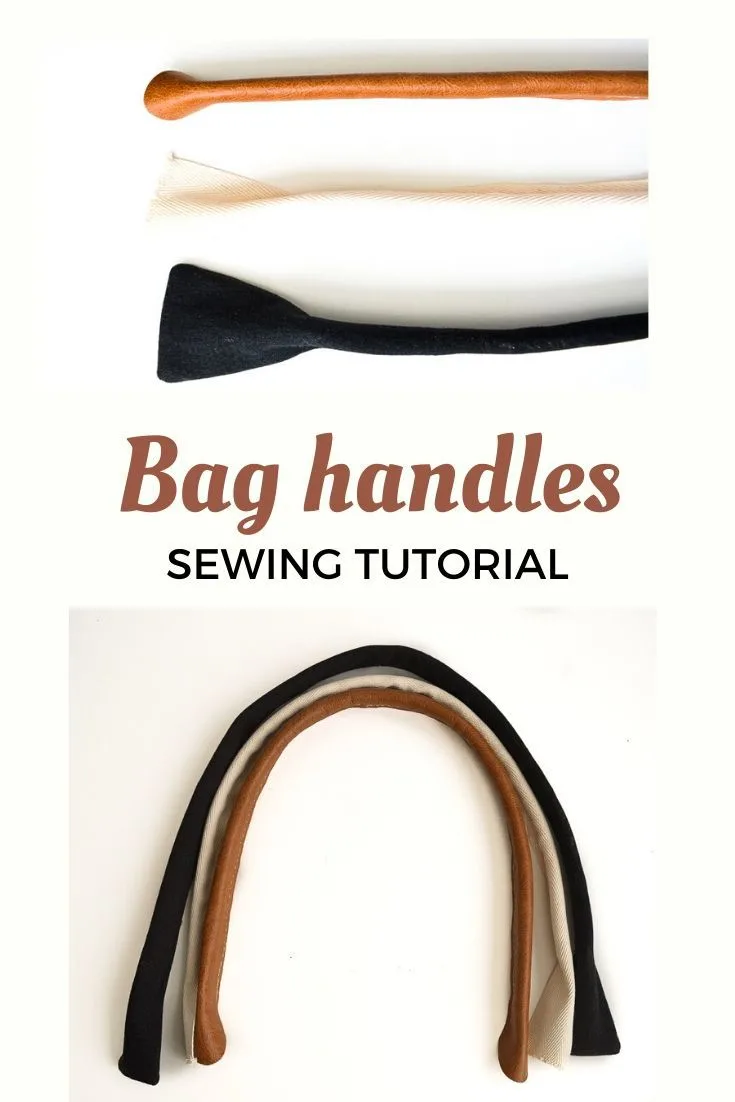 If you have found this post helpful please do pin and save it for later, I appreciate all shares on social media.