I appreciate it's been a bit quiet round here – I missed posting last Sunday, fairly unheard of for me! Behind the scenes I have been busy pattern testing. First up I have pattern tested for Delinda Boutique. The Liliane Bag is the first of Maria's designs I have sewn, I was not disappointed!
Of course I immediately warmed to the pattern with the suggestions you can upcycle fabrics. You are given the measurements required if you upcycle a sweater.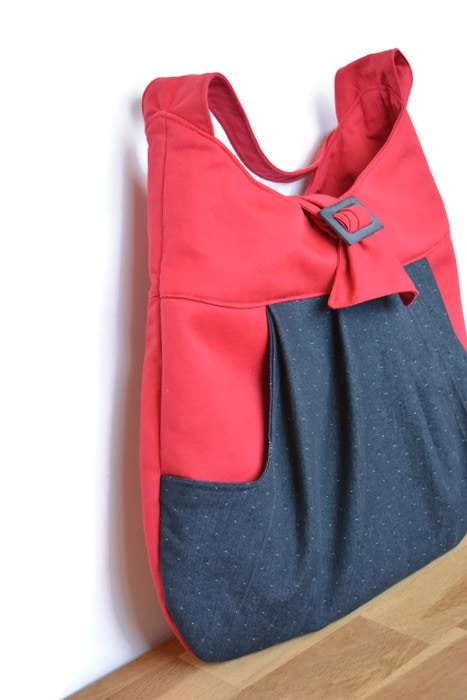 I chose to work with a great black denim skirt with tiny white polka dots, and a red curtain. The pattern comes together as a relatively quick and simple sew – I thought it was going to be more complex, I love the fact it is a quick make. The instructions are well written with lots of useful information, no assumptions are made about existing bag making skills.
The bag includes two internal pockets, one slip and one zip. Plus one large pocket externally – the whole denim area is a pocket. This is a roomy bag, perfect for a magazine, book, tablet, and all your necessities.
I used fusible fleece to add some strength to my fabric. This was my only cost, plus the buckle and zip – an affordable make too!
If you are looking to start bag making this pattern is perfect, creating a stylish bag. Alternatively this one is available in my Etsy shop🙂