Here in the UK we are in the midst of the biggest heatwave since 1976, it's hot. The kind of weather we British normally pay a considerable amount for a foreign holiday! It's somewhat different trying to work in it! So when Laura of Sew Different asked me to pattern test a cool, loose maxi dress I jumped at the chance. The Moon Pocket Maxi Dress is the perfect dress for this weather.
The pattern comes with two choices of length and with two sleeve designs, giving you in total four options. I chose to sew up the cap sleeves in the short length, If you are more a long maxi dress person it is an A line shape.
The pattern is made from three pieces at the front – if you choose a striped fabric you could emphasize the pattern pieces. There are some great examples here showing the fabric made up with different types of fabric.
I chose a lightweight African cotton from my stash to work with. I had 3 meters which was fine but if I had been pattern matching I would have needed more.
As with all the dresses from Sew Different, it comes with interesting pockets, which you can choose to emphasize with fun topstitching. If you make this dress yourself this is how I approached the pockets. At step 3 where you place the pocket lining on the wrong side of the dress. I stitched the lining in place with two stitch lines, starting and stopping with the bodice seams. My two stitch lines didn't quite align but once I turned the fabric over and top stitched as per step 4 it's all held securely.
To obtain a neat top stitch pockets oval I created a pattern piece using the pocket pieces as a template, making it 1.5 cm smaller all round. having pinned the fabric out neatly I used my new pattern piece to draw around with tailors chalk to provide a stitch guideline.
I love the fact no zip is required, one day I will overcome my apprehension of sewing zips in clothes. The dress has been worn many times already!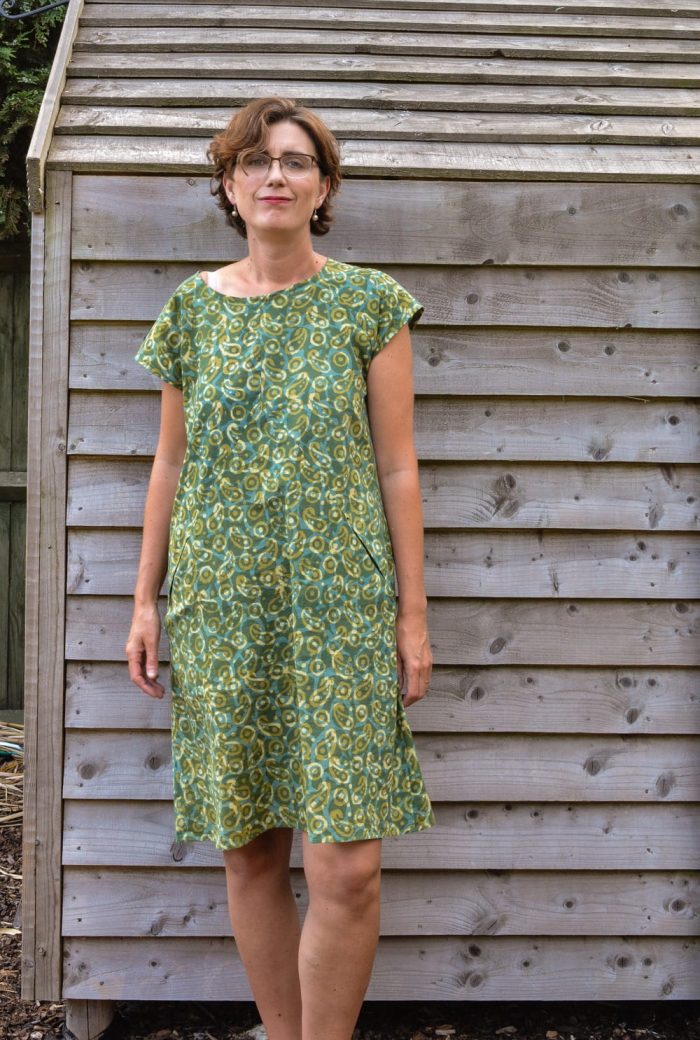 Find the Moon Pocket Maxi Dress pattern here, both as a PDF and as a paper version. I am not an affiliate I just love Sew Different patterns.