I am so excited to share with you my ombre sideboard – my storage solution for the sewing room. Costing a mere £5 on facebook this sideboard was crying out to be upcycled, rescued and shown some love. The previous owner was over the moon when I shared a picture of the finished sideboard with her. She had been struggling to sell it, to be fair covered in thick black gloss with a door hanging off it initially didn't look that enticing.
My colour pallet within our home is fairly safe – for this piece I decided to have some fun. To go brave and bold. With my new love of fusion mineral paint I used four colours for this:- 1) azure, 2) sterling, 3) little lamb, 3) ash.


Ombre Sideboard DIY
This post contains Amazon affiliate links for your convenience. Click here to see my disclosure policy.
I started by sanding the gloss paint to provide a key for the fusion mineral paint to adhere to, sanding initially with a coarse sandpaper, and then with a fine.
I started with painting the top of the sideboard and tow thirds of the sides in the colour azure.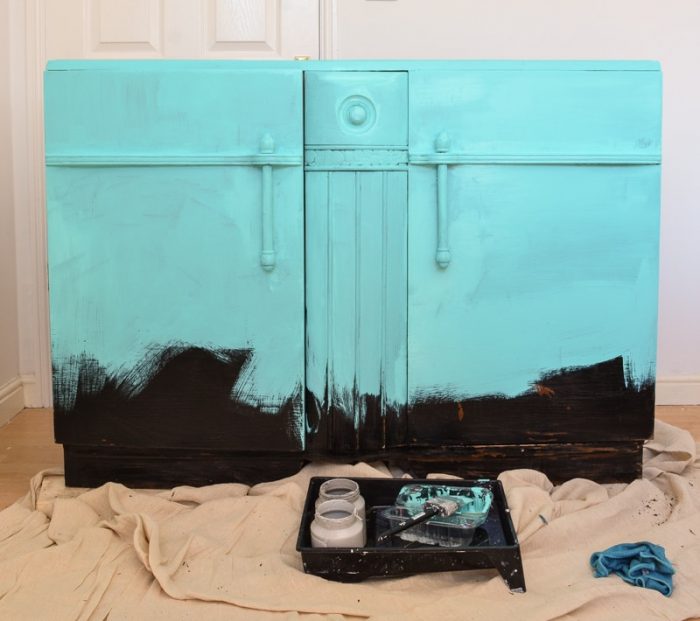 Using the lighter colours first I added confident brush marks, using only a small amount of paint per brush. Gradually I built up layers of colours. If you would rather a more blended finish you can wipe with a damp cloth to semi-merge the colours together.
I am delighted with my ombre sideboard, it adds a splash of colour to my sewing room. It really is easy. Why not have a go yourself? You may enjoy my other fusion mineral paint projects, updating a gold mirror, and a restyle of mid-century bedroom furniture.