Welcome to day 4 of the #12DaysofChristmasDIYChallenges
The challenge – Use old cereal or other boxes and supplies you find in your home to make a Christmas Card
Any empty cereal boxes are grabbed by my five year old for a creative project. I sneakily pinched this box to share this tutorial with you. For years I have enjoyed making Christmas cards to share with family and friends, last year I failed – we sent no cards at all.
Its a tricky one – environmentally cards are not a necessity in life, especially as at Christmas they are often shared with people you see daily, but on the other hand I sound like a party pooper! Making cards from old cereal boxed maybe the solution:) Naturally I am using fabric – a great way to use fabric scraps:)! I have been inspired by the work of Alison Sye, an artist who stitches various papers together (ps She has a folksy shop if you fancy buying some beautiful cards)
To make this recycled Christmas card: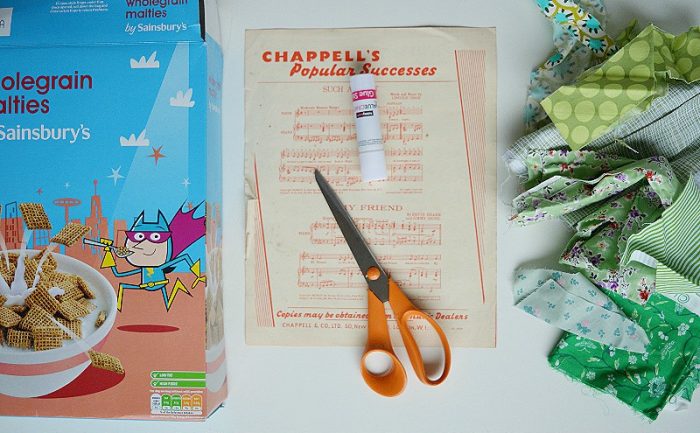 Cut a piece of card by 14.5 by 28.5cm
Cut one square of an old musical score (you can be lucky and find them in charity shops) 13.5cm each side.

Fold the cereal box card in half, plain sides inwards. Glue the music score to the front of the card.
Prep your fabric, play around with different colours until you are happy with the combination. Using a glue stick adhere them to the card.

Machine stitch around your Christmas tree design and around the edge of your music score.
This highlights the design and secures the collage in place. Lastly find something suitable to put on the top of your tree. I was kindly donated these pins, perfect for the top of my tree.
Perhaps you could use a button?
Do you make your Christmas cards? do you send them??